One of the biggest concerns for all of us today is to fight out the pollution. Even if fighting out the outside pollution is not easy, unless every one of us become sensitive and sincere towards the nature and environment, you can individually make your own home allergy proof. And if you are wondering about what are the allergy proof homes and how you can make your own home allergy proof then, here's the post worth checking. Today I will be talking about allergy proof homes and how to make your home allergy proof in winter.
The chilly days and the falling of the leaves from the trees signal the beginning of the season of winter, which is also the season of cold and flu. With winter, comes the fear of getting common winter allergies. Therefore, you must be prepared to fight it out. The allergies in winter are mainly due to the indoor allergens and so, you must try out ways to make your home allergy proof. Do not let the dust, pet, mold, pollen or other allergens affect you. The good thing is while controlling all of the outdoor allergens is not practically possible by an individual; it is easy to control the indoor ones as they are in an enclosed space.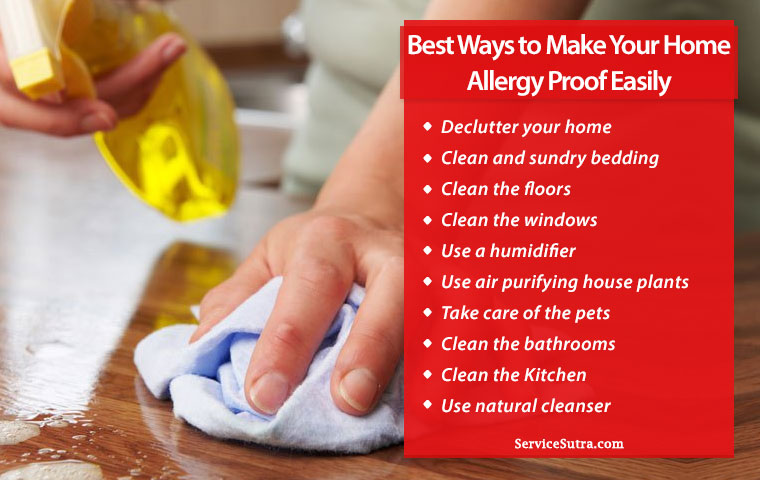 Home is undoubtedly the safest place on Earth but even it is not free from the germs and allergens. And especially in winter when most of us prefer staying indoors in the warmth, we have to be sure that there are no allergens around otherwise we may fall sick any time. But, you know when there is a problem, there is always a solution and in this case also, there are ways to get rid of the indoor allergens. After all, the health of you and your family members can never be compromised, so taking a little effort on your part is completely worth it.
The problem of indoor allergens needs to be fixed as early as possible as winter has already arrived. So, let us not wait much and start with our today's discussion on the easy ways to keep your home allergy proof in winter.
Easy ways to make your home allergy proof in winter
You may find your home clean but it does contain many allergens that are not always visible to human eyes. But, they are strong enough to make you fall sick. So, to fight these indoor allergens besides keeping your home clean, you need to do something extra. Well, they also form a part of the cleaning itself but also include some additional work that needs to be done. Listed below are a few of the most effective ways to make your home allergy free easily.
Declutter your home
The first and the foremost thing that you should do is, to remove all of the excess items from your home and keep only the ones that are essential for you. This is necessary as this will make your cleaning very easy as you will be able to reach out the hidden corners of your home and clean them. Moreover, too much clutter makes the house environment very suffocating and so, if you declutter, the indoor air will become much more refreshing.
Change air filters
One of the best ways to keep your home allergy proof during winter is by changing the air filters time to time. This in fact, not just improves the quality of the indoor air but also helps in extending the life of the system.
Moreover, the dirty air fillers prevent the system from trapping the airborne allergens as well as often blow out very dangerous particles through the vents that can easily make you and your family members sick, so the filers must be changed.
If you have plans to use the heating unit all through the winter months, then do not forget to change the furnace filters as well. This will prevent the pet dander, dust mite feces, mold and other allergens from circulating in the indoor air. So, please change the air filters through the winter months and keep your home free of the allergens.
Clean and sundry bedding
Since you spend a lot of time in the bed, you should make sure that your bedding is absolutely clean. In fact, you should make it a habit of changing your bed sheets, pillow cases every week so that it does not get too filled with dust and other allergens that can easily make you fall sick.
I will also suggest you to encase the mattress, pillows and box springs in dust-mite-proof covers. You may even replace the feather or wool bedding with synthetic materials. Also, make sure that the comforter you use is always covered and is washed frequently.
Clean the floors
There is lot of germs hidden on the floors, especially if your floors are covered with carpets. So, you must make sure that you are vacuuming the carpets weekly in order to get rid of the dust, dirt and the germs. You may like to use a vacuum cleaner that has high efficiency, particulate air filter or one having small particle. However, simply vacuuming will not be sufficient, so you must also shampoo the carpet time to time.
If you find that cleaning and maintaining carpet is difficult, then you may remove carpets and use linoleum or hardwood flooring and place washable area rugs to enhance the look. Else it is advisable that you go for low pile instead of going for high-pile carpeting. And, hiring a professional cleaning companies for full house or carpet cleaning is always an option.
Clean the windows
It is preferable if you keep your windows close and rely more on air-conditioning during the pollen season. This will minimize the entry of the allergens from the outside. If you live in a country that experiences severe winter, you may go for double paned windows. And, to get rid of the allergens, make it a habit to clean the condensation and mold from the window sills and frames.
To make your cleansing task easier, replace your curtains with washable ones made of synthetic fabric or plain cotton. The horizontal blinds may also be replaced with washable roller type shades.
Use a humidifier
During the winter, humidifiers are one of the best appliances that you can keep at home. The reason behind this is because in order to stay warm, you turn on the heater which leads to drier air inside the home which in turn, many a times leads to a lot of problems starting from dry skin, to allergies to asthma issues etc.
Basically, the humidity levels inside the home get too much low during the winter (due to constant use of heater) than they need to be in order to keep the allergens at bay. Therefore, it is advisable that you keep a humidifier that will help to maintain the humidity levels inside the home. Your nasal passages will get the required moisture to naturally get rid of any allergens that you may have probably breathed in. Thus, you can stay healthy and free from the allergies. I think it is one of the best ways to keep your home allergy proof in winter.
Use air purifying house plants
You know that plants have the ability to purify the air and when there are household plants that not just purify indoor air, but also enhances the beauty of your interior space then you must take full advantage of such indoor plants.
I have already written a post on air purifying house plants and explained things in details. Just refer to that and choose your favorite indoor house plants and keep it in your home to get rid of the most common allergens.
Take care of the pets
If you have pets at home, you have a higher risk of having lot of allergens inside your home. So you may consider the option of making a separate and new home for your pet. But, if you are too attached to your pet and want him/her to be around you all the time, you should take up the responsibility to keep him/her clean. Bathing your pet at least once a week will help you remove the foul odor and keep them free of the germs.
See, keeping your home clean all the time when pets are around is not easy but definitely not impossible. I have already written a post on how to take care of pets at home. If you want you may refer to it to get some ideas.
Clean the bathrooms
Bathroom is certainly one of the most prominent spaces in the home which contains a lot of germs and thus, keeping it unclean might lead to the spread of the germs and allergens and make everyone in the home fall sick. So, you must make it a habit to clean the bathroom every day and go for deep cleaning of it once every week. This will help in keeping the washroom clean and fresh and make your home free from allergies.
The bathroom must be smelling good and must have proper ventilation facilities. These are the basic things that you must take note of while enforcing various ways to keep your bathroom neat and clean.
Also, if you have wallpaper in your bathroom, make sure that molds do not grow on it due to too much of moisture there. In order to do that, you may even take down the wallpaper to create an environment that is less favorable to the growth of the molds. The shower curtains must also be washed and replaced on a monthly basis to avoid the growth of molds.
Kitchen cleaning is a must
The kitchen is the heart of the home so you can never miss it out while trying out easy ways to keep your home allergy proof in winter or any other season for that matter. It is the space where foods are kept and cooked, so if it contains allergens, that may contaminate the food and easily make you and your family members fall sick. So, you must take efforts to keep your kitchen clean and free from foul smell and germs at any cost. While you are cleaning the kitchen, make sure to clean all the kitchen appliances as well And, yes, proper ventilation facilities are mandatory here also.
Another important thing to note is that, kitchens will have food residues or oil and grease stains everywhere. Make sure you clean them as otherwise they will contribute to an unfavorable environment for the individuals suffering from allergies. If you have a backsplash to prevent water from seeping in the walls, make sure you clean it frequently otherwise mold and mildew may grow up there.
In addition to all of these, do not miss out cleaning the space underneath the refrigerator as that often gets neglected and becomes the favorite breeding ground for the mold.
Avoid using chemical cleansers
When it comes to cleaning your home, many a times we use the commercial cleaners available in the market. But, all of these cleansers may not be safe, especially so when it contain chemicals that are harmful. These chemicals not just lead to immediate allergic reaction it may even pollute the indoor air causing breathing troubles and may also have long term consequences on human health. So, please choose the cleanser carefully.
You may also like to use the natural ingredients to keep your home clean and free of any stains. These natural cleansers like vinegar, baking soda, lemon etc. are safe to be used and are also most of the time readily available in your home. So, you do not even need to rush to the market every time you think of cleaning your home. Also, they are very cost effective unlike the commercial cleansers which are expensive as well as lead to a lot of degradation in the environment.
Over to you: how do you make your home allergy free?
Winter is the time to be aware of the indoor allergens and so to protect yourself and your family members, you must keep your home free of allergens. Keeping your home clutter free and clean is the main thing. You may maintain a proper cleaning schedule to reduce your cleaning loads. If you can involve all your family members in keeping the house clean, then that will be even better.
However, today I have tried focusing on areas of your home that must not be neglected. I also shared a few of the most easy but effective ways to keep your home allergy proof during winter. These are basically the basics that need to be followed and if you follow these hacks carefully, I am sure you will be able to make allergy free home and keep yourself and your family protected from common allergy symptoms.
So, that is all I had to share about how to keep your home allergy proof during winter. But before closing this post I would like to hear your hacks and ideas on how to make a home allergy free. What do you do and what else do you think one should do to make allergy free home?
Feel free to share your tips, ideas feedbacks.
And finally, if you like my post, please like, comment and share with others and help me reach out to as many people as possible.
Until then, stay safe and do not let the indoor allergens ruin your winter fun.