Today we are living in a gadget filled world, where stress has become a day to day affair. Technological advancements in every field might have made life a lot easier technically. But if you compare it with ancient times, it has taken away the peace from our lives. We are living in a very competitive world and that results in a lot of pressure and unwanted stress. At the same time, many of us suffer from worries and tensions related to personal lives as well which also freaks us out. We return to our home with a hope that all stress and worry will vanish. But if your home is cluttered and not organized properly, you may not get that comforting and stress feeling at all. It's a serious concern and we all need to address it and hence today I am going to share a few of the quick and easy tricks on how to make your home a stress free sanctuary easily, without making lots of changes or complete makeover.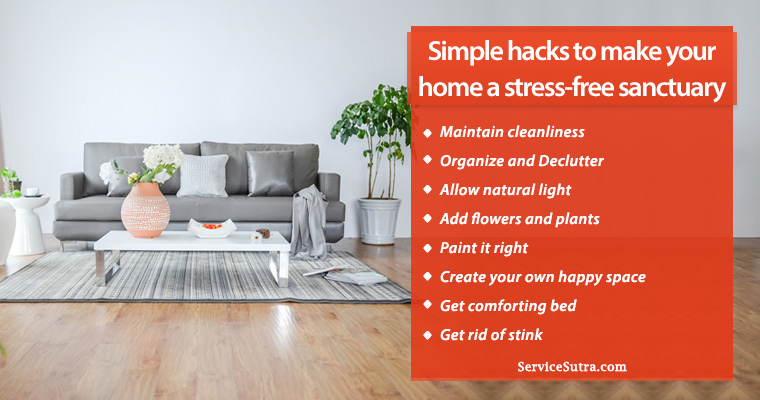 No one can deny the hectic lifestyle we are leading today. We have chosen this life for ourselves because we have to reach somewhere, very fast. And if we really want to keep up to the race of life, we have to take the pressure and go through all the stress this modern life. But after all, we are human beings and at the end of the day, we also need to relax a bit so that we can continue with our busy lives the next day. For that we need good and comforting environment at home where we can sit, relax and forget about all the worries and stress.
When we return home after a tiring day, we all want to relax and be cozy. But to make that happen, your home environment must be conditioned properly to give you that peaceful vibe. You need to work on your home to make it more peaceful so that it can give you the comforting feel that you desire after a hectic day. I know how important it is to have a comforting ambiance at home and so, I am sharing 8 amazing tips to make your home a stress free sanctuary.
A messy untidy home can't give you positive vibes. An untidy and cluttered home can even act as a reminder of the mess you are in your life. Therefore, you must design your home in such a way that it will give you relief from all the stress and tiredness.
Maybe, you will have to face the reality again the next day, but at least you'll be free of the stress temporarily. Your home must instill positiveness in you and imbibe you with the confidence to fight the negativity in your life. Well, this might sound a bit superficial but if you consider it deeply, you will find that just as serene nature gives you respite, your home, if given a serene feel will also help you deal with the day-to-day stress. It can help you distress and make you feel relaxed.
Interior designing is an important aspect of every home and we all want to design it in such a way that we can live in comfortably. Some may like to keep it very vibrant, others may simply want it to be extremely classy but no matter what you consider, it is a fact that giving comfort is the basic criteria a home must serve. So none of us can ignore that we all have to make our home environment relaxing first and then concentrate on the other factors.
Now, when you buy a new home, the best thing to do is to hire a professional interior designer to design and decorate your home. But even after the interior designers have designed and decorated your home, you have to maintain it and keep making changes here and there to get that refreshing feel. And that's why it is important for you to know how to make small adjustments and make your home a stress-free sanctuary easily and on your own.
So are you ready to dive deeper?
I heard you saying yes, so let's get started then.
Here's how to make your home a stress-free sanctuary
Home is not just a building; it is where our heart dwells. So, it is important that we design, decorate and keep our home properly organized to live comfortably.
Listed below are the 8 best tricks to make your home a stress-free zone. These are very simple and easy hacks you can take up to make your home comfortable and relaxing.
Maintain cleanliness
If your home is neat and clean, it will automatically give you a happy feeling. Basically, everything is psychologically related. Here, the clean tidy environment of your home is going to make you feel that everything is in order in your life and that very feeling will keep you stress free. From the practical point of view, a clean home means less or no germs which in turn, will keep the diseases at bay. Therefore, you need to work on the cleanliness of your home to make it super comforting.
Try to maintain a proper cleaning schedule for your home and follow that diligently. Make sure that you do the planning properly so that you do not get too much overloaded at a single time while cleaning as that can stress you out. And, as I always say, involve your other family members as well in the cleaning work and let all of them contribute in their own way as much as they can.
Organize and declutter
Well, this actually forms a part of the cleaning process of your home but I thought of mentioning it separately because it is very much related to the stressful situation we feel at home. Now, you must be thinking how. Well, too much clutter in your home, like if your home is overstuffed with things, it is kind of related to the stuffiness in your life. If you consider your home to be your life, then all of the clutter in it is like the clutters or the unwanted stuffs in your real life. So, when you declutter your home, it will make you feel that you are actually fixing the various problems in your life that keeping you stressed, and putting your life in order again.
Please remove the excess and useless items from your home and only keep the items that are really needed. This will also make your home look big and spacious.
Allow natural light
Darkness and gloominess is related and if your home is dull and gloomy, it will obviously dampen your mood. On the other hand, if your home is bright and airy, it will act as a fresh breath of air in your life and make you feel happy. Also, you must let the natural air and natural light come in as that also freshens up the whole surrounding.
So, make sure you keep your windows open during the daylight and let nature heal you and make you feel stress free and relaxed.
Add flowers and plants
The presence of plants and flowers in your home will make a huge difference in your mood, and it will definitely make you feel happy. Moreover, if the flowers are aromatic, then that will further help in uplifting your mood. It will calm your nerves and make your stress free. So, try to keep colorful flowers and maintain a beautiful garden in your home.
From a practical point of view, having plants in your home can actually purify the interior air of your home, so it is an added advantage you will get by adding flowers and plants in your home.
Paint it right
Painting your home with the right colors is one of the interesting tips on how to make your home a stress-free zone, and it is worth considering. Colors have an impact on our mind and if you want to create a soothing environment inside your home, then it is best if you go for colors that are neutral and have a soft tone. However, that does not mean you will entirely have to paint your home with neutral colors. What you can do is to make a neutral base and then add pops of vibrant colors.
Generally, colors like blue, lavender, pink and soft yellow add a calm and romantic feel to the space and so you may like to use these colors while painting your home.
Create your own happy space
Although the entire home is yours but there has to be a particular room or maybe just a corner of your home which is your happy space. Basically, that must be a place where you can spend hours sitting and relaxing. That may be your balcony or a particular corner by the side of window where you just love sitting and enjoying the view outside. In other words, there have to be a space where you can sit and just get engrossed in your thoughts. Basically, that will be your tiny world.
You can decorate that particular area with all of your favorite things (if you want to) in order to make yourself happy when you are low.
Comforting bed
As far as relaxing and comforting goes, no one can ignore the importance of a relaxing bed. It is like a mandatory item and you simply cannot do without it. As you know, proper night sleep helps you get rid of the stress and when you have a comforting bed, you will get good quality deep sleep, that'll help you de-stress yourself.
However, the definition of a perfect bed may vary from person to person. This is because a person with back problem may want the bed to be firm while someone else may want it to be soft. No matter what your preferences are, make sure you choose a bed that is of good quality and completely suits your preference.
Also, the size of the bed is a big factor that must be considered. Always remember the bigger it is, the more comfort it will provide you. After all, when you return home stressed, you will require a spacious bed that will give you all the comfort that you need at that moment. However, while buying the bed, also consider about your child and your spouse (in case you have one).
And, lastly, cover your bed with all the comforting stuffs. You may use cotton bed sheets that have got smooth texture and are relatively very soothing.
Get rid of stink
A stinky home will make you too stressed up; therefore one of the important tips on how to make your home a stress-free zone will be to eliminate all the bad odors from your interior space. You may take the help of natural ingredients to get rid of the fouls smell and make your space aromatic. In fact, aromatherapy is often used to fight depression, so you can definitely give it a try.
Over to you: Which is your favorite hack to make your home a stress-free zone?
Our home is something which is dear to us as it gives us the comfort we require at the end of the day. But, if the home environment is not much soothing, it may also become a source of discomfort. Undoubtedly, it is the family members that help create a happy environment in the home. But if you are a single person or live alone, then you need to create that soothing feel in your home environment to make it comforting and a stress-free zone.
I have already shared 8 easiest tips on how to make your home a stress-free zone. I have applied some of these tricks in my home like for example, keeping my home clutter free, then making sure that my home is organized and clean, having plants and flowers in my home etc. Trust me, every time I enter my home, it gives me a refreshing feel and takes away all of the worries. It can do the same for you as well. You just have to apply the strategies in a proper manner. If you've taken these eight suggestions and find that you're still struggling with stress, speaking with a licensed therapist (like those at BetterHelp) can help you.
I hope that you have noted the points already and so start implementing them and see how it works for you. If you have already worked on it or you know of some other hacks that can help make a home stress free zone then do share your favorite tricks and hacks that worked for you.
As always, please share your feedback and suggestions
Until then, stay happy and make your sweet home a stress-free zone.