I remember when I was staying in a rented house the first thing my wife would like to check was the bathroom and the kitchen. Bathroom and kitchen is the most important place that needs to be good, spacious, properly fitted and clean. Probably she is not alone who does this. There are people who like to go for kitchen and bathroom renovation before going for interior designing of entire flat. But many people often fail to see the significance of a bathroom in drawing a picture in the minds of the guest who were mesmerized by the beauty of all the rooms and they quickly get turned off as soon as they got to see the bathroom.
A well maintained and flawless bathroom defines the standard and class of the people living in the house. No matter how good your rest of the house looks, if your bathroom does not match the standard of the rest of the rooms it will surely fail to make an impression. If you are moving to a new flat and yet to do interior work, then this post is to help you set priorities. There are plenty of online and offline resources that you may look at to get inspiration and ideas. But let me share a few bathroom renovation tips that can help you in transforming your bathroom.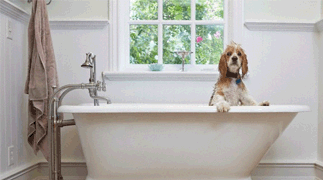 Here's how you can renovate and transform your bathroom
The most callous mistake that we do during bathroom renovation is that, we often start the designing work without prior planning. That leads to a disastrous mistake of misplacement of the various plumbing connections in the bathroom and you end up ripping and drilling your walls and fixtures all over again in order to fix the mistakes. Don't forget the electrical connections as well, as misplacement of these connections can produce the same problems. Hiring a handyman service can help you with this problem, as they are experienced in these matters. They can guide you in the right way to avoid any potential mistake that you are likely to commit without the help of a handyman or an interior consultant. Their team generally consists of plumbers, electricians, painters, carpenters etc.
Plumbing needs
Before starting the renovation work the first thing you should do is making sure that all the plumbing lines leading to various water sources in the bathroom like showers, basin, commode,  general taps and other connections to the geyser etc. are flawless and accurate. So that as soon as your components arrive, you can fix them and readily use them.
How to choose bathroom sink, wash basin and faucets
Don't go for a huge fancy sink rather stick to pedestal sink with elegant fixtures like a beautiful faucet and a smart & sleek deck design. Don't go for an extra fancy faucet as they are likely to get defected more sooner than later thanks to their complex design. Go for a simple and standard looking faucet which will be durable and run smoothly without maintenance.
How to choose mirrors for bathroom
A matching mirror over the sink makes a perfect match and help in transforming the looks of the whole bathroom. Mount a wall mirror (medium size, upto waist height) just opposite the shower, as it gives a good impression in your mind when you can see yourself while bathing or freshening up. You can also install another one on the small cabinet door, where you put your shaving, shower and other bathroom accessories.
How to choose bathtub
Many bathrooms do not contain a bathtub at all in order to save space (especially in middle class Indian families). But if you are obsessed to buy one for your bathroom, make sure that you have enough space in your bathroom. Even if you do have space doesn't go for an extra large tub as it will give your bathroom a clogged look and seem as a mismatch to the rest of the bathroom looks. Just make sure that the bathtub you are buying enough to accommodate you in it even if you stretch out and provides a comfortable foothold. Closely examine the angled back and neck support and determine whether it is comfortable enough or not. Also make sure the draining system is flawless. If you lack space in your bathroom to accommodate a bathtub with these above features then you can buy a deep one which will take less area but serve the same purpose.
What to do with floors
Flooring of any room defines the depth of beauty and elegance of it. Hence it is very important that you choose the flooring very carefully. While choosing flooring for your bathroom you must first look for the durability of the materials you are planning to use.
Ceramic, marble and stone tiles are all durable and water-resistant materials making it an extremely wise choice for flooring during bathroom renovation. But these have only one drawback that is during winter flooring made of these above materials will become very cold to your feet. One expensive alternate to the above flooring materials is hardwood floors. It not only offers natural warmth during winter but also act as a foil for the other hard and cold surfaces in the bathroom but it is slightly expensive than the former one (the material is not that expensive but installing them is quite an expensive affair).
How to build the shower
In modern bathrooms people avoid using a shower curtain (although it depends on personal choices) as they believe that it split the bathroom area and make it look small. Hence a possible solution to this problem is to go for an open shower area that does not require a curtain or a door. On the contrary if your showering area and toilet is not separated then both of them can not be used simultaneously. Hence you should make your choice wisely based on your priorities. Make sure to have a well-designed drainage system and in order to keep the rest of the bathroom area dry while showering, you can install ceiling mounted rain showerheads or high wall mounted showerheads that splash less water.
Choosing commode
It is one of the most important parts of the bathroom. Make sure that the toilet you are planning to install is comfortable enough to sit on it for longer (especially for people like me who likes to spend time there reading paper while pooping), with elongated bowls and durable flush system.
Conclusion
Hiring a good interior contractor can make all the difference and if you are consider for professional help then click here to get started for free. Make sure that you take care of the electrical and plumbing fixtures before taking up the renovation work. Do not forget to use bright lights in the bathroom with proper ventilations, maintain and clean it regularly in order to retain its original luster and glory.
So what are your plans for bathroom renovation?