Whether or not you have a newly built house, changing residences marks a new beginning. And for you to feel that you indeed have a fresh start, you might want to consider refreshing your interior design.
Look at magazines, browse through Internet pictures, do whatever you need to do to find the perfect home design of your dreams. Just remember that you don't need to spend a fortune to achieve this.
To help you out, this article compiles seven fresh interior design ideas to brighten up your new home:
1. Update your feature wall.
Feature walls have always been an exciting update on interior design. Also called accent walls, they are excellent for adding visual interest to a room.
But if the room already has a feature wall, the practical step now would be to update it for your fresh, new start.
If your accent wall has a timid hue, don't be afraid to go bolder. Just remember to match the color with whatever décor you have (or update those as well). You can also use striped patterns or textured finishes.
If you're not a fan of paint, you can also use wallpapers to update your feature wall. There are plenty of designs that can freshen up the room and match your interior design. Some also come with graphic drawings and artwork that can add personality to any space.
2. Replace the window treatments.
Outdated drapes and curtains tend to drag down the mood of the room. Heavy window implements also keep already dark rooms much dimmer, not to mention they collect dust and build up unpleasant odors that work against the concept of a fresh, new home.
The solution? Replace them.
When shopping for curtains, look for light-colored fabrics to make the room brighter. Consider linen curtains for the living room. For the bedroom, you can add a sheer layer of lace with your light-blocking curtains.
You can also switch to a different pattern or design. If you already have light plain drapes, try dying the bottom parts to achieve an ombre look to introduce color to the room without spending too much money on window treatments.
If you're not sure how a specific fabric will look like in the room, you can ask for samples from fabric suppliers in Dubai. Take them home to see whether they match your wall color, decorations, and preferred theme.
3. Upgrade the furniture.
Your furniture brings together all the other pieces of the room, so you need to make sure they look as fresh as they can be. If they look worn out, consider investing in new ones.
Though it isn't always the cheapest change you can make, it can be considered a cost-effective solution in terms of the level of impact it can provide to your home upgrade.
Have dark wooden benches that have grown weary through time? Replace those with an upholstered sofa in light colors and bright patterns. Again, match it with the rest of your home interior furnishings.
During the summer, you can bring the outdoors in with wicker furniture pieces. These garden-inspired furnishings are affordable and excellent at freshening up your interior design. Rattan furniture, for instance, can work for both indoor and outdoor areas.
4. Switch out artworks.
If you're one to collect framed paintings and artwork, you might want to consider decluttering your walls and rotating the pieces around.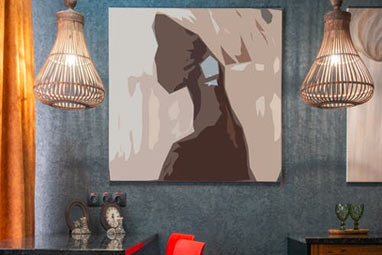 Many people tend to hang all the art that they own on every wall in their house. Unfortunately, looking at these beautiful pieces all the time can make one get tired of them.
Instead, consider segregating different artworks during different times of the year. Group them into summer and winter piles. Hang those with lighter and warmer hues during spring or summer and put those that are deep and dark into storage.
It's a good idea to rotate the pieces every six months or so. This will help you enjoy art with rekindled vigor, even without actually buying new ones. You can always introduce more to your art collection, of course.
Pro Tip: Set aside at least one blank wall in every room, not for new pieces but to allow visitors' eyes to rest.
5. Change your lighting.
What better way to brighten up your home than with light? Literally, of course.
Unfortunately, many people don't use lights properly – even natural light. To fix this, make sure your windows are clean and clutter-free. The change in drapes or the addition of sheer layers also helps.
After that, turn your attention to supplementary artificial lights in your home. Besides actually giving off light, certain fixtures can also help polish off a room.
For example, if your bedroom is in dire need of a touch of posh and elegance, consider installing a few overhead lights. Pendant lights sold in the UAE come in various shapes and sizes, some made in elegant-looking brass lights. These can offer a more sophisticated and refined feel than a regular table lamp and serve as a welcome contrast to traditional elements in the room.
6. Get fresh new accessories.
Accessories also help enhance your home interior the same way jewelry, bags, shoes, and scarves make your outfit look more attractive. If you seek an easy way to boost your home's appeal, dress it up as you would yourself.
One way to do this is to toss in a couple of gorgeous accent pillows that come in brighter colors. Store those dreary and sagging throw pillows, too, and replace them with some bright ones to drape on your sofa.
You can also display spring-themed vases or candles that make the dining table look more welcoming.
7. Bring in florals and greens.
If you're not doing so already, accentuate your home with floral arrangements. Flowers offer a welcome sight of natural colors and add vibrancy to any room.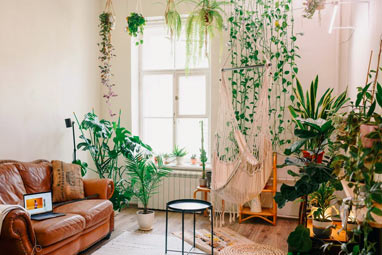 Pick various arrangements for different times of the year to keep the place looking fresh and bright for visitors every time they visit.
If you're not fond of flowers, a good alternative would be to decorate your home with live plants. Some of the famous air-purifying foliage to put indoors are:
Snake plant laurentii
Dracaena gold star
Rubber trees
Aloe vera
Monstera deliciosa
Pothos
ZZ plant
Spider plant
Don't have time to water and take care of these plants?
Plenty of succulents are easy to care for, not to mention they don't need that much watering. They also come in various forms, sizes, and colors – some even produce flowers on a few occasions.
Freshen Up Your Home
A different wall color, new furniture, live plants – all these make a bright and wonderful update to your new home. The best part is, you can switch things up periodically so that your place will always look and feel fresh all year-round.