Curtains are one of those essential items that can be used as a decor element to decorate your homes. By choosing right curtains for home, you can convert even a boring room in to a well decorated house. Curtains in the recent past were considered out-dated by many people. But gone are the days of thick old drapes which had a sole purpose of keeping either the sun out, or to keep the warmth in. Curtains are starting to make a comeback in the interior design world, and in a big way.
Curtains have come a long way from the standard run-of-the-mill drapery our grandparents used to have, and now we have bold and bright curtains which come in different size, shapes, patters, and fabrics.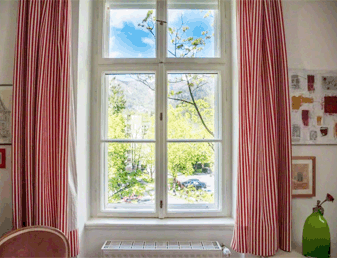 Here's how to choose curtains for home
But choosing the right curtains for home is really important because if you end up choosing wrong color or fabric then it may not work well for your place. I have helped many of my friends in choosing right set of curtains and thought of writing this post to help you. Here are some tips that you may like to check for choosing the best blinds for your space.
Curtains for bedroom
Many of us don't get a restful night's sleep mainly because of streetlights, car lights, and the early morning sun that can really cut into the siesta time. Your bedroom should be your sleep sanctuary so it's better if block outs are used.  Quality block outs will prevent any light peeping through, keep the heat out during summer and also in winter. They are available in plenty of colors. The lace over hangings will compliment the block outs really well.
Curtains for living room 
When you're choosing curtains for the living room, don't choose what is in fashion at the time, but what is going to compliment your space. If your living area is small, use light textures and minimal bulk and opt for softer colors and lighter fabrics.
Curtains for kids' rooms
The best part of decorating home is none other than decorating the children's room. Everyone loves decorating kids' rooms. You can let yourself go with restraint on color and patterns. Some fabric with stripes in hot pink, pea green, or navy blue teamed with white are always a favorite.  Involving the kids would be wise in this process because they will know better what they want.
Over to you
This is how curtains can be made the feature of your room. Pick bold prints or bright colors for your curtain textiles, and stick with a neutral backdrop that will really show them off. Keep changing the curtains once in every three months in order to keep changing the style of the room. Another important thing apart from choosing the curtains based on fabrics, colors, and textures is the shape and size of the window. Curtains are for windows, so nothing can be done without checking the shape and size of the window.