Hyderabad the capital of newly formed state Telangana is one of the favorite destinations for people working in IT industry in India. Probably after Bangalore, Hyderabad is the most popular city in south India. What makes a city worth living? A city which has some high class facility like international school, international air port, Metro connectivity and public transportation facility etc. Hyderabad definitely has most of these facilitates.
The moment you think of Hyderabad, you think of the delicious Hyderabadi Biriyani, diamond and pearls and till today it is known as city of pearls. Spread over more than  625 square kilometers, it has the metropolitan population of about 7.75 millions. It is the 4th most populous city in India.
So if you are planning to move to Hyderabad and you are unsure about which locality you should be staying in then this post is for you. I am going to talk about 10 places to live in Hyderabad.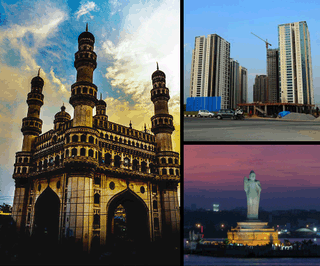 Key facts about Hyderabad – the city of pearls
Hyderabad was established in 1591 by Muhammad Quli Qutb Shah
In 1724, Mughals captured the city of Hyderabad
Hyderabad city became the formal capital of the Nizams in the year 1769
In the 1956, the state of Hyderabad was split into three parts and merged to form three different states i.e. Maharashtra, Karnataka and Andhra Pradesh
Since 2014, Hyderabad is the joint capital of newly formed state Telangana as well as Andhra Pradesh.
Historically a trading center of pearl and diamond, Hyderabad is still known as city of pearl
Hyderabad is the fifth largest contributor to India GDP with an output of over $74 billion
Here are the top 10 places to live in Hyderabad
So before I talk about these places, don't take this as rating of locality. It's a general view based on my discussion with a couple of friends staying in Hyderabad since long.
Madhapur: Madhapur is situated in the centre of the Hyderabad. It is not only surrounded by some basic facilities likes of schools, colleges, banks, hospitals etc. but also it is surrounded by IT companies and shopping malls. Needless to say, this aspect makes this place worth to live; everybody wants to live in it and why not? When you can avail so much by staying there.
Vijay Nagar colony: Vijay Nagar colony is another place where you can live. I am giving you the evidence. If you live here then you will have the luxury to get your children admitted to some of the best colleges likes of Bahaman's Vivekananda Degree college, Nava chaitanya junior college, New Sri Medha degree college etc. As far as transportations are concerned, it is well connected with rail and bus services. The hi-tech city rail way station, Borabanda railway station are the closest rail station of Vijay Nagar Colony. There are various bus stations likes of sumithra Nagar bus station, Shamshiguda bus station, Sumithra Nagar bus station etc. are the closest places of the Vijay Nagar Colony from where bus goes to different parts of the city.
Banjara Hills: This is the commercial centre of Hyderabad. This place used to be a hill forest area and was least inhabited area as well. But not quite so these days. It is perhaps the most populated area to live in the city. Besides enjoying good academic facility, you can enjoy some best foods from some renowned restaurants like of Guilt trip, Bikanervala, Barbeque Nation etc. The most unique part of this place is that- it is separated by its road number. The road number start from 1 and ends at 14.TSRTC connects Banjara Hill with other parts of the city. This is definitely a worthy place to live.
Jubilee hill: This is one of the most expensive residential area in India .It is located 2km away from Hyderabad's IT central hub of HITEC city. Majority of people who live here are Tamil's film actor and actress. Here you can have good transportation system and good quality of life. This is very good residential place.
Up pal: One the most prominent place in Hyderabad to live because of its easy connectivity with the rest of the Hyderabad. Recently, the metro construction has also commenced here. So if you are thinking to buy property, and then go ahead; you will be a gainer.
Begumpet: There is large number of MNC and Government offices exit in Begumpet. Considering this fact, There is fair contention of people who have started to reside in this vary place. This is a great residential area.
Sanjeeb Reddy Nagar: It is predominantly a residential area. It has well planed roads and good number of trees to enhance its beauty. Beside that, S R Nagar road connects Hyderabad to Bombay-Pune highway. Apart from that a TB and chest hospital, run by Government, is situated here. This aspect of this particular place really tempts outsiders to come and start living here.
Moosapet: It used to be low inhabited area. No more now due to the fast growing IT industry. It is now one of the major commercial centre in Hyderabad. Some of the commercial institution that exits here are-The German retail giant , First food shop of Reliance in India, Film Theatre like Lakshmi kola, Chandra kola etc. Beside that, Moosapet is well connected with TSRTC and MMTS local train service is available in close distance as well. Considering these entire prospect, this place is worthy to live.
Kutkatpally: Kutkapally is a major residential and commercial suburb in Hyderabad. Roads are well developed and Buildings are sky high here. IT has developed so much due to IT and hi-tech, which has made the city a dream city to live. The metro construction is underway here. Despite of that, you would not feel any resentment due to its well spread connectivity.
Abids: This is the oldest commercial hub in Hyderabad. It is surrounded by malls, market, bank, Hospitals and other essential amenities etc. There by it makes the city worth living.
Summary
Hyderabad is a great city and if you are planning to move to Hyderabad then just do a little bit of research and select a place to live in which is closed to your work place if you are working professional. Feel free to check the Wikipedia to know about the climate and find other facts and details about the city of pearl Hyderabad.
If you are in Hyderabad and know your city then let me ask you, which locality is best to live in Hyderabad?