Need for updating Aadhaar address comes when you relocate to a new address in same city or to a different city or state. Aadhaar is a unique 12-digit number issued by Unique Identification Authority of India (UIDAI) to every Indian resident after verification of certain documents. Over the time, Aadhaar card or Aadhaar number has been made mandatory for so many services, and it often works as a proof of address for an individual. Needless to say, we the Indian citizens are supposed to keep the information in our Aadhaar Card updated at all time, and therefore updating Aadhaar address becomes important when you change your residential address. The need often arise when you relocate from a rented apartment to your own house, or when you complete move to a different city after retiring from your job and so on.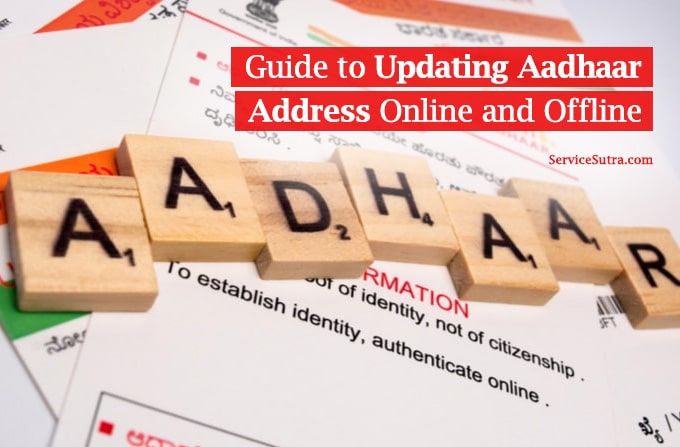 But whatever is the reason for updating Aadhaar address, as and when you feel the need, you must get it done, online or offline. Updating Aadhaar address online is quick and easy, and anyone with a little knowledge of filing online forms can get it done without any hassles.
Earlier, updating Aadhaar address has been a big pain, but now one can update Aadhaar address easily and online through an OTP. In fact, most of the private and PSU banks offers Aadhaar updating services; one still may have to face a few issues. If you have an Aadhaar card or Aadhaar number, and you have recently relocated to a new address and want to update your Aadhaar address, then this ultimate guide to updating Aadhaar address can help you get it right. Today, in this post I am sharing everything worth knowing about updating Aadhaar address online as well as offline.
So, what is Aadhaar?
Aadhaar is actually a bio-metric document that maintains records of the personal information of India citizens. Aadhaar is a unique 12 digit number, and on successful registration, an Indian citizen gets an Aadhar card as well. It works as a single identification number and does not replace passport, PAN, Driving License or other documents of identification for an Indian citizen. The Aadhaar card gets issued to the Indian residents depending on the biometric and demographic data. It primarily contains Name, father/husband name, address, date of birth etc.
Under the 2016 Aadhaar Act, each and every India resident can apply for the Aadhar card. By resident, I am referring to any person who has been living in India for 182 days or more in the year immediately preceding the application date for enrolment.
The Aadhaar card needs to be kept updated so that it remains a valid proof of address and identification for you. And, as far as updating Aadhaar address (or Aadhaar card address) is concerned, you can get it done both online and offline. According to UIDAI, using the online self-service facility for updating Aadhaar address, you can only correct or update your Aadhaar address, when you have a validated mobile number attached to your Aadhaar number. And therefore, if in case, your mobile number is not attached or linked to your Aadhaar number, then you may not be able to avail the online service for updating Aadhaar address online, and you have to get your mobile number linked to the Aadhaar number offline. And once you manage to get an active mobile number linked with your Aadhaar, you can use the self service Aadhaar updating feature online.
If you want to update other information such a name, phone number, date of birth, gender, email id etc., then you must visit the Aadhaar Enrolment Center physically, with all the documents for verification.
How to change or update Aadhaar address online?
The self service online mode of updating the Aadhaar address gives the facility to the residents to update the address and here the residents can directly make the update request on the UIDAI web portal.
Here's the step by step process that you must follow to update Aadhaar address online:
At first, you need to visit the official website of Unique Identification Authority of India (UIDAI) which is https://uidai.gov.in/
Post that, you need to scroll down and go to the "Update Aadhaar" section
Click on "update your address online"
Then click on "Request for Address Validation Letter"
Enter the Aadhaar number and go for text verification
Click to get the OTP that is the One Time Verification Password on the mobile number that is registered
Enter the "Address Verifier Aadhaar" and then submit it
Once successful submission of the request, the verifier will receive a message on the registered mobile number. When the verifier confirms the request, the applicant will receive the SRN and the link to the application through a message.
After that, you need to click on the link received and enter the SRN
Then enter the details like for example, district, area, pin code, state, street name, house number etc.
Click on "Submit Update Request"
While updating the Aadhaar address online, you have to submit the new proof of address, and list of valid documents as proof of address is listed on the portal. With the final approval, your address will get updated successfully on the Aadhaar card. You can also download e-Aadhaar card online, get it printed, laminated and you are good to go.
How to use the new Aadhaar app to change or update address?
You can also change or update your Aadhaar address using the mAadhaar app on your mobile. This app is available for both Android and iOs users.
The top features of this new Aadhaar app are as follows:
If you have the mAadhaar app in your smartphone, there is no need to carry the hard copy of the Aadhaar card with you all the time
mAadhaar is multilingual and supports 13 languages that includes English and 12 other Indian languages like Hindi, Urdu, Bengali, Odia, Tamil, Telegu, Malayalam, Gujarati, Kannada, Marathi, Punjabi and Assamese.
Not only can this app be used to update address but also for all Aadhaar related services like verifying Aadhaar, verifying mail/email, retrieving UID/EID, requesting for Address Validation Letter and checking the status of the online requests.
You may add a maximum of 3 profiles in your phone. The mobile registered to the Aadhaar has to be same. Like if your other family members have same mobile number as you, you may add their profiles in your device.
Using this app, you may even lock or unlock your biometric or Aadhaar authentication.
The new mAadhaar app has two main sections; one is Aadhaar Services Dashboard and the other My Aadhaar section.
mAadhaar is accepted as an ID proof in any reserved class in Indian railways.
If you want to avail the personalized Aadhaar services, you will have to register your Aadhaar profile in the app.
You can also use this app to locate your nearest Enrolment center if needed.
This app does not work offline. You will require a proper internet connection for downloading data from UIDAI.
What are the documents required for updating Aadhaar address?
If you already have an Aadhar number/card but want to change or update your Aadhaar address, then you will be required to submit one of the following documents:
Voter ID,
Ration Card
Passport
Driving License
Passbook/ Bank statement/ Post Office account statement
Government photo ID cards
Electricity bill (It should not be more than 3 months old)
Water bill (It should not be more than 3 months old)
Landline phone bill (It should not be more than 3 months old)
For rural areas- Certificate of Address that is issued by Village Panchayat head
Vehicle registration certificate
Income tax assessment order
Credit card statement (It should not be more than 3 months old)
Receipt of property tax (It should not be more than 3 months old)
Insurance document
Arms license
NREGS job card
Pensioner card
Kissan passbook
Freedom fighter card
Registered lease/sale/rent agreement
ECHS/CGHS card
Photo containing address card issued by Department of Posts
Caste and domicile certificate with photo issued by State Government
Gas connection bill (It should not more than 3 months old)
Address certificate with photo issued by MLS or MP on letterhead
Handicapped medical certificate/ Disability ID card issued by state/ UT government/ administration
Passport of the spouse
Passport of parents (for the minors)
How to update Aadhaar card address and information offline?
By using online self service feature, you can only update Aadhaar address. In order to update other information like correction in date of birth, linking mobile number, updating biometric information etc, you must visit a nearby Aadhaar Seva Kendra.
Most of the private and public banks, post offices have a dedicated Aadhaar seva Kendra, that you can visit to get your information updated in Aadhaar card.
Obviously, you have to fill up the Aadhaar correction form and submit required proof of identification and proof of address as needed.
While filling up the form, just keep in mind that:
You need to enter the information that is correct and not what is mentioned in your Aadhaar card.
You need to have self-attested copies of proofs which will validate your update request.
Then submit the correction form along with the documents.
For each visit to the Aadhaar Enrolment Center for correction or update, the applicant usually has to give 25 rupees as service fees.
You may also update or change your details by sending the request to UIDAI through the post. Here is what you need to do:
At first, you need to download the Correction /Aadhaar Data Update Form online
Fill up the details that you want to change
Arrange for the photocopies required for validating the changes
Send the form along with the documents to the below mentioned postal address
UIDAI, Post Box No. 10, Chhindwara, Madhya Pradesh- 480001, India
Or UIDAI, Post Box No. 99, Banjara Hills, Hyderabad- 500034, India
Over to you
Aadhaar card is a very important document for the Indian residents. And therefore it is important that we keep all the information in Aadhaar updated. So, after you move to another location, it is important that you do not forget to change or update Aadhaar address online or offline.
The online process takes less time than the offline process and it saves you plenty of time. But you must know how to fill online forms, upload scanned and self attested documents, and your mobile number must be linked with your Aadhaar card.
I have myself updated my Aadhaar address online, as my mobile number was already linked to my Aadhaar card, and I can confirm that the online address updating process is quite simple and there is no hassle. In fact, I find offline process to be more overwhelming over the online updating process. But, just remember that only address can be updated online, for rest of the corrections, you still have to visit a nearby Aadhaar Seva Kendra.
If you have been postponing Aadhaar address correction since long because you didn't know how to do it online or offline easily, then I am sure this guide on updating Aadhaar address will help clear a lot of doubts.
If you have any other query, then feel free to comment, and we'll be happy to help you answer relevant questions on updating Aadhaar address.
Have you ever used online Aadhaar address updating feature? Feel free to share your experience by commenting below.