One of the difficult aspects of relocating is moving the heavy furniture from one house to another. Of course, it's not easy to handle and move odd sized, heavy furniture, especially when you don't have a helping hand. You can't actually drag it or lift it from your house to the moving truck, then load it inside the truck, unload it after you reach your new home and then place it in your new home, all alone.  But you can use professional packers and movers services, as they are well trained in handling and moving heavy furniture safely. But for commoners like you and me, it's not going to be easy to move heavy furniture all alone.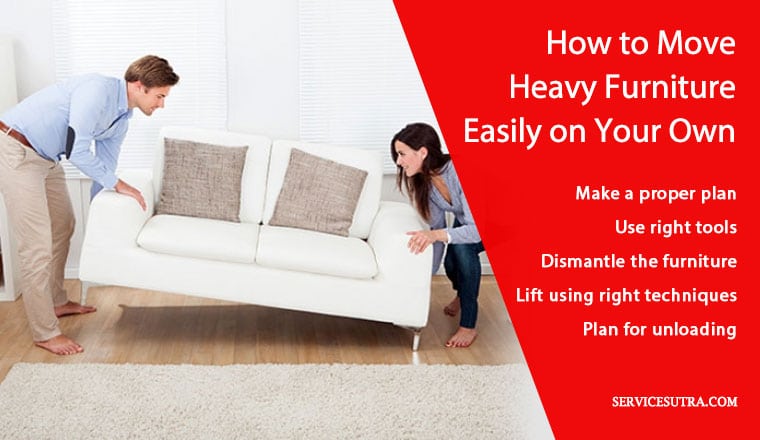 In fact, if you are not careful while handling large and heavy items like furniture, you may actually end up badly hurting yourself or breaking the furniture or the surrounding belongings at your home. So, as far as moving heavy items like furniture is concerned, it's always better to use professional packers and movers service providers for they have all the tools, techniques and manpower to move it carefully and safely.
But, if you are someone who wants to take control and move the furniture on your own, then at least learn the techniques for handling heavy items first before attempting to move the heavy objects and also use the right tools to move heavy furniture safely.
And if you are wondering about how to move heavy furniture on your own, then I can help you get it right, as I have been working in the moving industry for over a decade now.
But before we talk about how to move heavy furniture, let me give you some general tips on moving heavy items. As the flooring may not be same everywhere, I will try to give you some exclusive tips on how to move the heavy objects depending on the type of flooring you have. Also, moving such heavy items up and down the stairs is a complicated process, but I will try to cover that as well.
Tips to move the heavy furniture on your own
Below is mentioned some of the common lifting and loading/unloading techniques that you can consider while moving the heavy objects. And, I have also mentioned about the list of equipment that you should buy or rent before you start moving heavy furniture.
Take a look.
Make a proper plan
Before you start moving the furniture, you need to access things really well right at the beginning. So, take an inventory of all of the heavy furniture you have and then figure out which items to load first and where.
In general, it is advisable that you load the heavy items at the back or at the sides because that helps maintain the balance and is also safe for your other belongings. Also, you need to do the heavy lifting at the beginning and then start filling the gaps with lighter household objects.
You need to have a proper plan so that there are no confusions while you are moving such heavy items like furniture. Prioritize the order in which you will tackle your furniture and get started.
Use right tools and accessories
Obviously, when you have to move the heavy furniture, you cannot get it done by yourself unless you have the right set of tools and equipment. So, if you are planning to go for a DIY move, make sure you either buy or rent the below mentioned equipment to enjoy a successful and hassle-free moving of the heavy furniture:
Moving scraps– Moving scraps, also called "furniture scraps" or "lifting scarps" are one of the handiest devices that helps in transferring some of the weight or load off of your back and your arms when you are lifting heavy furniture or any other heavy object. This actually makes things easier for you to manage. Also, the good thing is they are adjustable so adjust them as per the size of the furniture you are carrying and also, according to the size of your body.
Furniture sliders– The next in the list of equipment that you need to have is the furniture slider. You can actually call these sliders to be the must have equipment. They are made of single part or multi-part plastic and you need to place them under each corner or leg of the furniture piece as that will help you easily glide the furniture across the floor. They help create an easily mobile barrier between your furniture and the floor which helps to reduce the friction, without which it would have been difficult for you to move the heavy furniture. It also helps to avoid damaging your floors.
Furniture dollies– You may buy one type of furniture dolly but actually there are two types of furniture dollies, both of which are quite useful. One of them is a four wheeled square platform that comes with or without a handle for pushing purposes. The other one is a two-wheel hand truck whose base is smaller than that of the four –wheeled square platform but it helps in proper distribution of weight vertically, thereby making it really good for tall items. However, before you start to push, make it a point to secure your items to the dolly using rope or additional straps.
Dismantle the furniture
When your furniture is very heavy as well as large, it is not possible to move the entire piece as a whole. So it is advisable that you dismantle the furniture (of course if it can be dismantled) each item of your heavy furniture. In other words, take away all the removable pieces including knobs, cushions, drawers, legs etc. Also, disassemble things like bed frames, sectionals etc. However, if while doing this, you need to remove screws or other small pieces, just try to label them so that you remember what all of those pieces are for. Do keep the small materials in a baggie.
Lift using right techniques
When you are dealing with the heavy objects, using the right techniques is very important. This way you can actually avoid injuries because unless you are careful with your postures and the way you are lifting any heavy furniture, you may actually get some serious injuries.
Safety always comes first. So, here are some of the lifting techniques for you to consider:
Bend at your knees, not waist- You need to remember that while you are lifting heavy furniture you need to carry the weight in the legs and not your waist. Instead of bending over, for the initial lift, it is better that you squat down at your knees. This way, the majority of the weight will be placed on your arms and legs and not on your back.
Carry the objects close to your body- The next rule is to carry the objects as much close to your body as possible. This helps you maintain balance. Also, your shoulders and upper arm get involved in it which is actually a better alternative to your forearms.
Never twist your body- While you are lifting or walking with a heavy furniture, it is important that you keep your body as much still as possible. Never hurry or twist your body or make any fast/sudden movements as that will increase the chances of you getting heavily injured. And, even when you need to turn or twist, your hips should lead, followed by your feet.
Make sure you see where you are heading- Make sure nothing is blocking your way because if you are not having a clear view of where you are heading, you may get hurt. Since your body goes where your eyes go, it is important that you keep your head forward and not facing down.
Plan for unloading
Your work does not end with you relocating to your new destination because you need to unload those items from the truck and arrange them in the new home as well. So, it will be a good thing if you plan how to unload everything from before. This way you can save yourself from wasting time later regarding how to unload items and where to place them inside your rooms.
How to move heavy furniture on carpet?
The experience of moving heavy furniture is, as it is, bad but when you have to move the heavy objects over the carpet, it is often more time consuming and stressful. But, if you know the right techniques, you can actually save yourself from the pain. Well, use the following techniques and do not let the stubborn carpet bother you so much:
Use carpet sliders to move heavy furniture
Using carpet sliders is one of the best options when it is about moving heavy objects over the carpet. They have a smooth design which helps them to work very smoothly over the carpet. You will get the sliders in various shapes and sizes. They are usually made of hard plastic and durable rubber foam.
To make proper usage of it, all you need to do is to lift your furniture slightly and center the carpet sliders underneath the legs of the furniture. Just make sure that the foam is under the legs directly and the plastic against the carpet floor. Push or pull as required.
Use a shoulder dolly to lift heavy furniture
A shoulder dolly is a very useful equipment. Here the legs and the shoulders are used to lift the items. The load seems to be comparatively lighter because your hands are free. You do not need to bend over here. Just try to maintain a proper upright posture. A shoulder dolly includes harnesses and straps for 2 individuals, so do find a partner for yourself. The good thing is the dolly is adjustable to different heights. You can easily lift any object of around 400-450 kgs easily using a shoulder dolly. It is very useful in moving furniture seamlessly across the carpet floors.
All you need to do is fit the webbing through the buckles and attach it together. The webbing must be placed directly under the furniture. While lifting any heavy objects, just be extra careful. Make sure you use your hands to keep the furniture stabilized.
Attach forklift straps
Do use the forklift straps while moving heavy furniture as they work similarly as a shoulder dolly. The difference is where you are placing the straps on your body. The design is also different. You and your partner have to place your hands on the furniture to keep it stabilized. Just adjust the straps for difference in the height between you and the other individual.
Roll furniture over the carpet using a moving dolly
A moving dolly consists of wheels attached to the flat surface. You just have to place the furniture over the flat survive and then move it to the desired location. Some of the moving dollies come with handles which you can use for tilting or stabilizing the furniture when you are rolling it.
How to move heavy furniture on wooden floors?
If you are not careful when moving the heavy furniture on the wooden floors, you may actually end up making some unsightly marks and blemishes on the floors. And, if you want to avoid that, below is mentioned some of the tips that you can consider:
Avoid dragging
The very first thing that you should consider is to avoid dragging the heavy objects over the wooden floors. This is obviously because it may lead to marks and even damage the floors badly. The best thing to do is to lift the furniture but if that is not possible in any way then you need to be really careful while dragging the furniture.
Be slow and steady
When you are moving the furniture, just don't rush and do it slowly and carefully. Moreover, if you hurry, then the padding and the other protective measures that you have used may slip off.
Clean the wooden floors before moving
Not cleaning the wooden floors before moving the objects will be a huge mistake so please avoid that. It is actually very vital because tiny bits of dirt and gravel can grind and scratch against the wooden surfaces even if you have added sufficient padding.
Lighten the load
I have told this earlier and I am telling it now as well. It is really advisable that you remove cushions, shelves or anything else that can be removed from the furniture as that will make moving the objects easier for you.
Place the towels under the furniture
Towels are really handy in this. They act as the perfect padding. They protect the floors as well as make sliding easier for you. Go for old towels as they may also get damaged in the process.
Use cardboard or business cards
The very cheap way to avoid the furniture touching the floors directly is by covering the legs of the furniture using cardboards and business cards. Just be a little careful as small pieces of the cardboard may get knocked out, leading to you dragging the furniture.
However, apart from cardboards and business cards, you may also use other materials like plastic bags, rugs, and felt pads. You can use any material that can become a soft barrier between the wooden floors and the furniture.
Avoid dollies
Dollies are good options for moving heavy objects on the wooden floors but the reason I am suggesting you to avoid that, is because the wheels often cause more damage to the floors than the furniture itself.
Be careful with your spine
Lifting is ideal if you want to avoid scratches on your wooden floors but you need to be really careful with your spine while lifting the heavy objects. Lifting improperly may lead to severe back injuries, so be careful and do take help. In fact, remember to avoid lifting using your back.
How to move heavy furniture up and down the stairs?
Moving heavy furniture is already a very difficult task and when it is about moving them up and down the stairs, it simply adds up to the difficulty level. And, when you are actually doing it, just remember that you should not do it alone. Find a partner for it. Well, apart from it, here are some things for you to consider:
Move the items high to low
It is very important that you carry the items high to low. It means that the one who is lower on the stairs must carry the furniture from the bottom surface and the one who is higher on the stairs must carry it from the top surface. You need to very slow with your movements and the person who is at the bottom must be setting the pace, not the other one who is higher.
Now, you may be confident that if the item is small, then even it is heavy you will be able to manage to lift it alone but I will request you not to do it. Please take the help of someone and follow the method I just said. Be careful.
Use dolly and scraps
A hand truck or dolly is a great tool especially when it is about moving heavy furniture upstairs. Once you have placed the item on the dolly or the hand truck, use flat hook scrap tie downs to secure it.
Roll the dolly backwards on the stairs. You then stand on the first step. Lean the truck towards you and then pull it. You need to move this dolly up, one stair at a time. Make sure you have someone on the other side, moving up the staircase to spot you. Keep your back straight and you need to do the lifting using your legs. This will work great for small to large items that are very heavy but if the item is too big, then having a partner to carry with you is mandatory.
Conclusion
Heavy furniture is undoubtedly the most difficult ones to move from one place to another when you are relocating. So, if you are planning to go for a do-it-yourself move then make sure you are confident that you will be able to move the heavy and large furniture on your own.
The good thing is if you know the right lifting techniques and are aware of the equipment that you are going to need and how to use them then you can actually manage things without taking help from professional movers and packers companies. But, you need to be very careful and prevent hurting yourself and damaging the object you are carrying and also the surrounding objects.
Well, to help you I have given certain important general tips in my today's post. Since flooring is not same at all places, so I have also tried to help you how to move the furniture that are heavy depending on the kind of flooring you have as well as talked about the techniques to use when moving heavy items up and down the stairs. And, I am hopeful that you are going to be benefited from my tips. But, please do take help of a partner while dealing with heavy objects. It is better and also safer for you.
What do you think? Let me know the feedback and the suggestions in the comments section. And, if you found the article to be helpful, do share it and spread the word.