Australia is one of the favorite destinations for Indians to relocate and get settled in. There are many who believe that Australia offers better employment opportunities, higher wages, better infrastructure and a higher quality of living, all of which make life happy and peaceful.
In addition, the exquisite beauty together with low air pollution makes it all the more desirable for the Indians. In fact, not just Indians, there are many people all over the world who migrate and relocate to Australia for a better life.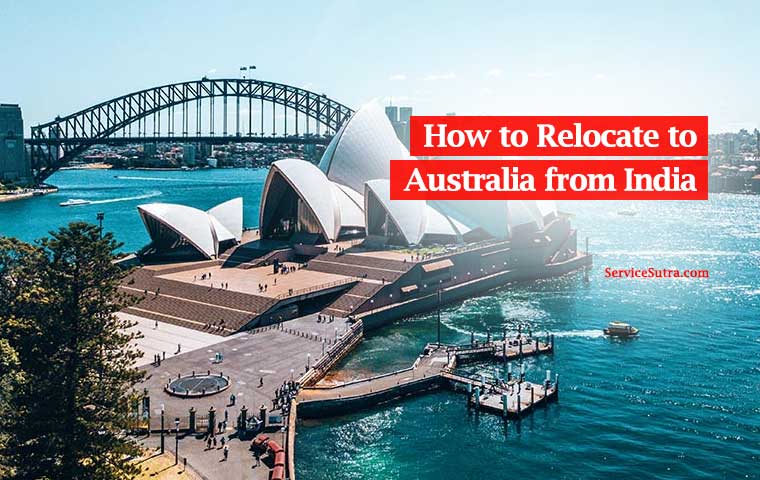 But, obviously, you cannot relocate to Australia, Dubai or any other country from India or any other country, just like that. You are someone from a different country and got to abide by the immigration laws of the country. So, if you are planning to move to Australia and wondering about how to relocate to Australia from India, then I have got you covered. Today in this post, I am sharing the detailed migration process that will help you in relocating to Australia easily and conveniently.
I am talking about everything worth knowing including visa and documentation process to help you plan your relocation to Australia from India.
There are various Australian visa programs that you can choose as per your preference and situation and relocate to Australia from India, and I am going to talk about all of these. So, keep reading.
Here's how to relocate to Australia from India
All of us deserve a better life and if that comes from relocating to a country with brighter prospects like for example, Australia, then taking a little extra effort in case of acquiring a valid Australian visa is completely worth it.
I have tried to explain things as per the possible purpose of your visit and the kind of Visa you will require for migrating to Australia from India.
And, here you go.
Relocating to Australia as a skilled worker
Indians are quite talented and skilled people and so there are many who relocate to Australia as skilled workers or as skilled migrants. Well, for this, you need to at first, choose a suitable occupation from the Skilled Occupation List (SOL) or Consolidated Sponsored Occupation list (CSOL), and then apply for the chosen or desired visa category as per your working experience.
To be more specific, if you want to relocate to Australia from India, you are required to clear the point-based immigration system of Australia. This system actually depends on factors like your age, education/qualification, work experience, proficiency in English etc.
You need to score the minimum of 65 points to qualify but to increase your chances of getting selected, it advisable that you try to score as high as possible. Check out the Australia point calculator here
If your profile gets selected under this category, then you will receive the invitation to apply for your visa.
This process is divided mainly into two categories. Here are they:
Skilled Migration Category- If you apply under this category, then your profile will be selected based on the skills, work experience and other details in your profile. The Skilled Independent Visa (Subclass 189) is the visa you get under this category. Just choose an occupation from the SOL and then submit an Expression of Interest that is EOI or Skill. Select that is the online system for processing skilled visa EOIs. You will get the invitation to apply that is ITA if your profile gets selected.
Sponsored/Nominated Category- Since it is a sponsored visa category, you will have to get a nomination from any Australian state or Employer to apply under this category. Also, you will have to choose an occupation from the CSOL.
This visa is however divided into two categories:
Skilled-Nominated Visa (Subclass 190)

Employer Nomination Scheme Visa (Subclass 186)

Regional Sponsored Migration Scheme Visa (Subclass 187).
The visas you get under this category allow you with permanent residency in the country.
Relocating to Australia on temporary work visa
Under the temporary work visa, you can stay and work in Australia for about 4 years. However, you can convert it into permanent residency with certain conditions and requirements.
To become eligible for applying under this category, you got to get the nomination /sponsorship from the state or territory government or from any Australian Employer. Once you get it, you can apply online
The categories for a temporary work visa are:
Temporary Work (Skilled) Visa (Subclass 457)
Skilled Regional (Provincial) Visa (Subclass 489)
Migrating to Australia on businessman or entrepreneur visa
If you are planning to relocate to Australia because you want to start a new business there or invest in your existing one, then you need to choose the appropriate business visa for applying.
You will also have to invest in the Australian business venture depending on the visa you are applying for. Here are some of the criteria that you need to be aware of:
You need to be under 55 years of age
Your annual turnover must be AUD 3 million
You should have a real or long-term plan or commitment to run a business or in investment activities in Australia
You should not have a history of being involved in illegal or unacceptable activities
You should receive the nomination from the state or the territory government
The business or the investment Visas under this category are:
Business Talent Visa (Subclass 132)- For people who can have a permanent stay in Australia. It has 2 streams a) Significant Business History Stream, b) Venture Capital Entrepreneur Stream. Here you need to undergo certain other eligibility criteria like health, character etc.
Business Innovation and Investment Visa (Subclass 188)- You have 2 divisions here a) Provincial Business Innovation and Investor Visa and b) Permanent Business Innovation and Investor Visa. This Visa is mainly for those who want to settle there permanently. They need to have the skills needed to carry business related operations as per the rules and regulation of Department of Home Affairs.
Investor Visa (Subclass 891)- This is for Business visa applicants who want to live there permanently.
Business Owner Visa (Subclass 890)- It is mainly for owners and part owners who want to permanently settle in Australia
State/Territory Sponsored Business Owner Visa (Subclass 892).
The visas under this allow you along with your dependent family members to get permanent residency or PR in Australia.
The important documents that are required to obtain Australia business visa are listed under here:
Visa Application Form.
Your original passport (6 months from the date of your travel) along with your previous passport with photocopies of all the pages.
2 color photographs having plain white background. The Size 35 mm * 45 mm. Make sure there is 80% face size available.
Covering letter on company letterhead. That should describe the travel related details, details of applicants and the work details. Also, Detailed itinerary, with details of contact of the business parties who participated.
Registration proof of your company
Income tax papers of the last 3 years/ form 16.
A letter of invitation from the host organization here in Australia.
Last 6 months Bank statement
Salary slips for last 6 months
Registration details of conference or event
Relocating to Australia on a spouse visa
If your partner is a permanent citizen or Australian resident, then, you being the spouse can migrate to Australia and get the permanent residency. But, make sure you have all the proof of the relationship.
Here are the Visa categories for you:
Partner Visa (Subclass 103)
Prospective Marriage Visa (Subclass 300)
Partner Visa (Subclass 801/820)
Partner Visa (Subclass 100/309)
Migrating to Australia on Child visa
If you are settled in Australia, and you want your kids to relocate to Australia from India, then you can help relocate your child, under Child visa program.
There are various requirements depending on the Visa category, but the key ones to become eligible for child visa program are as follows:
The child must be under 18 years of age
The child is dependent fully on sponsoring parent
The child is between 18-25 years and must be a full-time student
The Australia Child Visa categories are Child Visa (Subclass 101/802) and Child Adoption Visa (Subclass 102)
The Australian Child Visa Subclass 101/802 is mostly for the children who stay far away from their eligible/sponsoring parents and want to stay with their parents. Here the eligible parents have got the right to sponsor their child to live in Australia along with them.
However, it is important to note that the eligible parents should be a citizen of Australia, or a permanent resident or an eligible New Zealand citizen to do that. It is a basically gateway for the child to get permanent residency (PR) status in Australia.
Under Child Adoption Visa (Subclass 102), the child who is adopted or in the process of getting adopted is allowed to live in Australia with his/her adoptive parents. For being eligible to apply for this visa, the child should be less than 18 years of age and must reside outside Australia.
Migrating to Australia as a student
Australia has got a really strong education system and if want to relocate there for the studies, then you got to choose the best college/university, select the best course of study and then acquire the appropriate student Visa for migrating to Australia.
Student applicants need to fulfill some minimum requirements for student visa like proper documents, health checkups, financial resources, language proficiency etc.
Here are the Visa categories available for students:
Australia Student Visa (Subclass 500)
Training and Research Visa (Subclass 402)
Vocational Education and Training Sector Visa (Subclass 572)
Postgraduate and Research Sector Visa (Subclass 574)
Higher Education Sector Visa (Subclass 573)
Over to you
Australia is a great country to stay and get settled permanently. There are a lot of opportunities for both professional and personal growth. And, if you have children, there are really good educational institutions out there in Australia. In short, Australia is a good place to settle down with family. The climate is also quite good, so you will not face too much of a problem.
Also, there are various types of visa programs available for migrating to Australia. You just have to choose the visa as per your requirements, and try to have all proper documents to improve the chances of obtaining a suitable visa. But, remember, the cost of living in Australia is more or less on the expensive side, so you need to have a good source of income to stay comfortably in Australia.
The process of obtaining a visa and then getting settled down there might sound like a little complicated and time consuming. But, considering the quality of life you will be able to enjoy, and the brighter prospects available in Australia, it may be worth the wait.
And by the way, once you are done with all the documentation and ready to relocate, you can easily find leading moving companies for international relocation services on servicesutra.
I wish you all the best for migrating to Australia.
What else do you think one should know about relocating to Australia from India? Feel free to share your experiences.
Happy relocation!