Whether you are moving household to the next neighborhood or moving to a different state, packing and moving household goods can be overwhelming. And if you are after household move with kids, then it's going to be even more complicated. Packing and moving can get you really tired, especially when you are moving with kids. But then, this is a good opportunity for you to involve your kids and keep them occupied.
If you are wondering how, then read on the post as I am talking about how to make packing fun for your kids. I am also sharing tips and ideas on how to help kids sort and pack their own stuff for household move. So continue reading if you are planning for a household move with kids.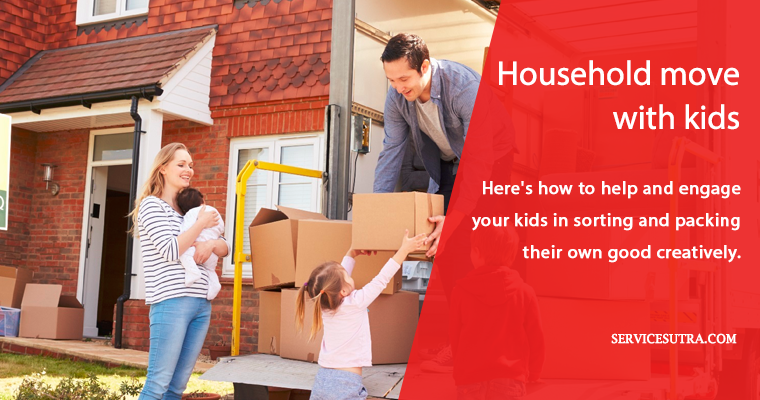 I personally feel that the most complicated part of a household move is to sort the inventory, and then actual packing. Taking a call on which of the household items to take and what to leave behind, is going to be a little tricky.
While on one hand,you don't want to leave any of the usable and precious goods, at the same time you would not like to move things that you can do without. After all, the cost of packing materials and moving itself is directly related with the volume of goods you are moving. So you have to sort and list inventory of of goods to move very carefully.
And in between, you have to find a local movers and packers company, if you want to hire one or alternatively you can arrange packing materials, truck, labor and then move on your own.
And, with little kids around, things are going to be even more difficult. This is because you need to take care of them as well besides looking after the packing and moving of your goods, screening vendors, negotiating and coordinating with them.
But you can get rid of many of the issues by involving your kids in sorting and packing, especially if they are a little grown up. At least you can help them sort the items of their own room according to their needs. Otherwise, your kids are going to pick everything in their room, no matter whether it's usable or not.
Engaging kids in sorting and packing can help you focus on other tasks. If they are engaged in something, then you will be able to focus on other involved tasks.
However, if you are wondering about how to do it the best way, then continue reading this post. I am sharing various ways to make packing fun for kids and move your household with kids without hassles.
I am sure; you would agree that the little kids need constant attention. And in such a situation, when you have to deal with the movers or packing on your own, most of us seem to be in a fix. But when your little one gets engaged in sorting and packing, then things are going to get a lot easier for you.
Give them enough importance and assure them that they are playing a significant role in the packing. Appreciate their work and include some fun activities during the packing. In this way they will feel as a part of the team and packing will become enjoyable both for you and your kids.
How to engage and make packing fun for kids
Your kids may not be able to pack everything on their own. But, you can certainly help them stay engaged in sorting and packing to some extent.
When your little kids will remaining busy with these activities, it will take some of your work load and secondly, they will feel engaged and occupied.
And here are a few of the best ways to keep your kids engaged when packing and moving.
Keep clam and talk to your kids
Your kids may not be even aware of the fact that they won't get to see the same house again. They are moving to a new house and that they are soon going to miss this house. So talk to them positively, tell them the about the better things that's awaiting them in their new home. And as you talk to them, let them the importance of packing everything correctly, else it may get damaged. Ask for their help and they will most likely understand and they'll be ready to help.
Get the music playing and the food coming
home relocation and packing can be hectic but the more stressed out you are, the more difficult things will seem. In fact, if you remain puzzled and anxious all the time, somehow it will affect your kids as well. They will also get more anxious and will disrupt your work all the more. This is why it is important to keep calm and create a lively environment while packing.
Your may like to play some energetic song which will keep you active throughout the packing. You can even play your kid's favorite song to keep them happy. And, while your kid is happy and enjoying the song, you can get your packing done.
However, do not forget to feed your kids timely because if tummy is not full, they will get irritated and will not let you do the packing. In contrast to that, if they are full and is also enjoying the music, then you will see that even your kid will start enjoying the packing. Everything will be just fine when there is a positive vibe all around.
Make a hunt packing list
One of the best tips on how to engage and make packing fun for kids when moving will be to make a scavenger hunt packing list for them. Just list the items and tell your kid to find the items in order to pack for the move. Little kids love this and you will see that your little one will actually spend more time in hunting than packing and you will yourself get enough time to do the serious sorting and packing.
Let the kids decorate moving boxes
Kids love to paint in literally everything so why don't you allow them to make the moving boxes their painting canvas. They will be busy painting and you will get enough time to do the packing.
Just tell your kids to leave one side where you will have to do the labeling and the rest is free for them to paint and decorate with the crayons, stickers, markers etc. Isn't the idea cool and innovative? So, go and see whether the trick works on your little kids or not.
Encourage them to sort and pack their own items
You know what items (including your kid's items) you want to carry to your new house. But there is nothing wrong in giving your kid a little extra importance by asking them what belongings they want to carry to the new home. This, in turn, will actually help you a lot, because when you ask for their help, your kids will automatically feel important, and they'll happily get engaged and involved.
You ask your kids to decide and sort their toys. Let them take charge of their room while you look after the other essential household goods, in other rooms. In the end you can do the checking and make the necessary changes wherever required.
Reward your kid with surprises
You got to keep your child motivated and one of the best way to do it right will be to hide surprises in their room. Hide stickers, cookies, new toys, chocolates inside your kids room so that they get it while helping you sort and pack their items. Trust me this type of small surprises can do wonders and keep your kids excited and motivated. Once they understand that there are rewards waiting due to their hard work, they'll be even more excited to help you further.
Be open and appreciate their work and thank them for their efforts. And, if they are taking too much of time, then motivate them further by telling them that if they finish the work faster, they are going to get more surprising rewards. Believe me, this is a great trick to involve and engage kids when moving household.
Let your kids take photos
If your kids know how to click pictures, then you can ask them to take pictures of the items and boxes before and after packing. This is actually important as the pictures will act as a proof regarding how many items you are carrying and where you have packed the items in case you find it hard to locate any item. Also, it will keep your child busy and excited.
How do you plan to engage your kids in packing and moving?
Every important work can easily become like a challenge, if you have naughty kids at home and if your kids are totally attached to you and needs your attention all the time. And, when it is about moving household with kids around, it's going to be even more complicated and challenging.
But what if you can engage your kids creatively and let them participate in doing smaller tasks like sorting their room, putting their items together at a place and so on? The overall packing will get much easier for you, because as they engage, you will have more time and obviously less work load.
I am sure you are wondering about how to do it because engaging kids in packing is not going to be easy for it's such a boring thing to do. Well, there are few ways to do it right, like:
Make a hunt packing list
Decorating moving boxes
Allow them to sort and pack their own items
Reward your kid with surprises
Let your kids take photos
If you do not engage your kids, then they are not going to have anything to do and they may often interfere and disturb you. But if you can engage them creatively, they will be happy to help you through the process.
If you planning household move with kids and you are not sure if you want to do it on your own then you may like to hire professional movers to help you relocate safe and sound. Feel free to call us on 07044123404 or submit the quote request form, to receive best price offers from leading movers and packers near you.
What do you think is the best way to engage kids for household move with kids? Have you ever moved with kids? How did you engage your little ones? Feel free to share by commenting below.
Finally, if you like reading these posts, then please help us spread the words by sharing these posts.
Until next post, stay happy and relocate safely.