The safety of your belongings is of primary importance when it comes to moving a house, especially in case of a long-distance house move. This is why we give so much stress on proper packing of the boxes, and also request you to hire good and efficient movers who are well equipped to ensure maximum safety of the items during transportation.
But, there are certain essential goods that you should keep with you on the day of moving. Well, it is not that they are not safe at the hands of the trustworthy movers, but it is just to ensure that the items are not getting misplaced or lost or damaged in any way, you must keep them with you.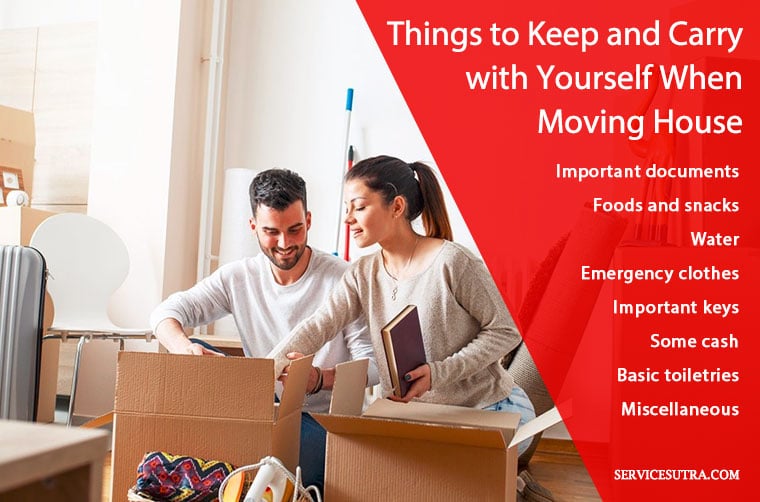 Items include very useful items that are of utmost importance, as well as items that help making your journey comfortable. Today I will be discussing on what to keep with you on the day of the relocation so that while packing, you keep them separated in the bag that you are going to carry with you while moving.
Well, before starting with the list of items to keep with you while relocating, I just want to clarify that this list is not at all similar to the items to pack in the essentials box.
In case you are unsure about what is an essential survival box, let me just make it a little more clear for you. The essentials box is the box containing all crucial items needed for you to survive in the initial days in your new space.
This is the last box you will pack and the first box that you will have to open after the relocating. But, there is no compulsion that you have to carry the essential box with you during the journey. You can just hand it over to the movers as well.
In fact, most of the time, you will have to pack more than one essential box so of course you cannot carry all of them with you all the time. In contrast to that, the list of items that I am going to talk about today is the ones that you need to keep with you to survive the journey.
Essential things to keep with you when relocating
Relocation is not just about transporting your items from one home to another. It is also about your own physical relocation. In the case of long distance move, you (along with your family) will also have to travel that distance and in order to make that journey comfortable, you need to carry certain essential items with you.
Also, you need to keep all the items that you cannot afford to lose at any cost with you to ensure maximum safety for these goods. Moreover, in most cases, things get delivered to you after you have already relocated so handing over some emergency items to the movers may become a problem for you.
Here is the list on what to keep with you on the day of the relocation:
Important documents
The important documents definitely top my list of essential things to keep with you on the day of the relocation. The important documents may include
Your birth certificate
Academic documents
Professional documents
Credit cards
Bank pass book
Passport
Driving license
You know that each of these documents is really important and you will definitely need them sooner or later. So it is advisable that you keep all these documents safe with you so that you do not lose it.
In fact, if you are travelling with your family, make sure the important documents of your family members are also taken in the car where you are travelling.
Try to maintain a separate bag and keep all these important stuffs safe. Make sure you do not mistakenly pack them in any of the boxes which you are going to hand over to the packer and mover, and avoid unnecessary tension of them getting lost later.
Food and snacks
It is true that there is the option to buy food from the stores, but situation may not be suitable for that all the time. Like for example, you may be taking a route where food stops are very less or you may feel hungry but the stores are closed by that time.
So, what are you going to do then? Stay hungry? Well, certainly not, and so therefore it is recommended that you carry some foods and snacks with you while travelling.
In fact, even if you forget to carry some snacks for yourself, do not do this mistake when you have kids with you. Make sure you carry baby food and kids food with you. Same goes with pets as well. Pet food must also be taken in your car.
Water
Well, I thought of separately mentioning this instead of just mentioning it under food because it is very essential for survival, and you need to keep water bottles with you throughout your journey. It is very important to stay very much hydrated throughout the journey and for that, you and your family members need to drink plenty of water.
In fact, not just for drinking, water is required for a lot of purposes, so make sure you stack your car with lots of water bottles.
Clothes
Well you must be thinking why to take clothes with you but trust me, having an extra pair of top or pants or shoes or socks will do no harm to you. Instead, you never know you may actually need them any time. Especially, if you have little ones and pets with you, carrying their extra clothe is not a choice, but a compulsion.
I will suggest you to carry the clothes as per the weather. Like for example, if you are travelling from a hot climate to a comparatively cooler region, or if it is going to be late night by the time you reach your destination, you may feel cold. So, it is also better that you carry some warm clothes with you.
Keys
The next in the list of things to keep with you when moving a house is the keys. Most of us have a habit of losing keys so make sure you keep them safe with you. Plus, you are going to need them anytime, so you cannot do the silly mistake of packing them in the boxes along with the other belongings of yours. Keep it at a place, you can easily locate when needed.
Cash
I always recommend people to carry some cash with them whenever they are relocating from one place to another. This is actually for emergencies. Not all places allow credit card payments and may require you to pay only cash. Also, if by any chance your card gets misplaced, having some cash will save your day. So, yes, do keep some cash with you even if you feel you are not going to need them. It is always better to be safe than sorry.
Prescriptions and medicines
It is highly recommended that you carry your medicines and prescriptions with you, especially the medicines that you or your family members are going to have during the journey. Make sure you do not mistakenly pack them in the other boxes otherwise you may not be able to take that medicine on time. And, also, there is no guarantee that you are going to get that medicine from the local stores all the time. So, make it a point to carry them with you.
In fact, not just the prescribed medicines, I will also suggest you to keep most of the common medicines and antiseptics etc with you. In other words, keep a first aid kit ready with you and do not forget to include the common medicines in that.
Basic toiletries
I always keep some of the basic toiletries along with me whenever I am travelling, and trust me it helps. These usually include a hand sanitizer, some wet wipes, comb, a good moisturizer, tooth brush, toothpaste, mirror, deodorant etc.
Miscellaneous
Some of the other items are also included in the list of what to keep with you on the day of the relocation, and they are scissors, gums, stapler, disposable bags, rubber bands, tissue, safety pins, sticky tape etc. We frequently need them and so it is safer to carry these with you while you are travelling.
Over to you
Packing is an important aspect of home relocation. You need to know what to take and what not to so that you can have a successful home relocation without having to spend extra money.
But, not all items must be carried in the cardboard boxes and handed over to the movers. There are some essential items that you need to keep with you to enjoy a comfortable relocation. These include important documents, food, water, extra clothes, medicines, basic toiletries etc. You will require most of them while travelling and some items like the important certificates and documents must be kept with you in order to avoid you losing them or misplacing them.
The list I gave here is a basic one. If you want to do any alternation, you are free to do, but make sure you carry the items mentioned above with you. Trust me; it is important and safe to do it.
What else do you think we must keep with us on the day of the relocation?
Feel free to share your tips and hacks by commenting below.
Happy home relocation!