Are you planning to hire an interior designer firm and wondering about how much they would charge? Are they going to charge you a flat fee or will they charge certain percentage based on your overall interior budget? Well, we get to hear these questions very frequently and hence this post. If you have purchased a new residential or commercial property and you are planning to hire a professional interior designer then here's the post you can't afford to miss. For today in this post, I am going to discuss about everything worth knowing on how does an interior designer charge their clients in India.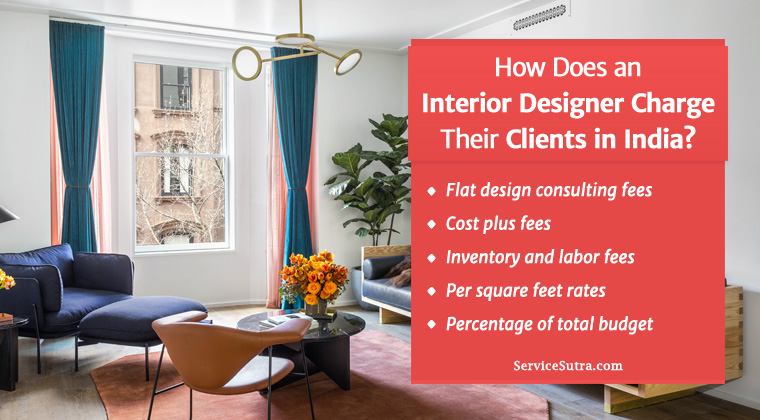 Usually, the rates of interior designers in major cities like Mumbai, Pune, Delhi NCR, Bangalore, Hyderabad, Kolkata etc would be same. There won't be much difference in the pricing policies of interior contractors in these cities. Rates of interior designers in tier two cities will be a little less than these metro cities.
As you would know, interior designers have a very crucial and important role in designing and decorating both residential and commercial properties. They play a crucial role because they are professionally trained to make your space fully functional as per your style and need. They take every project as a new challenge and based on your functional requirements and budget, they fully transform the aesthetics and functionality of the space. They use their experience and smart tools to achieve this goal and hence they can be of great help in designing and decorating your home or office.
But many of us wonder about whether it makes sense to pay a fee to an interior designer. Many of us actually don't have any idea of how much they charge and what to expect from them. If you are one of them, then read on this post to get a complete idea of how do they work and how much do they charge for their work.
How much does an interior designer charge in India?
Interior designers are professionally trained to make your space functional, beautiful and safe. They help in optimizing the available space by choosing right kind of layout, artwork, color and decorative elements. They can be of great help in designing and decorating your new flat or office space, especially when  you want to utilize the space to fullest.
But if you are wondering about the rates and charges of interior designers, then let me tell you that there is no fixed formula to calculate the charges of an interior designer. Different interior designers use different types of pricing models based on their experience, credential and scope of work.
Some of the interior designers may charge a fixed fee for the entire project but others may charge based on the carpet area or depending on the overall interior designing budget of the client.
But I will try to give you a ballpark idea of various price calculation models which is used by the interior designers in India. Listed below are a few of the pricing models used by the interior designers in India.
Flat design consulting fees
In this model, you as a client will have to pay a flat fee (they call it design consulting fees) to the interior designers. They will charge you a flat fee and design consulting charges. This model works well for those who have the time and who are looking for complete transparency in the process. Both client and interior designing firm have clear expectation here and both of them know what to expect from each other. Obviously this model does not cost a lot and interior designers will not be executing the project. This will work well, if you plan to get it done through your own carpenter but instead of working randomly, you want a professional to take care of the functionality and aesthetics of the project.
The interior designers will send their team to take the measurement and layout of the property. Then based on your requirements, they will create sketches or the design elevation. This basically covers which part of the house will have what like where to put bed, where will be the wardrobe, where to place tv cabinet, shoe cabinets etc.
Based on the elevation, they will create 2D and 3D sketches that should give you enough idea of how the end project is going to look on completion. Here at this stage, you can suggest changes in design, color, layout etc and the interior designers will make the changes in design and resend the 3D views for your feedback and approval.
Once the design is approved, they will create measurements and specification of the furniture, false ceiling, electrical and plumbing related work, based on the last approved 3D design.
The final deliverables includes elevation, 2D and 3D sketches and measurement specification that you can directly take to the carpenter and get your work done. Since you already have the specification, measurement, look etc, the carpenter and other stakeholders should be able to execute it to perfection.
Some of the interior designer firms also offer supervision services for free or you can say supervision charges are also included in their fees. You need technical supervisor to ensure that carpenter and electrician is actually working as per the design specification. A dedicated supervisor will visit the site once in two weeks and check the quality and progress of the work.
Advantage of working in this model is that both interior designer and the client know what to expect from each other. As a home owner, you will have full control over the cost and quality of materials being used in your project.
If you have plenty of time in hand and you are a do-it-yourself person, this model will work well for you. But then, be ready to hustle with various stakeholders from carpenters to plumbers, electrician and glass technician. You will also be responsible to bring in raw materials like plywood, adhesive, laminates, nails, fittings, glass, electrical lights etc on your own. But the interior designers will be happy to connect you to the vendors from where they source the materials for other projects.
How much does an interior designer charge in this model? Well the charges of interior designers could be anywhere from Rs. 50000 to 80000.00 or more depending on the size of the project and involvement of the interior consultant.
Cost plus fees
This model is widely used by interior designers these days, for it is trusted by the client and it's a win/win formula. You have to pay the 'as on actual' costs of materials and a flat service fees as agreed to the interior designer. The interior designers will charge a flat fee for designing, supervising and executing the project from end to end.
Right from taking the measurement, gathering the requirements, designing elevation to 2D and 3D model and measurements specification, the interior designers will take care of everything. Naturally they will charge you a flat fee for these services. Charges could be anywhere between Rs. 30000.00 to Rs. 80000.00 based on the scope of the work, involvement of the designer and credential of the interior firm you are working with.
Inventory and labor fees
This model is similar to the cost plus fee model. You will be paying for all the materials based on the bill provided to you by the interior firm. All the inventory items from plywood to laminates, sockets to ceiling fan, designer bulb to strip lights, cost of all the items will be paid by you based on actual bills produced by the interior designers.
Since you are paying for the inventory, the next cost head is labor charges. The interior designers will communicate you about the labor charges in advance which is mainly calculated based on area (dimension of furniture) for carpentry and on flat basis for electrical and plumbing related work.
Charges of interior designers in this model could be around Rs. 400.00 to Rs. 600.00 per square feet of the furniture. This square feet rate is mainly for the carpentry work. For electrical and plumbing related jobs, they will charge you a flat fee, which is not much.
This model works well for those who want the liberty to choose every item on their own. The interior designer will take you to the shops; you can experience the items and choose one that suits your style and budget.
For instance, when you to buy the fittings e.g. knob, lock and door handle etc for the furniture, you get various options in different price range. From Rs. 200.00 a pair to Rs. 600.00 a pair and when you are working with the interior designer on this model, you can buy any range that you like.
Per square feet rates
This is again a flat fee model. The interior designer will charge you a gross flat fee for consulting and supervision. The square feet rates again can be based on the overall carpet area or square feet of work being done. For example, the total carpet area may include washroom, balcony etc which does not require any work, but that does not mean the interior will include those areas as well while calculating the fees. They will charge the fees based on the workable area.
For instance they will take the measurement of the furniture and based on that they will charge a fee. Charges of interior designers in this model will vary from company to company.
Percentage of total budget
In this model, the interior designers will charge a percentage of the total budget. So, if you intend to spend around Rs. 100000.00, the interior designers based on their credential and scope of work may charge you anywhere from 6% to 10%. This model suits those who are too occupied with their own things and someone who wants a dedicated team to look after every aspect of the interior work. This pricing model is also used by interior designers on turnkey project, where they work on percentage basis and take full charge of the project from conceptualization to designing and execution.
Over to you
Interior designers are supposed to design and decorate your space to make it usable, beautiful and safe for you. They put lots of efforts in conceptualizing the work and then in executing the work as per the agreed plan. They have to deal with a number of uncertainties and it's not an easy task. Naturally, they go through all these hassles to ensure that your home or office is designed to perfection.
If you have ever wondered about the charges of interior designers in India then you are not alone. There are many who have no idea about how does an interior designer charge their clients in India. And honestly, there is no fixed model of pricing for interior designing services in India or anywhere in the world for that matter. So how do they charge their customer? They have multiple pricing models which are used by the interior designers to charge their client. We have already discussed those models above and hope it'll help you in hiring interior designers.
And if you would rather like to speak to a couple of local interior consultant in your city, then you may request free estimates by submitting the quote request form. On submitting the form, you will be contacted by a couple of interior designers who will be happy to discuss your need and help you set a budget for your interior designing projects.
If you are planning to design your home or office and wish to get end to end interior done, then knowing how much it would cost to hire interior designers will certainly help you. If you have any other query then feel free to ask by commenting below.
Are you an interior designer?
Tell us which other model do you use for pricing!