If you have purchased a new home or an office, and you are unsure about how to make the best use of space, and make your house or office look amazingly goods, sophisticated then, it's worth hiring interior designer services.
The interior designers, with years of experience in designing and decorating wonderful homes and offices, can make your space look surprisingly good and much more functional.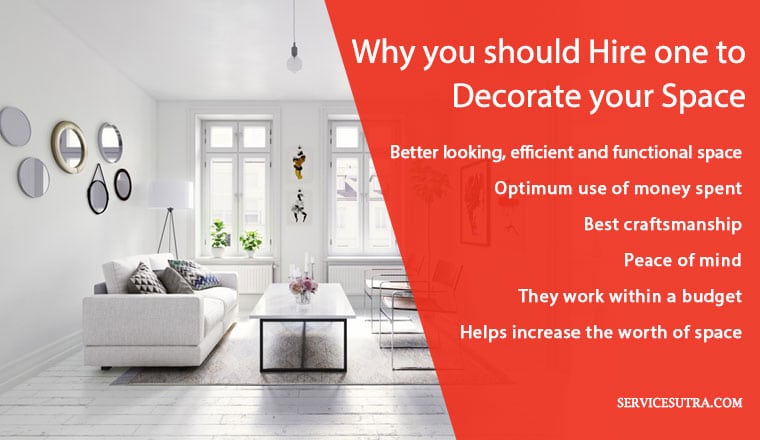 They have that super ability to imagine things and once they understand your requirements and lifestyle, they can bring in small little changes that can easily transform the space.
There are many who are not quite sure about hiring interior designers. They assume that it's just a waste of money or it's going to be a costly affair to hire an interior designer.
And therefore, if you are also confused or not sure if you should hire an interior designer then let me help you. I have been working with hundreds of interior designing companies and have got the opportunity to interact with thousands of users like you. So, I can clearly say that I know a few things about interior designing and how it's beneficial for a user like you to hire interior designers for home or office interior decorating work.
Whether you want to design your home or office on your own is obviously your call, but if you are after a flawless, fresh and functional space, it's always better to engage a professional interior designing company for the task.
And, I will tell you why, so please bear with me and continue reading.
Benefits of hiring interior designer and why you should hire one
Owning a new home or office is something that we all brag about, and rightly so, because it takes a lot to buy a home or an office. Therefore, now that you have bought a new house or office, the next challenge is to furnish and decorate it so that you can live and work comfortably.
There can be many ways to decorate a space, and one of the most common approach is to buy expensive decorative elements and furniture randomly from here and there, and fill your space.
The drawback to this approach is that, you will end up spending lots of money on things that were unplanned, and soon, you will realize that the space is cluttered and you will like getting rid of many of those furniture and decorative elements.
The better and popular approach can be to take professional help from people who do nothing, but design and decorate space, be it home or office. They have access to all the tools, technology, expertise and experience to transform spaces.
No prize for guessing, they are the professional interior designing companies. The interior designers, as I said, can add a lot of value in decorating your space, and they can do it within a specified budget limit and consider all that you want for a comfortable living and working at your home or office.
And if that's not enough for you to use professional interior designing and decorating services, then there are many other benefits of hiring interior designers as listed below.
Take a look at the benefits and reasons to use interior designing services to decorate homes and offices.
Better looking, efficient and functional space
If "perfection" is what you want, then obviously, you can get it only by hiring a professional. And, this is the very first benefit of using interior designing services for home or office interior decorating projects.
The interior designers can bring that "wow" factor. In fact, trust me, Most of the times the results are even better than the way you might have visualized it to be. So yes, if by working with an expert you get a home or an office that is picture perfect, then I think it is completely worth it.
Interior designers, besides having a natural flair for creativity, they are professionally trained to creating amazing space. So, obviously they know better than you and me. Moreover, they are earning their livelihood transforming spaces. So they are bound to be very dedicated in their work. When talent and dedication get together, the results are bound to be amazing.
Obviously, it is important for you to consult with your interior designer and be very clear about what you are exactly looking for or expecting your interior space to look like. Once they know your expectations and objectives, they will take it forward and design and decorate your space that will look amazingly good.
Optimum use of money spent
Unlike popular belief, hiring an interior designer for home or office interior decorating project can actually help you save money. Well, you must be confused that you are paying the fees of the interior designers, so how come it is helping you save money? Well, from the exterior, it may seem like that, but in reality, an interior designer can help you make the best use of every penny you are going to spend in designing and decorating your space.
Let me just explain this to you.
Simply think of the number of times you spend money on painting the walls of your home? Think about how many times you have had confusions and end up buying unnecessary decorative items for your space and regretted it later?
How many times, have you failed to bargain and eventually brought items with higher prices? See, we being nonprofessionals make mistakes and many a times make unnecessary expenses during the home interior projet.
But, you can prevent these from happening by hiring a professional interior designer and decorator.
There will be no confusion and hence no unnecessary expenditure.
The interior designer will give you clear instructions very clearly and accordingly you will have to spend the money. Everything will be just perfect on first go.
Moreover, many interior designers help you get items at affordable prices because they have fixed vendors from where they source materials in bulk, and so they get better rates than retail customers.
So when you have a professional interior designer on board, they will help you make the best use of every penny you are going to spend in designing and decorating your space.
Expert technicians and best craftsmanship
When it is about interior designing of your home/office, it is not limited to placing items at the right place to make the whole appearance look good.
Proper lightnings, matching colors, getting things installed properly etc. all of these matters a lot, and so it all must be in sync. So that means, you will require to hire good electricians, plumbers etc. to get things done perfectly.
Now in normal circumstances, you will have to search here and there to find good labor but when you have hired a good interior designer you don't have to play phone tagging with multiple vendors and contractors.
The team of interior designers has all types of subcontractors working under them, so when there is some electrical work, they will send the electrical people. Similarly, they will send people to do the false ceiling, plumbing and any other civil work.
Moreover, the experienced designers usually have access to a whole range of fabrics and products which in many cases are not available for the general public. But, if you hire a good interior designer, then there is high possibility that your space will have a lot of unique and rare items that will help your space stand out from the rest.
Peace of mind
Most of us are working individuals and time is a big constraint for most of us. But, home decoration or renovation needs proper planning and for that besides dedication, you got to put a lot of time.
However, if you are not able to manage time, either the work will get delayed or it will not be up to the mark. In such a situation, if you hire a good interior contractor, then they will be doing most of the work on your behalf.
Interior designers and decorators have a full team that includes dedicated project managers and site supervisors. They can easily manage the whole process of decorating or renovation to ensure the project gets completed at best standards and within completion deadline. This will obviously make things a lot easier for busy people like you.
They work within a budget
Thinking of designing the whole space on your own may seem exciting but when you have to literally sit and plan things as per the budget, in most cases, it is not going to be easy for you. There are a whole lot of calculations that goes behind it. And at the end of the day you may end up overspending or running short of budget.
In contrast to that, if you use professional interior designing and decorating services, they will be able to guide you through the process and ensure that the work is done within a specified budget.
This is possible because they have experience of working in budgets and hence they can use the prior experience and make things work out in that budget pretty smoothly. The expert interior designers will have a much clearer idea from where to start things and how to continue with the execution so that it perfectly fits your budget.
In fact, a professional interior decorator can bring a good outcome in a very less budget as well. So, why not consult with one and then decide whether to hire them or not?
Helps increase the worth of space
At any point of time, if there is a need to sell your home or your office, trust me, you will definitely get a good amount in return. In other words, the resale value of your home or office will be much higher than the other homes/offices on sale if it involves the work of an experienced and talented interior designer.
This is because the aesthetic appeal and the uniqueness in the décor of your home or office will lead to a rapid increase in the showings and sales.
In most of the cases, your home or your office will be sold soon after it is put on sale in the market. You will eventually be getting two folded benefits. Firstly, a faster turnaround time and secondly, more money inside your pocket. So, that is definitely one of the most valid reasons to hire an interior designer for home or office interior designing and decorating project.
Over to you
When you want to decorate the home or the office of your dreams, I actually find no reason why you will not hire an interior designer. Well, having an extra pair of eyes and a talented and creative mind by your side can make a lot of difference in designing and decorating your home or office. Interior designers can help you you plan, track and manage home interior project to ensure you get the best within your budget.
Moreover, as you can see hiring an interior designer has many additional benefits as well. Starting from saving your precious time to helping you save some bucks to giving you better contacts, the interior designers are helpful to the customers in many ways. So, hiring them is a boon for everyone especially for people who are busy and want to get the best of their budget.
What do you think, which is better? Do it yourself interior designing and decorating or working with a professional interior designer to design and decorate a home or office? Happy to hear your point of view!