Moving to a new house can be exciting an overwhelming at the same time. It'll be exciting because you are moving to a new place and overwhelming because you have to plan everything perfectly to relocate without hassles. Among all other important tasks related to your move, getting rid of all those used and empty cardboard boxes is going to be challenging at times. If you are relocating to a new home and you have no clue about how to get rid of empty cardboard boxes and what to do with them then here's the post worth checking. Today in this post, I am sharing a few of the best tips that'll help you to get rid of used and empty cardboard boxes after moving.
Usually at the time move, there are other important tasks that need your attention like:
Taking a call on whether you should hire movers and packers or do it yourself?
If you are hiring movers, then bargaining for a better deal
Ensuring that your new home is ready to move
Getting your old house and new house properly cleaned
Making travel arrangement for your family and so on.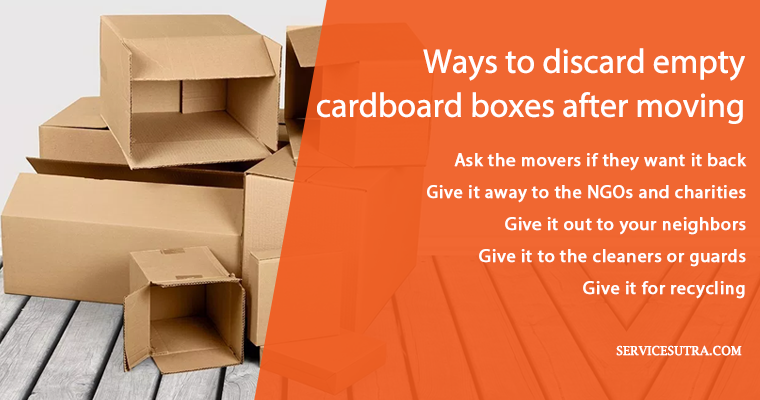 And the list goes on. In most of the cases, you won't even bother to think about how to discard the pile of used empty cardboard boxes after moving in the most environment friendly way.
Ways to get rid of used and empty cardboard boxes after moving
On an average, you may need up to 30-40 cardboard boxes of different size to relocate a properly furnished 2 BHK of household goods. At first, you may not even notice this. The question of discarding these used and empty cardboard moving boxes will come to your mind only when you start unpacking and notice the large pile of moving boxes.
Getting rid of those many boxes is not going to be easy, unless you have a clearly thought out action plan. But no worries, as I am going to help you get rid of the pile of used and empty cardboard boxes after moving, in the most convenient ways.
Here are the various ways to get rid of the used empty cardboard boxes after a move.
Ask the movers if they want it back
When it comes to discarding the used empty moving boxes, the best that you can do is to give it to the moving company you have hired. They may take it or may not make it, so first ask them if they want those boxes.
If the boxes are handled gently and is in usable condition, then they may use it for local shifting. Sometimes, when a potential customer doesn't want to spend on good quality packing for local shifting to a nearby locality or suburb, then the movers and packers suggest using such pre-used cardboard boxes. It's win-win for both the parties as they both save money and hence the movers may like to keep those empty boxes.
They can also use otherwise not usable boxes for cushioning purpose or to wrap such fragile items before putting it into the fresh cardboard boxes.
So checking with the movers and packers can help you to get rid of these empty and used moving boxes. If they want it, it's better to give it to them. They'll be able to reuse it and you will be able to get rid of the large pile of moving boxes which is of no use for you.
Give it away to the NGOs and charities
Another good way to get rid of these used empty cardboard boxes would be to give it out to the NGOs working in your area. There are many charitable organizations that distribute foods, clothes etc to the needy people, and they need a lot of empty boxes for packing of these items.
Sometimes they organize special drive for various types of items like dolls, toys, clothes etc in association with various organizations like big bazaar, reliance fresh etc.
During the events, they need to pack those items and move it to their warehouse or for postage. They'll be happy to receive those many boxes of large and medium size.
If you are aware of any such NGO then you may like to check with them if they need these properly handled empty boxes, which they can reuse. You may like to post an update on facebook or a tweet that you have xx number of used moving boxes that is available for NGOs to grab for free.
Give it out to your neighbors
If you have moved to a large housing society or a complex, then there may be a family that needs moving boxes. The way you required these cardboard boxes to move your household goods, your neighbors may also need these boxes.
Even if they are hiring a moving company to help them relocate, if they have some usable empty cardboard boxes, they will be easily able to save some money on moving, especially when they are moving locally.
So maybe you can ask the facility manager to check if anyone wants these moving boxes? If there is anyone who needs these boxes, you can ask them to collect it from your home.
Give it to the cleaners or guards in your complex
If you are living in a large residential complex, or even otherwise, you can always find needy people like cleaners or guards who would like to take these boxes. You can simply ask them if they want these boxes. They are not going to use these empty boxes, but they can easily sell it to the garbage man or the 'Kawari Wallah' and make some money. You'll be able to get rid of the large pile of cardboard boxes and they will earn some money out of it.
Give it for recycling
And last but not the least; you can give these empty boxes for recycling. You can either take these boxes to one of the collection point or simply give these boxes for free to the people who collect old newspaper, copy, books and other garbage for recycling.
If it has to be recycled, then it's better to give it to the people who can recycle these boxes properly and reduce its impact on the environment. There will be many collection points where you can leave these boxes or give it to those needy people who spend all day, collecting such garbage and recyclable goods.
Sell it out
You may not get a lot of money by selling used empty cardboard boxes, but still if you want to cover some of the expense, selling these boxes on your own is certainly an option.
First off, take the picture of the boxes and see how many of them are in good shape and can be easily reused. Then go off to the facebook (marketplace) or other classified sites and create a listing for sale.
Over to you
When I moved to my new home, I ended up with a he pile of around 46 such moving boxes. Thankfully, I was unpacking room wise and just a few boxes at a time, but still handling those boxes was a real big challenge.
The movers and packers were actually interested in taking those boxes, but the problem was they wanted it then and there, while I was planning to unpack a few boxes at a time. It was ot feasible for them to come other days to collect those boxes.
I simply called the facility manager and told him that I have these many boxes, and if there is someone who needs these packing boxes, they can take these for free.
The security guards of my building took it away and sold it off to the people who buy such garbage for recycling and I was able to get rid of these boxes that easily.
How do you plan to get rid of those empty cardboard boxes after moving?
And finally, the professional movers and packers service provider available on servicesutra can help you get rid of these empty boxes easily. If you are planning to relocate anywhere in India or need household goods storage and warehousing services, then feel free to talk to a relocation expert on: 07044123404
Don't hesitate to share your hacks and ideas to what can be done of these used and empty cardboard boxes after moving successfully.
And finally, if you liked this post, feel free to share it with your friends who may benefit from this post.
Happy relocation!