Packing is a crucial step in home relocation. And unless you know how to pack your home perfectly, you may end up in a mess. Here are the smart packing tips that will make you feel like a pro and relocate your home in one day, without any hassles.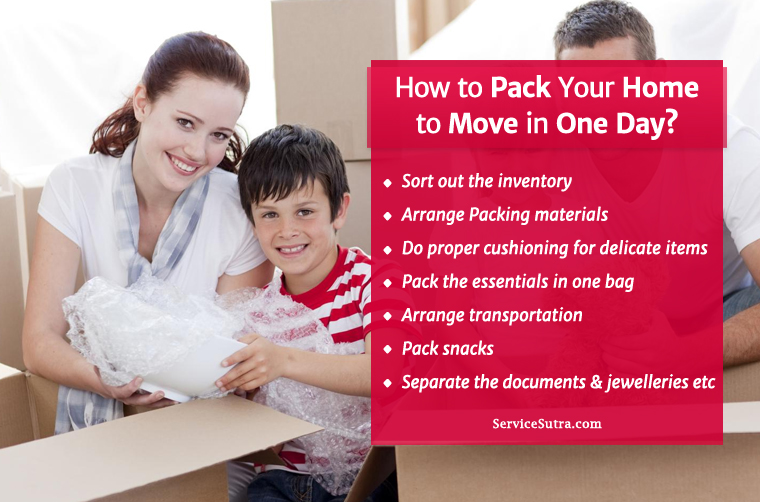 You are walking home from work, and suddenly you get a call from your boss that you have to relocate the next week. You start panic, it seems the world has come crushing down on your head, you lose your sense and tension is the only emotion that you can express. Packing and home shifting is never going to be easy. There are hell lots of complication, from finding a reliable moving company to getting everything packed and relocated, it's filled with uncertainties.
But even if you have just one day to plan everything, you can make it. It is actually possible to pack and get ready to move in one day, and that's what we are going to discuss in today's post. If you want to pack and move within a day, then you can do it within 24 hours, and here is how.
Smart ways to pack your home to move in one day
What is packing? What does it actually mean? Well packing here refers to the process of packing your household articles like TV, fridge, washing machine, cupboards, dresser, sofa, kitchen utensils etc. Your drawing room, bed room, kitchen, bathroom, etc, you will be packing all of the household goods and articles. You do not have 24 hours for packing, because you need time to sleep, eat, take rest and do the needful. Taking rest is essential during these times as else there are high chances that you will make some unavoidable and regrettable mistakes during the course of relocation.
Okay, so all you have got is just one day. And without wasting a minute, here's how to pack your home smartly to move in one day.
Sort it out
You cannot pack 100% of the objects for your home, so it is better to sort it out. Select the items that you have not used in a month and ditch them. Yes, you read me right. Just close your eyes and keep them out of your packing list. They have got no entry in your new place. The things, clothes, unwanted items that you have not used for a long time is not important for you. You can do without them, so just do not pack them.
Big trash bags
The huge bags that you use for keeping garbage, they can help you. The bigger the bag, the larger number of items you can keep in them. Do not fold your clothes; do not take time in folding and parting each and every set of clothes and accessories. Just open your cupboards and wardrobe, whatever you get put them in the bag. You will arrange the items later. All it matters for now is transporting the household items from one place to another. If you have empty boxes or cartons, or if you can manage to get those in local markets, then
Seal the bags
The bags can be heavy, make sure that the bags are strong enough to hold the items. Seal the bags with cello tapes so that your items do not get out of the bags during the transportation. Use more number of tapes to improve the packing quality.
Save the delicate objects
There are certain delicate and brittle objects like plates and dishes, show pieces etc. They are breakable and you must make sure that they do not break during the journey. You can use the bath towels, hand towels, newspapers, and bed sheets to provide extra cushions for all these items. If you are unable to arrange bubble wraps, because it may not be easily available, you can use crumbled newspapers, towels or other clothes for proper cushioning.
Pack the essentials
There are many essential things without which you cannot do, like the toiletries, medicines, chargers, phones, laptops, all these items must go in a separate bag. Keep the bag near you so that you do not have to ravage the other bags for one small important item. Pack according to your priorities and needs. Keep the bag handy, and pack the essential things here. You know what to pack here in this bag, the things that you need on a daily basis.
Call the transporter
Is it possible that you will move all the objects yourself? The luggage and all the items will not fit in your car too, and you will need a truck, may be. Call the packers and movers companies of your city and make the deal. There are many packers and movers in your city and you may get confused as to which one to choose. ServiceSutra will make you connect to the three reliable and verified packers and movers of your city and they will help you in your moving. You will receive free quotes from them, and then accordingly you can finalize the deal.
Finalize the deal
Talk to the packers and movers companies in detail and make sure that they are coming tomorrow morning to transport your goods. Know the truck driver, always be connected to him via phone, know the truck number in which your items are being carried. Do not finalize the deal over phone, meet them in person, talk to them in details and then finalize the deal.
Light foods
Do not have heavy dinner the previous night and it is essential that you go to bed early. You have to wake up early on the moving day, and do the last minutes check. Be ready before the packers and movers arrive. Call them in the morning again and confirm. Having lighter foods will help you to stay active, but do not avoid eating out of stress as this may cause weakness. You cannot be weak on your big day. Go to bed early and wake early.
Keep some dry foods with you
Do not forget as eating can reduce a lot of stress. Eating is a stress buster and you can do. Keep some biscuits, cookies, fruits with you which you can go on munching, and very important is the drinking water. This will not let you fall weak; you can actually relax and help the professionals to load the items in the truck.
Separate the documents
Do not load the documents and the important papers in the huge bags and boxes. Keep all the papers with you in separate handbags. If you are packing the papers with other items, they can be torn, and destroyed. Maintain separate file for all the papers and the essential documents.
Call your friends and family
Your near and dear ones are likely to miss you a lot, and so take some time out to give them a call. You may not have time to meet them physically, so a call will do well. When you are done packing, just before going to bed you can call them. Talking to them will relax your mood and you will feel much better and then have a good night's sleep.
Over to you
Packing and moving in one day is stressful and you might think that it is impossible. But it is not. You can start by devoting 10 minutes time and writing the down the things that you have to do. Follow the points in the diary and start packing room by room.
Just get the boxes and the huge bags and trash all the items there. There is no time to think and judge, just pile it up. Keep calm and start packing. All you have to do is put the things in bags and move them. Make use of the objects that you have at home like tapes and towels, and you are good to go. I hope you have a successful relocation ahead.
Take care!