Thanks to the soaring prices of real-estate, the apartments and flats tend to have smaller and limited space these days. Smaller living area, smaller bedroom is so common in flats and that's why we have to be smart enough when decorating the bedroom and living rooms. We can't afford to waste space or make the room messy and cluttered. The bedroom is the most private place of your home, and you will surely want to make it your peace haven. And if you are wondering about the smaller size of the bedroom, then you don't have to. Because you can actually decorate a small bedroom to make it look good and comfortable. Today in this post, I am sharing some quick and simple bedroom decorating hacks that will help you to decorate a small bedroom like a pro.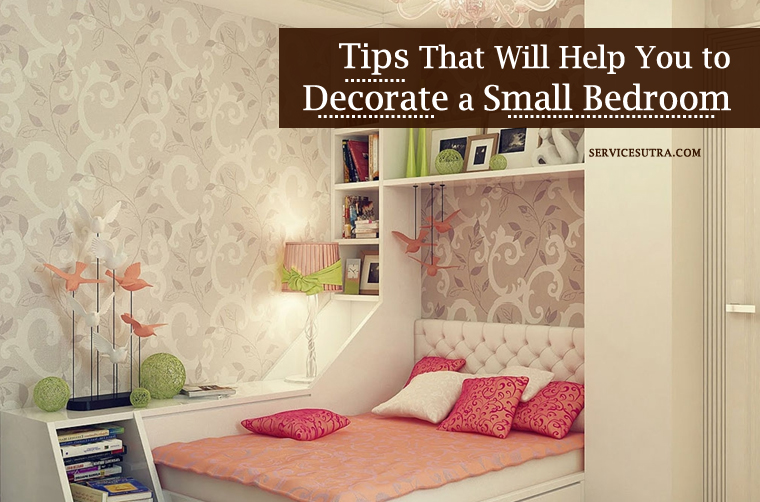 Last week only, I visited my friend's new 2 BHK flat. His flat is not that big in size, but he has decorated it so elegantly that you'll hardly notice about the smaller space.
The living room, the kitchen cum dining space, bedrooms was nicely organized and decorated. Even though there were various objects and appliances, still the home did not look congested or over the top. Since, she herself is an interior designer; she has done it so well. She was kind enough to share a few decorating tips and I am happy to share the same with you.
37 decorating tips to decorate a small bedroom like a pro
When you have set to decorate your bedroom, you have to keep in mind the availability of the space and also the function it will serve. The bedroom is a personal space, for spending some informal hours. You can sleep in this room, spend some time reading, or spend some quality time with your loved ones. The décor of the room must be such that you do not feel suffocated even though the space is less. Listed below are some of the quick and simple decorating hacks you can use to decorate a small bedroom like a pro.
Paint the room in brighter hues like peaches and whites.
The room must have at least two windows.
The beds to be placed in the center, so that equal places are left on both sides.
If you are keeping some chairs or any other simple sitting arrangements then set them against the wall and keep some gap.
Make the curtains long so that they touch the floors.
You can add some additional drapes with your curtains for some exciting window décor.
For the ceiling, choose white paint so that light can dissipate throughout the room.
Use bright lights to make the room look bigger.
You can use regulator to adjust the brightness of the lights as per your need.
Hang chandelier lights down the ceiling to make the room look bigger.
You can use furniture with hidden storage spaces.
The beds can have attached drawers for your bedding items, bed sheets and covers.
If you are placing a cupboard in the room, then you can mount it on the wall.
The wall mounted cabinets and cupboards will take up lesser place, and will give you some breathing space.
If you are not comfortable in having a king size bed in bedroom, then you can use bunk beds too. This way, you can keep some open space in your small bedroom.
For the polish of the bed, keep it dark coloured, in contrast to the white walls of the room.
Black wooden polish is preferable for the furniture.
Hang a mirror on the wall, light reflections through the mirror will make the room seem bigger.
You can attach a dressing table in front of this mirror, which can serve the dual purpose.
It is better to hang oval shaped mirror for a bigger surface area, and the shape will also look good in an informal space.
You can add some potted plants to the room. Instead of placing separate table for them, you can use the window sills.
You can also hang the potted plants from the grills of your windows. This way, they will take up lesser place.
Instead of several tables and shelves, you can install wall hanging racks. These racks can be used in various ways, for keeping books, fish bowls, lampshades etc.
Do not occupy all the four walls with these; limit the usage of walls within just one. The rest of the three walls can be bare.
You can hang some pictures on the wall. Instead of one big picture, you can hang several small picture frames, and the wall will then look like a collage.
Do not use floor to floor carpets for the small room, instead use rugs.
Place one rug in front of bed so that you can step on it immediately after waking up.
The bare floors look simpler in small rooms.
The headboard can be simple, as if it's too gaudy, then the whole attention of the room will go there.
For smaller rooms, use headboards of lighter shades and thinner ones.
You can use folding chairs in the room, and you can fold them when not in use.
The legs of the beds can be slimmer ones, and the area underneath the beds must be visible and open.
You can use lighter shaded bed covers, matching to the wall.
Giving a monochromatic look will make the room look bigger.
Do not pile up the blankets and pillows on the bed; rather keep them in drawers or cabinets. If these things are visible, then the room is going to look cluttered and small.
You can do some designs with stencils on bare walls to make the room beautiful. Instead of extra accessories, you can paint on the walls.
When decorating a smaller bedroom, make sure that the curtains, bedcovers and wall paints are in sync. It helps you create an impression of a more spacious room.
Over to you
If your bedroom is small, then you must not see it as a hindrance or an obstacle. Small bedroom can look cozy, comfortable and amazing when you decorate it strategically. The bedroom is a personal space, so the place must have your signature.
You can hang the pictures painted by you, or pictures from your last year's family picnic etc. You can also make your own wall designs with wall paints and stencil and also wall papers.
But whatever you do, just make sure to not overdo it and keep some breathing space. Leaving some space on the walls and on the floor and organize everything well to create more space.
Let your imaginations fly and recreate an amazing bedroom.