Packing and shifting of entire household goods is not going to be easy, unless you have done it several times and you are a do it yourself person. There are many complications from arranging appropriate packing materials to finding labor, truck, insurance and all is not going to be easy.
And that is when we turn up to the professional who have the resource, experience and expertise to pack and move all types of household goods, safely and conveniently. But finding and hiring packers and movers is not so straightforward. Even if you have a movers and packers company on board, you may go through the hardship and hassles, when relocating your home.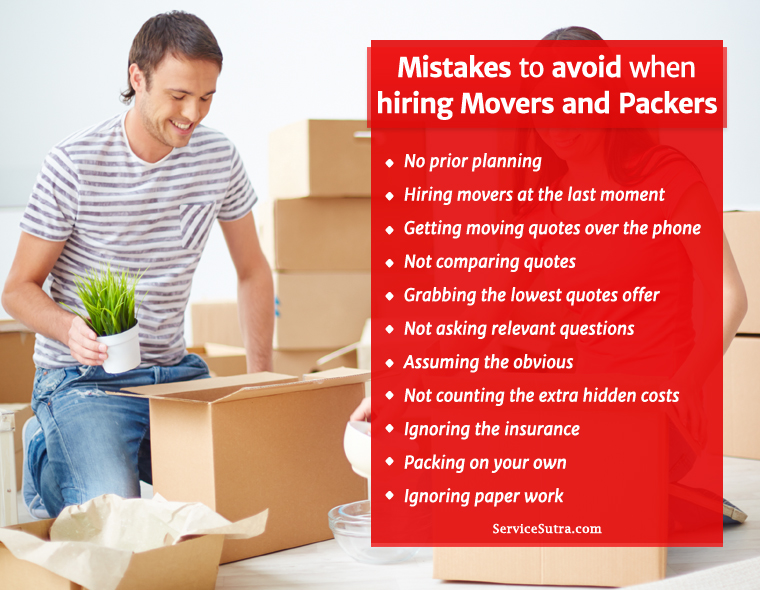 Wondering why? Because you may commit some of the most common mistake and ignore the obvious. Today in this post we are going to talk about 11 of the most common mistakes to avoid when hiring movers and packers, especially in India.
Mistakes to avoid when hiring movers and packers
Have you decided to use the services of movers and packers to relocate your home? if yes, then you should better avoid some of the common mistakes that first time movers make, and regret later. Inappropriate planning, not comparing moving quotes or ignoring the insurance can land you in hassles and frustrations when hiring movers and packers.
Listed below are the most common, but crucial mistakes worth avoiding when hiring movers and packers.
No prior planning
If you want to move without taking extra stress, it is essential to plan everything well in advance. Prior planning your move can make all the difference. Even before you start looking for movers, you should plan your move. Without prior planning, you may not be able to pull it off easily, even if you have the best movers and packers on board. It's always better to inspect your house carefully and prepare a list of items you would like to take along.
Start visualizing your new home, and see if everything you want to move will fit appropriate in the new space. Don't hesitate to sort out your inventory if require. For instance, if you are moving to a smaller home, you may like to get rid of some of the extra furniture.
Fix a date for packing, moving and reaching the destination and try to stick to your plan. You may not have accurate idea on how long the movers will take to deliver your goods. But when you have clearly stated date of delivery for your items, you will be able to plan rest of the process accordingly with the movers and packers.
Rushing through the process at the last minutes is going to create more hassles and chaos, and I am sure you don't want that.
Do you?
Hiring movers at the last moment
I have said it many times in the past and saying it again. Packing and moving household goods is a complicated task. Only experienced, professional and resourceful movers and packers companies can be trusted upon. But if you kept waiting till the last moment, who knows they may not be available to serve you. There are many who keep on enquiring a few weeks ago and movers and packers also have limited resource and hence they can't handle plenty of packing on same day.
Apart from not getting quality service provider, another disadvantage of hiring movers and packers at the last moment is that you may end up paying more. When you are rushing to move your things, you may not get the opportunity to negotiate with them. Because at that moment, your priority will change to get things done and you may not care to pay a few extra bucks for the task.
Also when you don't have full load of household articles and have just a few items that you wish to send as part shipment, then waiting till the last moment to hire movers, may further delay the date of delivery.
So never wait till the last moment to find and hire a mover. Always hire a movers and packers a few weeks before you plan to move, it will help you to stick to your actual moving plan and, also avoid last minute rush and hassles.
Getting moving quotes over the phone
Getting moving quotes over the phone could cause much confusion and frustration while relocating. When you ask for the quote over the phone, you may not get accurate quote and that may lead to confusion. Moving costs money and hence it is important to get most accurate quotes and estimates, before hiring any company.
Movers and packers companies will be happy to visit your house, and offer accurate quote after inspecting the inventory which is to be packed and moved. Getting household moving estimates over the phone is ok for an idea, but you insist for physical inspection and all inclusive quotations. Even if you use our platform to create a request for free estimates, we always recommend that you ask the mover to visit your home, inspect and then quote accurate estimates and prices. It helps avoid financial and other confusion.
No matter how detailed list of inventory you have made, there re certain things which can be better discussed when you meet face to face.
For instance, if there is a box bed, you need to mention the dimension and the mover should check if the box of the bed is empty or full.
If its empty, they have to spend less in packing and handling, but if its full and to be moved, they have to spend more time packing and put more effort in handling, so they need to count that when quoting.
If you are looking for any extra add on services like disassembling, assembling, or unpacking then these tasks should be discussed in advance. Or else, it will lead to confusion and frustration and hence we recommend, always accept quotation after physical inspection by the movers.
Not comparing quotes
There is no shortage of movers and packers companies in India. Irrespective of the city, you can easily find a number of available movers and packers in your city or town. But not everyone is equally competent. There are those who have modern machineries, latest equipments and experienced and reliable team who know how to get it right. But at the same time, there are agencies that use outdated process and work with inexperienced and inefficient team.
Not comparing and evaluating a few different agencies could be the worse decision you may take. Movers and packers operate a bit differently than other services, and charges of movers and packers primarily depends on the quality of packing, experience of the packing and handling team and overall reputation of the brand.
Never settle for the first available movers and packers. Always compare credential and rates from at least two three different companies, so that you can work with the best possible company, at most competitive rates.
Grabbing the lowest quotes offer
The whole idea of getting moving quotes from different agencies is to compare prices and choose the best possible vendor. But the best possible vendor may not be the one who has quoted you the lowest rates. Due to the nature of the industry, it's obvious to get different prices and the price variation could easily be up to 20% to 30% in some cases. But when a mover is offering you such lower rates, you go to be alert and did deeper.
There is no shortage of shady movers and packers companies in India; they will quote you such lower rates that you may feel tempted to hire them. But they may start black mailing you in the middle of the process. They will come up with weird excuses like packing of extra items, extra insurance charges, toll fees and what not.
They will make you pay the extra amount or won't deliver your goods. Internet is filled with such scams by movers and packers agencies and hence choosing movers and packers that offers much cheaper rates, may not be the best choice.
Don't just pick the lowest offer automatically, thing logically and practically and unless you find a genuine reason for such tempting offers, you should avoid this mistake when hiring movers.
Not asking relevant questions before hiring
Not asking the relevant questions to the movers and packers agencies before hiring is probably one of the most common mistakes you could make. We generally forget to ask important and relevant questions to the movers.
The more you know about the company, process, terms and conditions, better for you. You should create a list of relevant questions and then gather as much of information as you can about the company, its process, costs, hidden costs etc.
Some of the relevant questions you may like to ask are as under:
Basic introduction of the company
Since how the long the company has been in this business?
How many branches do they have?
How the unloading is going to be handled at the destination?
What's the process of handling customer complain?
How long it may take to deliver the goods?
Process of handling damages of items in transit
Do they offer any value added services, and is it included in the quote?
Asking some of these questions will help you to know about the credential of the company and their process.
Second it's important to know about the quality of the overall service and hence and you should ask about the process of packing, quality of packing materials, payment terms and hidden costs.
Making obvious assumptions
Ignoring the obvious information is another mistake that should be avoided. It is important to discuss everything with the movers, even if you think it's obvious. For instance, if you need disassembling services and want the movers to disassemble a box a bed, you should discuss it with them. If you consider this as an obvious service, then you may regret because movers may charge you separately or they may not be prepared to disassemble the bed. Even if it sounds like obvious, it is not. Not everyone in the team is trained for every task.
If you have any specific requirements, then you should discuss this upfront with the movers and packers. Not only it helps you to avoid delays and change in pricing, but discussing obvious things like this will help you to relocate smoothly.
Similarly, if your new home does not have a lift or the parking facility is not available in front of the building then you should state it upfront to the mover. This will help them to make adequate arrangement and the unloading can be handled smoothly.
If your new home is not yet ready, but you plan to move and keep your goods in storage for a week, then please discuss this with the movers. Don't assume that movers can easily store your goods in their warehouse for a week. Who know, they may not have space in the warehouse.
Not counting the extra hidden costs
Overall moving costs usually become a deciding factor when hiring movers and packers. But you should not overlook the extra hidden costs. Most of charges for packing, loading, transporting and unloading is included in the moving quotes. But you may need other value added services like unpacking and rearranging or temporary storage. Such add on services may be charged additionally by the movers and packers.
Apart from the value added services, you there are other hidden costs and charges like tax, toll charges, octroi, insurance etc.  You may also need other services like assembling of furniture or other such tasks and that may be charged additionally.
If you are not counting these extra costs, then you may end up spending over your moving budget. It's important you discuss all of these and clearly understand the charges that's included in the quotation. The more you know, better it is for you to manage everything.
Ignoring the insurance
Movers and packers companies do everything possible to ensure that your goods are properly packed and handled, to avoid sort of damage. But there are certain things which are beyond our control, and if anything goes wrong, the insurance can be the only savior.
Movers and packers offer insurance at the rates of 3% of the declared value. Many times, first time movers tend to ignore the insurance, because they consider it as an additional cost which is not required. But that's not right.
Just by paying a few thousands rupees, you get peace of mind. If anything goes wrong, the movers and packers agency will be liable to compensate for the damage.
Packing on your own
There should not be any compromise with packing. If you are hiring movers and packers for the job, then you should let them handle it appropriately. If you start packing on your own, you may not meet do it as good as the movers and packers does it. Mediocre packing may result in damage and scratches and you may regret the decision later.
Movers have access to all the tools, equipments and good quality packing boxes and they can ensure that your household goods and accessories are packed safely.
Ignoring paperwork
Movers and packers industry is not so organized and it's obvious to ignore the essential paperwork. Read all the documents carefully and understand the terms, condition and other fine prints as mentioned in the moving quotes.
If you are paying for any add on service, make sure it is mentioned on the bill. if you are paying in cash, then make sure to get the appropriate receipt for the same. Relying on verbal commitment may not be the right thing to do.
If there is any confusion, make sure to ask the movers and packers to clarify the same to you. Once you understand it clearly, then only you should agree and sign the paper. Don't ever rely on the verbal commitment, always put it in writing.
Over to you
Home relocation has its own complications and unless you have relocated a few times in the past, it's obvious to commit the most common mistakes that we have discussed above. If you are a first time mover, then you should avoid any of these mistakes.
Have you relocated from one city to another with the help of movers and packers? How the experience was and what other mistakes do you think one should avoid?