So you have purchased new flat and wondering how to plan for interior design and decorating this flat. Are you unsure about the best and leading interior designers in your city, and wondering how to hire them for the interior designing of your flat? Well, you are not alone. I come across these question very often on Quora and hence this post. If you have purchased a new flat in India and you are overwhelmed by the complexity of planning for interior designing and hiring interior designing companies, then here's the post you can't afford to miss. Today I am going to discuss about how to plan for interior design of home and how to hire the best interior designer for the project who can work in your budget. I am also going to discuss about other essential things like defining scope of work, allocating budget, how to involve the interior designers and much more. If interior designing is on your mind, then you must read this post till the end to get clear understanding of the overall process.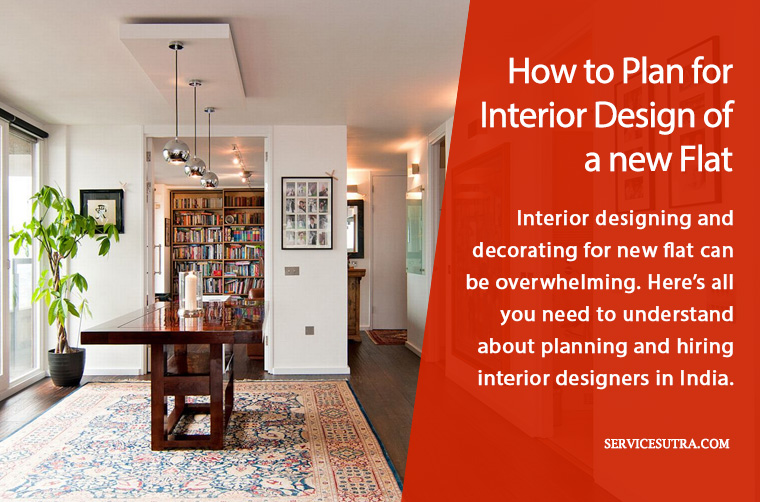 Interior designing is a little complicated task and since it involves lots of money and adequate planning. Even before approaching the interior designing companies, basic home work on your own can be of great help. Not only it's going to help you get the best out of the interior designers, but it will also help you save time, efforts and most importantly your hard earned money.
How to perfectly plan for interior design of home in India and get it right
Every alternate day, I receive request for answers on quora about interior designing. There are many who want to do the interior work at their home, but they don't have any idea of the process, time, cost, whom to contact, how much to spend and so on. But if you are planning to do interior designing at your home and you are also unsure about how to go about it, then read on.
The questions like hiring interior as a consultant for design only, turnkey basis project etc can be confusing for a normal person. And if you are overwhelmed with various technical terms like turnkey etc, then worry not, because we are going to discuss it all, right here in this post.
Broadly define the scope of work
As you know, interior designers are very creative people and they can come up with a number of creative ideas. But research says, when you have plenty of options, you can easily get confused. So the very first thing that you should be doing is to broadly define the scope of work.
It's easy to get carried away; especially when you have not figured out what do you want. Interior designing is a cost intensive project and hence it's better to know define what are the must have features and accessories in your home.
For instance, if you have purchased a 3 BHK new flat, then you should clearly define what you want in each of the rooms. Here's an example of how to define the scope of work.
Bedroom 1 (Master bedroom):
Queen size bed with box and one pull out
Bed head with cushion
Side unit with drawer and lock
Wall to wall cupboard with overhead storage space
Dresser with storage unit
False ceiling
Small study desk and a TV rack if possible
Bedroom 2 (Kids Bedroom):
Queen size bed with box and two pull out with wheels
Bed head with cushion
Side unit with drawer and lock
Wall to wall cupboard with overhead storage space
Study desk and extra storage space for books and toys
A Couple of open shelves to keep books etc
Small dresser with open mirror
False ceiling
Bedroom 3 (Guest and temple room):
Queen size bed with box and pull out
Bed head with cushion
Side unit with drawer and lock
Small cupboard
Small study desk
Temple at appropriate location
False ceiling
Open shelves
Living room
False ceiling
Foyer / shoe rack
Tv Cabinet with open shelves to keep decorative items
6 seater sofa set (L shape, preferably)
Dining table and chairs, preferably marble top
Hanging lights on dining table
Small bar unit, with hidden space for bottles
Kitchen
Modular kitchen with wall to wall cabinets
Overhead cabinets with closed and open shelves
Chimney and cooktop
Extra storage space (as available)
Now as you define the scope of work as per your functional needs, you will have more clarity. And when you take such elaborated scope of work to an interior designer, they will be more than interested to help you. They will quickly understand your needs and accordingly plan and suggest you how to move forward.
Such elaborated scope of work will help them figure out a budget, timeline and everything else that they need to complete the project on time and in your budget.
Figure out a tentative budget for the project
As you already know, interior designers can come up with a number of plan and option, and no matter how much of money you want to spend, you will always find thing to spend on. So for instance if you want to place a 6 seater sofa in your living room, you can get it made by a professional interior designer well under 40-50K, but if you have the budget even Rs. 2L will fall short for a six seater sofa.
Building and decorating a home is a life time dream for us Indians and we hardly look at budget. It's an emotional trap and you can easily get carried away and end up spending way more than what you initially thought of spending.
Having a tentative budget in mind, helps you get carried away while spending money on an interior designing and decorating project. It also helps the interior consultants in allocating budget for various cost heads; for they know how much of money is allocated for overall project and they can't go above that.
Not having a tentative budget in mind can be a terrible mistake and hence I strongly suggest you to allocate the money well in advance, even before you approach and interior designer in Kolkata or elsewhere.
Assuming you have a budget in mind and know about the major work that is to be done (scope of work), it's time to figure out how to involve the interior designer.
So we are ready to move to the next section and take the next step.
Figure out how you want the interior designers to involve
As you know, interior designing and decoration is two step processes. First is the interior designing part and second is the execution part. In designing, the interior designers will design your home based on the scope of work you have provided them. They will try various layout and design ideas to accommodate everything that you require.
They will take the measurement; draw the exact layout of the floor with appropriate measurement, and then try multiple combinations for the layout as per vastu and, layout and availability of space.
Once the layout is finalized, they will start 2D and 3D work to give you exact looks. So even before starting the work, you will know how your new home is going to look, once the work is over.
This is a great feature and one of the biggest advantages of hiring an interior designer.
And the next comes the execution part, where the work has to be carried out as per the drawings and plans.
Now, most of the interior designers in Kolkata, Delhi, Mumbai, Bangalore, Hyderabad, Pune and other such mega cities offer two options.
One, you can involve them as a consultant and second you can award the project to them on turnkey basis.
Wondering what the difference between them, that's what we are going to discuss next.
Hire interior designers as a consultant
Interior designers as a consultant suits those who have plenty of time to micro manage things. Sometimes people find it hard to rely on an interior designer and they like to keep control in their own hands. In such cases, you can hire an interior designing company as a consultant.
As a consultant, they will provide you consultancy. Except execution, they will survey, take measurement, design the layouts for your approval and then finally deliver you the measurements, layout and technical designs.
Now you can hire subcontractors like carpenter, electrician, false ceiling contractor, plumber etc. You have to procure all the materials as per your budget, favorable budget etc and then get things done. This way, you will have better control over the budget and quality for you have all the liberty to choose and procure everything on your own.
Obviously there are drawbacks to this approach, as it will delay the project and there will be no one accountable, because different work is being carried out by different contractors, that you have hired and hence the liability lies on you.
Obviously, the interior designer will charge a flat fee for consulting and if you want them to supervise the projects, then they will charge for every visit that they make. Charges of different interior designers in India for consultancy services may vary from project to project basis. But it will be anywhere between Rs. 60K to 1.2K or even more at times, depending on the scope of work, expertise and credential of the interior designer you are working with.
Here's a detailed post on: How does an interior designer charge their client that I suggest you to check.
Awarding the interior project on turnkey basis
This is the by far the best approach. Process is nearly the same like consulting as we discussed above, but everything will be executed by the interior designer. They have their own team for all these works from carpentry to false ceiling, they will procure the materials (on your approval) and you have to pay the materials cost. Naturally these costs will be adjusted at the time of final settlement.
This works well because for every small and large work, they have a professional team who will undertake the work. They know what they are doing, they can coordinate much smoothly and efficiently you end up with great quality finish and work. And all this, within your budget and specified timeline.
Find the interior designers and schedule one on one meeting
Now as you have got good understanding of all the options, you have scope of work ready and have a budget in mind, it's time to approach interior designers and decorators.
Needless to say, you can use ServiceSutra to quickly connect with up to three interior designing companies in your city. All that you have to do is, create a request for estimates by submitting the quote request form.
Once you submit the free quote request form, you will receive callback from relevant and available interior designers. They will call you to briefly explain about their company and schedule a free one on one meeting with you, and then a site visit.
Make sure to call different companies at different times, so that you can discuss your requirements with ease. Even if these companies will know that you are in discussion with three different companies, it's better to meet them in person. There is no need to mention that, you are going to get competent quotations from all of them.
Discuss and understand everything, and wait for them to submit their quotations. You can even ask them for a free drawing sketch for the layout and then choose the company you thing best suits your requirements.
Seal the deal and get in to execution
As you know, there are tons of interior designers and contractors available today, even in smaller cities like Jaipur and Ahmedabad, thanks to the growing demands of housing needs. It's is seriously important to evaluate all the offers from all angles and then sign the deal.
Here's what you should consider while evaluating proposal and quotations from the interior contractors.
Check their credentials – Figure out since how long they have been in this business and may be check relevant proof of business/experience. Checking credentials and asking right questions to the interior designers you are considering to hire can be of great help.
Evaluate portfolio – different interior designing companies may have different types of specializations. Some may be specialized in commercial interior designing and other may be expert in high end residential interior work. You should check for relevance in experience as per your needs.
Overall cost and payment terms – it's important to agree on a payment term which is mutually workable. So consider overall cost, materials being used etc and most importantly the payment terms. Yu should have better control over payment terms and negotiate a term that is workable to you.
What else one should consider when planning and hiring interior designers in India?
As you know, designing and decorating a newly built home or a newly purchased empty flat is no simple task. It requires adequate planning, solid budget and overall execution plan. Not know what you want in your and not figuring out a budget can be overwhelming.
I have already discussed about how to plan for interior designing of house in India and where and how to find the best interior designing companies. Defining broad scope of work and allocating a budget can help both you and the interior designing company.
So have a clear understanding of the main accessories and work you want to be carried and under what kind of budget. Once you have worked on these two essential tasks, the next step is to decide whether you want to hire an interior designing company on turnkey basis or as a consultant for design and supervision.
Once you have decided on that, you can approach a few of the best interior designers in your city, using servicesutra. Once you meet the interior companies and receive free quotations, you can evaluate their offers and then hire one that best suits your needs.
Have you ever hired or worked with an interior designer in India? What else do you think one should do while planning to design and decorate a new flat and how do you think one should hire an interior designer in India?
Still have questions, feel free to ask by commenting below.
And finally, if you find this post to be useful, please share and earn good karma!