Home relocation is quite a big decision because moving away from a familiar environment to settle down in a new place is no easy decision. But, nowadays relocation has become quite common, mostly due to the change in the lifestyle of today's generation. In ancient times, people could not even think of moving out of their ancestral home. But today, that mentality is no more there. Individuals have become flexible and they are ever ready to take the challenge of exploring and settling in new state or even in a different country as well. But, have you ever thought that what lead to the slow but steady change in the living style or the mentality of individuals?Well, there are not one but quite a few important conditions that compel an individual to move and relocate to a different city, state or country. However, individuals do undergo dilemma as when they have to decide whether to relocate. So today, I thought of discussing on some of those top justified reasons for home relocation, as I feel, it will help you in better decision making about moving to a new place.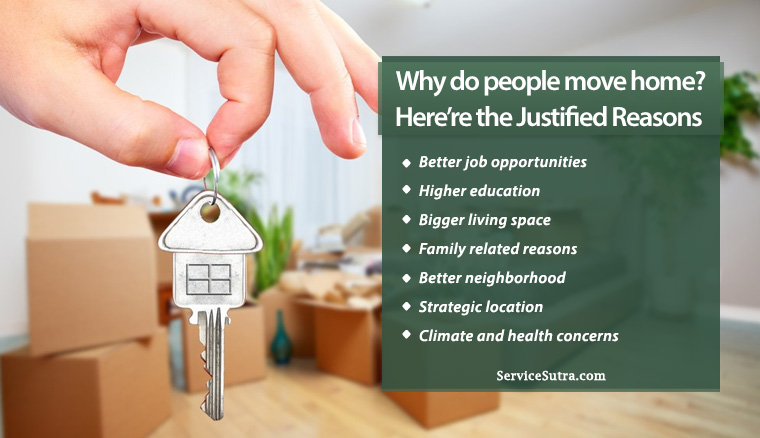 Considering the living standards nowadays, majority of you will be facing this situation at least once in your life. Where you have to take the decision whether you want to stay in your present place or want to move to a new place. Now, it is obvious that the move must be for the betterment of your life in general. Otherwise there is no point in relocating, and if it is good for you, then I believe that you must be strong enough to decide to relocate.
Opportunities do not come always and when you get a good one, it is better not to miss it. Of course, luck or circumstances in many cases do not let you take the right decision about moving. But if we forget the exceptions and think of it in a general way, then I think home relocation if done for your betterment, then it is totally worth it.
Now, as I said, that you do not relocate just like that. I mean it is quite a lengthy and stressful process, so there must be some good reason for you to relocate. Even if you have not faced such situation so far, it is not that you won't face such circumstances in the future. Hence it is best to remain mentally prepared from early on. So, what can be some of the possible justified reasons for home relocation? Want to know? Then please read on.
Top reasons for home relocation and why people move house?
Be it for better job opportunities, higher studies or family reasons, there is some or the other situation that bring out the question whether to relocate your home or not. However, I feel that the decision must be taken carefully as one wrong choice can adversely affect you. So, to help you, I have done an analysis on it and have jotted down some of the top justified reasons for home relocation. You can always refer to it whenever you face a dilemma regarding home relocation.
Listed below are the top 7 justified reasons for home relocation.
For better job opportunities
Now, in order to have a decent lifestyle, you have to have a good job. And if you get some good job opportunity in a different state or even internationally, you can obviously relocate to that place. I feel it is one of the top justified reasons for home relocation.
However, despite the fact that relocating your home for a better job is great, you need to also see to it, that you are given a good salary in comparison to the cost of living in that place. Your main objective must be to see how much you save at the end of the month. So, judge by the ratio of your income to your monthly expenses and then make the right decision.
For higher education
Good education nowadays is a must as the life has become quite competitive and without a good degree, it is often hard to get a good job. So, if your present location does not have colleges and institutions or if you have plans for higher education from any particular institution abroad, you can definitely relocate to that place. After all, it is a matter of your career and future and you must not compromise with it. In fact, do the same if you are a parent and want your kids to get better education facilities.
For bigger living space
If your present home is small and you want a bigger home to live in, then this is one of the top valid reasons for home relocation. After all, besides the large living space being a luxury to some, it is also a necessity for many.
The reason is with time, your family will grow and you will have your kids who will also grow and have their own family. So time will come when each member of your family will need a separate room to live which in turn, will require you to relocate to a bigger space.
Also, sometimes, your small room becomes too over packed with stuffs, so when you are earning enough to afford a bigger home, you can definitely go for it and relocate to a bigger space.
For family related reasons
Family related issues also fall among the top justified reasons for home relocation, the most common one being the newlyweds often shifting to a new home to start their new life. At the same time, if a couple is separated or divorced, he/she also relocates to a new home to stay away from his or her ex.
Also, many individuals who so long have been staying far away from family due to job or other reasons, may feel the need now to relocate to a place to be in close vicinity of his/her elderly parents. After all, it is a matter of responsibility and the decision to relocate is completely justified.
In short, family issues are always of top priority, so they deserve to be included in the list of justified reasons behind you relocating your home.
In search of better neighborhood
If you are living in a neighborhood which is not healthy in terms of the quality of families living there like for example, unfriendly, non-cooperative, quarrelsome people, then it is better that you relocate. It is not good for you to stay in such localities, especially if you have kids at home as that can have a really bad impact on them. You need to shift to a new locality with peaceful neighborhood where most of the people are educated, friendly and share healthy relations with one another.
Also, consider the safety factors. If your present neighborhood and the location in general is not safe and there is always a case of theft, murder etc. every alternate day, then also it is best to move to a better location with enough security as early as possible.
For strategic location
What I mean by strategic location is the better infrastructure, good transport facilities, easy access to the marketplace, hospitals, medicine shops etc. If you live in a place where you literally get everything just some footsteps away and if the transport system is great, then living becomes really easy. Such places generally have a higher cost of living but if you can afford it, then moving to such a convenient place is completely worth it.
In fact, many elderly people after retirement relocate their homes to such posh locations so that they get everything at walking distance. I mean it is actually a great advantage when you are old and not that physically strong to travel long distances for meeting daily requirements.
If you are still working, you can also think of shifting to a home which will be nearer to your office, and if you have kids, then also consider the proximity of your new home to the school or college of your children.
Due to climate and health concerns
In case you are living in a location where climate is not suiting you and your family members, and is causing too much of health concerns, then that is definitely one of the top justified reasons for home location. Like, for example, if your present home is near some industrial location where there are many factories, it is natural that the pollution level of that locality will be much higher than the places filled with greenery. If you live there, you are most likely to suffer from respiratory troubles and other health concerns, so you can shift to places that are comparatively less polluted and peaceful.
Also, if you live in a location where temperatures freeze in the winter or soars too high in the summers, or if the weather is too shabby and rains almost throughout the year which is leading to serious weather induced health complications frequently, you can then shift to a place with pleasant weather, free from the extremities of climatic changes.
However, sadly due to global warming, most of the places on Earth are undergoing climatic changes, sometimes even unnatural, so it is tough to decide which location is completely safe in terms of climate. But you can always go for an option which is comparatively better than the one you are currently staying at. After all, you and your family members need to be healthy in order to live happily, so you cannot compromise with your health.
Over to you: what's your reason to relocate to a new place?
Taking a decision to relocate your home in most cases, is not easy but when you are facing any problem or have got some good opportunities be it related to job or higher studies etc., you have every reason to relocate. However, in many cases, I have noticed that even at important situations, people get confused and less confident to relocate because they have to leave a familiar environment and move to an unknown location. So many does not like to take up that challenge to relocate.
If you are facing such situation, then you may like to find the top justified reasons to relocate as we have discussed above. I feel that these are valid enough for an individual to relocate. And if any one of the reasons matches with the situation you are currently in, you can take the appropriate decision about relocating by reading those justified reasons as discussed above.
While writing the article, I have considered most of the important aspects of life and then only shared my views. In other words, I have tried to show you how proper home relocation decision can actually change your life for the better. Of course, there will be exceptions where you will be restricted to make the relocation, but my views are from a general point of view, and I feel that it will guide majority of people in their decision making about relocation.
When you got good opportunities or is capable enough to handle higher cost of living, then I think you must go for it because it will make your future and standard of living better. Also, if you are facing problems related to your security, unfriendly neighborhood, bad climate etc., then also you have every right to move out of your present home. After all, home is something which must give you peace. So you need to live in a location which will be just perfect for you.
Initially, some of you may feel depressed and miss your old home. But trust me, it will heal with time and hopefully, you will start enjoying your new life in the new home.
Have you checked out the top justified reasons for home relocation? If you haven't, then read them and make the right relocating decision. Do share your feedbacks and suggestions regarding the justified reasons as discussed above.
Ever been confused about relocating to a new place? What was your justified reason to relocate?
I will come back with another post soon. Until then, stay happy and have a safe home relocation.