Moving to a different city or state in general is considered to be challenging, emotionally, mentally and physically. But when there is another difficulty factor added to it, which is financial insecurity, the pressure on the individual who is relocating magnifies. Well, to be more specific, I am here referring to a situation where you have already planned or thinking of relocating to a new place but do not have a job lined up. This certainly is a very big concern, more so if you are not so strong financially and you can't sustain for a few months without a job. It is going to be like a do or die kind of situation as without financial stability, it is hard to actually sustain for a long time. If you are planning to relocate to a new place and you are unsure about the job, then worry not. There are a few ways to relocate to a new place without a job lined up and I am sharing it all right here in this post. At times, relocation becomes inevitable and one has to relocate with or without a job. If you are in a similar situation and wondering how to relocate to a new place without a job, then relax and read this post till the end.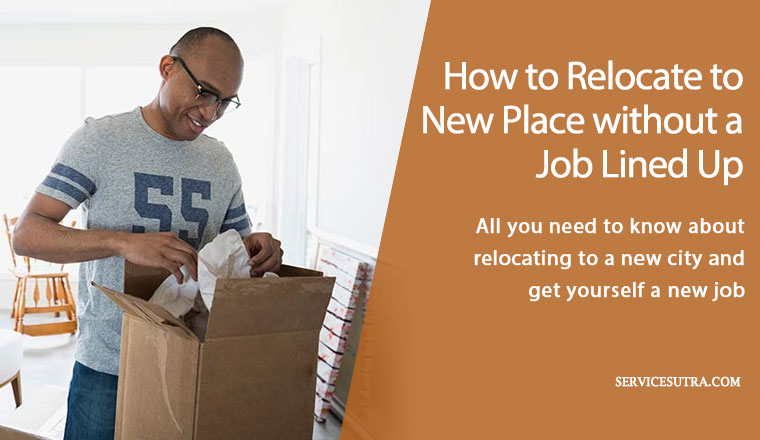 As it is, there will be the pressure for relocation right from the beginning, starting from finding a new home, to searching and hiring a good packer and mover to sorting items and packing them to finally reaching the new place safely and resettling in the new space properly. If you are financially strong, you will be able to still cope-up, as you can use your monetary strength and keep things moving. But if you do not have a job lined up and you have financial pressure, then it is a worrying situation. In that case, you will have to remain mentally prepared from day one.
If you are relocating for better job opportunities, then you might be upset leaving your familiar environment. But at least, you know that you already have a better job at hand which will secure your future, hence you'll be happy to do a bit of scarifies. In contrast to that, if you have to relocate in a situation where you have to leave your job for family or other emergency circumstances or in a situation where you did not have any job from the beginning and is just relocating in the hope of good job prospects, the amount of pressure on you will be 100 times more because of the uncertainty of a job.
You literally have to think every time you have to spend on anything which is definitely going to be stressful. But, as you know, when there is a will, there is always a way and these tips on how to relocate to a new place without a job lined up will hopefully help you handle the situation much efficiently.
Well, the topic that we have taken up might sound a bit harsh but for many people it is the reality, so without further delay; let us dive into today's topic of discussion.
Tips to relocate to a new place without a job lined up
We live in a competitive world and without financial strength; things may get really difficult especially in a circumstance when you have to move to a new place without a job lined up. But, thankfully, there are ways to get rid of this phase.
Listed below are the most essential tips on how to relocate to a new place without a job lined up.
Start with basic homework
You simply cannot move to a place just because you found it exciting, more so, if you are without any proper job lined up. Before relocating, you should do enough homework about the new location you are relocating to. To being with, search for the job opportunities that match your credential and profile. Secondly, do check out the cost of living in the city you are moving to.
Properly researching about the job prospects and basic cost of living, can help you plan your relocation much efficiently. It will help you prepare mentally and once you relocate, you can quickly apply for the jobs. You can even apply for the job before relocating for this will eliminate the uncertainty of job.
Calculate the costs of living
After you have done the homework about the new location, you need to do some basic calculation for general cost of living. To be more specific, if you do not have a job lined up, it is obvious that you will have to spend the initial days without proper income. For that, you have to have enough savings so that at least you get 3-4 months in hand to search for a perfect job. You may get the job much earlier to that as well but you need to be prepared monetarily for the worst situations.
So you should calculate the basic monthly expense which should include rental costs, day to day grocery, costs of television, internet, food etc. If your unsure about the job, then make sure to cut the extra expenses like movies and eating out. Once you have the monthly expense sheet on the table, you can easily figure out how many months can be survived based on your savings. This simple step will prepare you to plan and handle things much efficiently.
Check if help is available
If you have relatives or any good friends in the new location, try to approach them for some help. You may stay the initial days in their house before buying a house or taking a house on rent. This will help you cut off some initial expenses.
You can always repay him/her once you settle down and have a job. Also, having known people in a new location will help you search for new jobs as that person will have a better idea of the job prospects there than you and if he/she can connect you to companies, then that is even better.
Update your resume
Instead of going there and then making a resume, it is better to make the resume before relocating. You have to be prepared so that once you reach the new place; you will be ready for the interviews within hours.
The reason I mentioned this is that, you may have an interview the day after you reach the place, now if you are not prepared with a resume then you have to make one in a hurry and then go for the interview.
You may even miss the good interview for lack of preparation. Also, in a hurry, you may not be able to make a good resume, so please be serious and prepare a good resume before relocating. You can keep some printouts of it as well with you for emergency situations.
Start applying for jobs before relocating
Once you have decided to relocate to a new place on a certain date, then you can easily apply for the jobs that match your criteria and where the interview date is post your relocation. To be more specific, if there is any particular requirement which matches your profile then you can go there and immediately attend the interview. Who knows you may click it on the first go which will be just perfect for you. Ideally, you should apply in as many companies as you can, this way you have the options to choose from and if you crack multiple interviews, then you can easily choose one that best suits your prospect.
Consider part-time jobs
Getting a perfect job immediately after relocating to a new location is not going to be easy, at times it takes time. Of course, if you are lucky enough you will get that. But everyone may not be that lucky to get the perfect opportunity at the right moment. So, it is best if you keep the option of part-time jobs or freelance jobs open. You can always switch when you get the perfect job offer but initially, having a part-time job will help you keep going.
Apart from considering taking up a part time job, you can also look for freelancing opportunity. Even though, freelancing opportunities are mostly available for technology related jobs, but you can look for a suitable opportunity and grab one to being with. At this point of time, your main priority should be to make money and keep going.
Do not over-spend on relocating
We should always be careful about our spending habits, especially when you are relocating without a job lined up. Now, relocating to another city or state is not going to be easy.
The whole process of relocation requires careful planning and execution. You will also have to search for good packers and movers to relocate your items as relocating your household goods on your own to an unknown city or state may not be a good option.
What you can do is to hire a company with average prices which you can afford. You can get contacts of affordable and competent companies from online platforms like ServiceSutra. We have screened and on boarded some of the best packers and movers companies from all across the country. You can get free quotations from up to three local movers and packers companies by submitting the quote request.
Generally, most packers and movers provide end to end services which includes packing, loading, transporting, unloading and assisting in unpacking.
But, if you are really on a budget and don't want to even the minimum amount that the movers are going charge for their services, then the last thing to do is to pack and move on your own. There are always risks associated in relocating on your own, but you can do it yourself. Here's a detailed post on Do-it-yourself packing and moving that I suggest you to check.
Connect with people
After shifting to a new location, the faster you make friends and good connections with people, the better it will be for you. This is because you never know who has got good contacts and can help you get a good job. Plus, with promising connections, you will also learn a lot about the new location which will help you get settled down fast. So, be a friendly person and remain approachable in your locality.
However, making new connections does not mean that you will cut contacts with your old pals. You need to remain in touch with them as they love and care for you and even they can help you in many ways.
Arrange internet connection
One of the primary things that you need to take care of once you reach your new location is you will have to arrange for the network facilities as early as possible. We all know that this is the era of the internet and most of the things are done online. There are many recruiters who post about the vacancies online and even they want potential candidates to apply online. In that situation, if you do not have proper internet facilities in your new home for long, then that may delay the process of application and getting a job.
So, take new SIM card and arrange for the internet quickly. You can do most of the task on a mobile, but having the broadband internet connection at home can help you browse the website on laptop. After all, you cannot create and update resume on mobile, or maybe you can. But the point is that you should have internet connection as fast as you can.
Browse job portals
Nowadays, you can browse through online job portals to find jobs. Join multiple websites and search for a potential vacancy. There are many job sites that can help you find job openings and apply. So, you must use these sites to the best of your advantage and apply and give multiple interviews.
Cut off your expenses
Moving to a new place can be exciting and you may feel like exploring the new place so that you can discover it well. It is obvious and is good but when you are struggling in your career, it is best to focus first on getting a job rather than spending on things which can be done later.
To be more specific, you may feel like going out on vacations in the nearby locations which you can, but you must be careful not to spend too much on activities that can be done later.
You should wait a bit and explore the city after you get a job, then you will be able to enjoy without any financial restraint. Also, you may feel like decorating your new home with new items, but that can easily be done when you become financially sound.
What I mean is, please be a little careful in the initial days and once you get a stable job, fulfill your wishes. There is always a difference in need and luxury and you have to make the choice as per your financial conditions.
Think of plan B
Whenever we take a step forward in life, it is definitely meant for the betterment of our lives. But, we cannot ignore the fact that the actions we take may not always give 100% guarantee of success.
Similarly, in case of your relocation, if by any chance nothing works and you do not get a good job for yourself, then you must be ready for an alternate option. In other words, you must keep a backup plan ready regarding what to do in case the previous plan does not work.
Conclusion
Financial stability is one of the basic requirements for happy living. But if you are relocating to another city without any job lined up, that is going to be little tough for you. But, no matter how tough it can get, it is definitely not impossible. I mean there are many who have relocated first and then secured a job. You may have to struggle a bit initially but with proper hard work and a little support from destiny, you can definitely land up in a good job in your new location.
Of course, there is going to be added pressure but I know it can be easily managed with a little finance. I have already shared a few of the most essential tips on how to relocate to a new place without a job lined up. These tips and hacks are completely from a practical point of view and so it's going to help you immensely.
However, life is uncertain and so you will have to be prepared for the worst all the time. If you are strong and determined, then you will succeed through every odd.
I wish you all the success in life and I sincerely hope that my tips help you relocate without issues, even if you don't have a job lined up for yourself.