Singapore, being the international center for commerce and finance along with the exquisite tourist attractions and innumerable entertainment options has become one of the prime destinations for people all over the world. And, why not, if relocating there, gives you so much scope to grow both professionally and personally, and also help shape a good future for your kids and other family members, then I think taking a little extra effort to move to Singapore is completely worth it.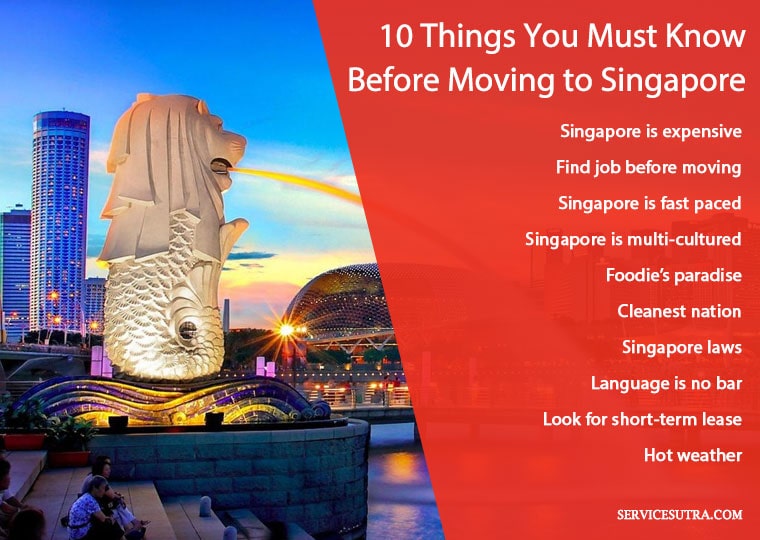 But, before moving to Singapore, it is important that you do a little bit of study about the various aspects of this amazing city. Learn about the lifestyle, the culture, the people, climate etc. as this information can help you make your stay at Singapore more comfortable.
Well, Singapore is my all-time favorite location, and so I can certainly help you out with a list of important things you need to know before moving to Singapore.
Singapore is presently the only city-island-nation in the world. Although the land area is only about 280 square miles, this tiny nation is home is about 5.6 million people. Along with Hong Kong, Singapore holds the top rank in the Wall Street Journal's Index of Economic Freedom that scores free economies. The real-estate in Singapore is one of the most expensive in the entire world.
The nation also ranks high as far as education, healthcare, technology, and general quality of life is concerned. The taxes are high and the crime rates pretty low thanks to the very strict laws formed by the Singapore government. The city cum island cum nation is one of the most beautiful places in the Earth and also one of the cleanest. So, there are lots of reasons for you to relocate to Singapore.
Well, there is lot more to know and explore about Singapore. So, without wasting any further time, let's start with our main topic on the important things you need to know before moving to Singapore.
What are the important thing to know about Singapore?
Singapore is a dream destination for many all thanks to the wide range of opportunities it has to offer. But things may go wrong in a foreign land if you are not aware of the important aspects of the place. And, especially in a strict and expensive country like Singapore, it is always important you do enough research otherwise you may land in big time trouble.
List below are the most important things you need to know before moving to Singapore:
Singapore is expensive
Singapore has been named as the most expensive city by "The Economist" 4thtime in a row. And, why not, it is an international hub and so the cost of living is bound to be high is comparison to the less developed nations. But, that does not mean that you will not be able to save anything from your income in Singapore. Well, frankly speaking, if you ear well and spend wisely, you can still live comfortably and save money.
Most of the Indians and people from other parts of the world travel to Dubai and Singapore for a bright future and that can only happen when you have a big bank balance. But, after going to Singapore, if you get involved in unnecessary expenses, then your main purpose of moving to the place will never be served.
You got to become less spendthrift and know where and how to spend money, then only you will be able to save. To be more specific, if you can live without having 3 course- high end dinners or not visit the night clubs frequently, or avoid unnecessary shopping, saving will not be much tough for you.
And, yes, buying a car for personal transport is not much cheap and so if you want to stay economical, get used to the public transport of Singapore.
But yes, you can also indulge in luxuries but you must know to strike a balance and never cross the limits.
Secure a job before relocating to Singapore
One of the most important things you need to know before moving to Singapore is that you got to secure your job before finally relocating there. This is actually something to be warned off because there are very strict laws that regulate the ability of any foreigner to work there in Singapore.
So, please secure an offer and then only relocate otherwise your dream of living in Singapore may turn into a nightmare. It is hard to handle the high cost of living without having a secure job from the beginning.
Singapore is fast paced
Without any doubt, Singapore is one of the most fast paced places in the whole world. Most people live by the logic that when there is money to be made, it is better not to waste time. Despite Singapore being so efficient, local people are quite ambitious and impatient and want things to be done pretty quickly. In short, life there is a kind of race every day. So, during your stay at Singapore, if you happen to find the people around you a bit irritated or impatient, please do not mind because that's just a part of the speedy culture of the nation.
Singapore is multi-cultured
Singapore is a multi-cultural nation in its truest sense. Although the majority of its population is of Chinese descent, you will get to see a large section of Indians, Malays, Europeans and North Americans etc. there. And, that is really good news I think. Well, this is because it is not much difficult to locate a group of fellow citizens there. Moreover, the welcoming attitude of Singapore towards multiple cultures will make you feel at home all the time.
It's a foodie's paradise
If you are a foodie, then Singapore is a perfect place for you. The diversity of the place is also reflected in the kind of foods available there. The range of food options is just vast and you are going to literally find every kind of food there in Singapore. So, yeah, soothe your taste buds after relocating to this amazing city.
Cleanest nation
Singapore is one of the most efficient and cleanest nations. One of the many things to love about Singapore is that besides being so wealthy and efficient, it is so clean and well maintained. Trust me; there is a complete lack of clutter and mess just anywhere. Even the pavements are just sparkling clean. If there is any rare occasion you see a graffiti wall, be sure that it will be painted very soon. You will never find a dirty or crumbled dollar there and yes, the money itself is very clean as well.
Trust me; you will forget your bad habits of littering or jaywalking. The moment you step in Singapore the whole tidiness and discipline of the place will draw your attention, and you will feel bad to dirty any space even when no one is watching you.
Singapore laws
One of the reasons why Singapore is so clean and organized is because the rules there are so very strict. There are various rules and if you do not obey them, you are going to face some harsh fines and punishments. Like for example, chewing gum is illegal, so please avoid that once you land in the nation. And, please do not try to break the laws, because there are cameras watching you everywhere. You cannot hide from them for very long.
Language is no bar
Singapore has a unique local language called Singlish which is Singaporean English. It is mainly influenced by Mandarin, Malay, Tamil and Hokkien. But, if you have a proficiency of English, you will not have too much of problems communicating with the locals or adapting to the new environment. With time, you will slowly get accustomed to this Singaporean English as well and believe me, it is fun to learn it.
Look for short-term lease
Singapore is a small expensive nation and so the cost of property is not low as well. Many a times, finding the right place to live becomes a problem. Moreover, proximity to bus stops and MRT stations is important for daily travel.
What I feel the best option for you will be to start by looking for temporary accommodation which will allow you to scope out the city, decide what is best fit for you and then find an accommodation for long term.
There are multiple serviced apartments all over the island, mostly in the central region. These actually offer you with a lot of flexibility and convenience and also many a times come with pool, gym and BBQ. So, these are also good options for you to look for.
Hot weather
Singapore is hot, like real hot. Obviously, you cannot expect anything else from a place that is one degree above the equator. So, yes, be prepared to face the heat there. Shorts and flip-flops are absolutely necessities and yes, try to take comfy, light colored clothes with you and avoid the dark colored ones.
Thankfully, most of the indoor spaces are air conditioned, so that is a welcome relief but when outside stay protected from the heat.
Over to you
Life in Singapore is expensive but is a lot of fun. There is so much scope for enjoying life to the fullest but yes, remember not to break any of the rules. One of the best aspects of Singapore is that there is so much diversity in the population and culture, that you will feel at home all the time. But, you also need to respect the culture of the place and make efforts to bond more with the locals there. Trust me; these will make your stay at Singapore easy and enjoyable.
As far as the important things you need to know before relocating to Singapore is concerned, I have already made a detailed list. I have tried incorporating all the major aspects that is both the positives and the negatives about the city so that you become very clear about what to expect from the place.
I wish you have a pleasant experience in Singapore.
All the best!