Even if there are a number of ways today, to watch television, for many of us, the traditional dish works the best. And if you ask me, I am big fan of TATA Sky DTH and can't really do without it. If you love watching those popular programs on your TV sets like me, then I am sure you would like to take the dish with you, wherever you are relocating to.
If you are relocating to your new home, and you are wondering about how to move your TATA Sky DTH antenna and connection when relocating to your new home in same or in a different city, then worry not. In today's post, I am sharing everything worth knowing about how to move Tata Sky DTH connection, so that you can move your Tata sky DTH connection easily, no matter where are you relocating to in India.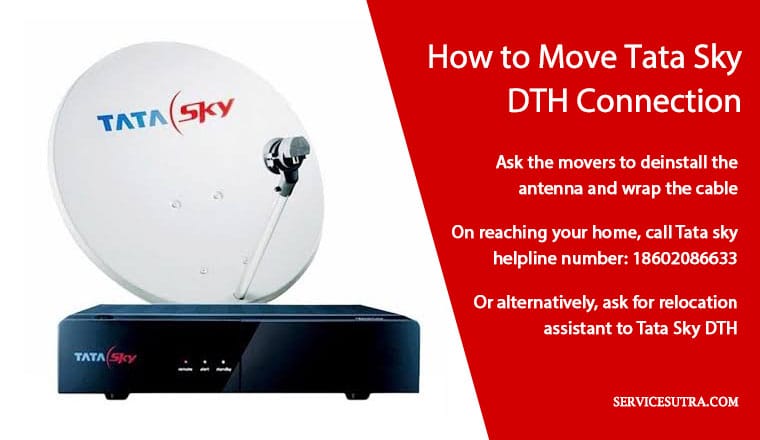 When relocating to another city or state, you may leave the dish antenna or you may like to move it to your new home. There are many who simply leave the dish antenna and then purchase a new one after moving.
But, they do so, because they don't really know how to move the Tata sky DTH and connection when relocating. But in my opinion, there is no point in leaving the antenna and not moving the connection, especially if you plan to get a new connection.
So, instead of spending money on new connection, the better option is to move the Tata sky DTH. And trust me, moving the antenna and connection to your new home is not complicated at all. And therefore, if you are moving to your new home, it's best to relocate the connection instead of abandoning it.
Wondering how to do it right? Here's the detailed step by step procedure to move your Tata Sky DTH connection, easily and in cost effective manner. I have shared the detailed procedure, costs involved and how to pay Tata sky for moving the DTH connection.
How to move Tata Sky DTH connection – step by step process
Whether you are moving within the city from north south or west to east, or even if you are moving interstate, the movers and packers can help you with moving the TATA sky Dish Antenna.
If you are using packing and moving service from a local moving company near you, then they can dismantle the antenna and cable. They know how to dismantle and pack the antenna for safe transportation.
And then, once you it reaches your new home, you have to call TATA sky customer support and update them about relocation and raise a request for re-installation.
But that is not all, if you want, you can directly request Tata Sky to help you with relocation.
Process of moving Tata sky DTH connection is quite simple and smooth. And they are super quick I tell you and offer exceptional customer support.
Here's the step by step process for moving Tata sky DTH connection in India.
If you want to shift your existing Tata sky connection to your new home, the first thing that you have to do is to call the Toll-free helpline number 18602086633 from your registered mobile number.
Update them with your current location and let them know a convenient time. Their executives will come and uninstall the Tata Sky connection so that you can take it to your new home.
Now, for reinstalling the Tata Sky to your new address, you need to call in the helpline number 18602086633 again and fix a convenient time so that the Tata Sky executives can visit your new home and reinstall the connection.
There is also the option to mail them at help@tatasky.com
You may also raise a request through live chat at Mytatasky.com.
In case of de-installation request, the technician will de-install and handover the materials to you. You got to call again to create a relocation request for re-installation.
You can use this option when there is much gap between de-installation and re-installation. But, if that is not the case, you can go for de-installation with re-installation at new location.
Here, once you have requested the technician will come to de-install the connection and handover the materials to you and the re-installation request will automatically be created. You need not call again for raising a re-installation request.
What are the charges for moving Tata Sky DTH?
Well, there are definitely relocation charges here but that actually depends on many factors like for example whether you are relocating in the same premise or a new one, the number of set boxes you have for relocation and then do you want to relocate with kit or without kit etc. I have made a chart for you. Have a look:
Tata Sky DTH moving charges are mentioned here under:
Number of boxes: 1
Same premise: Rs. 300
New premise with kit- Rs. 300
Without Kit- Rs. 800
Number of boxes: 2
Same premise: Rs. 400
New premise with kit- Rs. 400
Without Kit- Rs. 900
Number of boxes: 3
Same premise: Rs. 500
New premise with kit- Rs. 500
Without Kit- Rs. 1000
 The re-installation charges in the new premise are Rs. 200, without cables. And if extra cable is needed, then they charge separately for the cable, on per square feet/meter basis.
How to pay Tata Sky DTH moving charges?
One of the best things about Tata sky DTH is that their process and customer support is phenomenal. I am using their services since long and have used various services many times, including relocation service.
Among many other things, I like their flexibility with pricing. The prices are nearly fixed and you can pay from your TATA Sky balance. For relocation charges, you don't need pay cash to the executive. You just have to sign the bill and then recharge your account with that amount. The amount will be deducted by Tata sky from your account balance.
About Tata Sky DTH
Tata Sky is one of India's leading direct broadcast satellite television providers. Incorporated in the year 2006, it is actually the joint venture of the Tata group and the Walt Disney with Temasek Holdings being the minor partner. It however was started as the joint venture of the Tata Group and 21STCentury Fox but now it is owned by the Walt Disney Company.
As far as the DTH services or Direct-to-Home services are concerned, Tata Sky was the second operator to launch in 2006. And, in 2009, it became the first Indian DTH service provider to get awarded with ISO 27001:2005 accreditation which is the benchmark for information security.
Tata Sky provides you with the most comprehensive list of channels and platform service line ups ranging from news, movies, and sports to entertainment channels. There are a wide range of packs available so you get to choose the plan as per your viewing preferences.
Thanks to its 24×7 customer support in about 13 languages, 1 year Annual service commitment, and multiple affordable recharge options, Tata Sky has managed to build a strong and loyal customer base.
Obviously, relocating to new home is common and so, TATA sky has made it very simple and smooth to relocate its connection. No matter where you are moving to, you can virtually move TATA sky to anywhere, in India.
Over to you
Moving to a new house along with all the used domestic household good, appliances, furniture etc is certainly complicated. And because of these complications, there are many who downsize their move and leave behind many of the things that are less important for them. Tata sky DTH or any other DTH antenna and connection being one such item.
But did you know that moving a Tata sky DTH or any other DTS set top box, antenna, cable and connection is not at all complicated, especially when you know the procedure of transferring these items.
The movers and packers can de-install the antenna and cable, pack these things along with the Set-top box and Tv set and move it safely. Once you have reached, you can request them for re-installing.
The charges are also as per the TRAI regulation, so I hope you will not face any problem in moving your DTH connection, be it Tata sky or any other DTH service.
And, if by chance, if there is any problem, do contact the customer care number of the Tata Sky DTH or your service provider, in case you are not using Tata Sky DTH.
And just before concluding, let me add a note that all the prices and procedure is as per the information available today, and it may change in future.
How did you manage to move your Tata sky DTH connection, while relocating to another city? How was the experience?
Feel free to share your experiences by commenting below.
Happy relocation!