Dubai is among the most popular and happening cities in the world. Be it due to the huge towers, fashionable and lively environment or a promising future, Dubai does attract a lot of people from all around the world. Dubai is actually a global city, with an international workforce. And, for Indians wanting to stay abroad, Dubai definitely is a hot spot. Not just because it offers them with a lot of scope for personal and professional growth, but also because of its proximity to India. The geographic location of Dubai is very suitable for Indians. And, if you are planning to relocate to Dubai from India and wondering about how to plan and move to Dubai easily, then this Dubai relocation guide is all you need to check.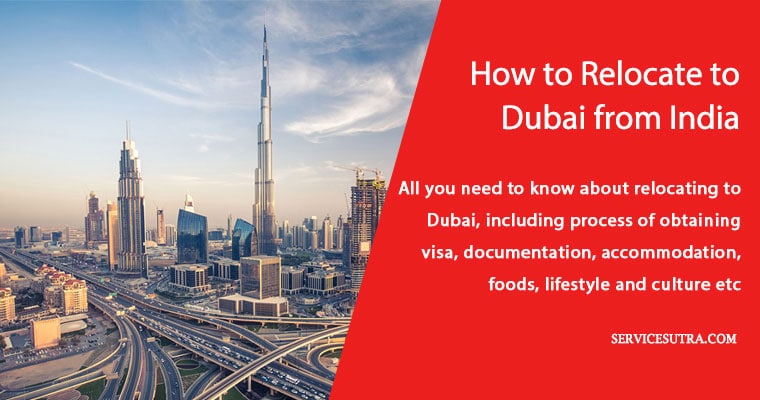 When it is about having a successful relocation plan for moving to Dubai from India, you need to have a proper relocation plan and understand the process of relocating really well. And, I am here to guide you with enough facts about how to relocate to Dubai from India easily and without hassles.
Whether you are traveling to a foreign country for vacation or relocating permanently, knowing about the place, its culture, language, visa process etc can help you plan your relocation much effectively. When you have the information on these key issues, your journey and stay will be much better and comfortable.
Similarly, when it is about relocating to Dubai from India, you need to be really informed and updated about the whole relocation process, especially the visa requirements and related documentations.
Also, you need to have good knowledge about the accommodation options, lifestyle, weather, transport etc. before making your journey to Dubai. All of these needs to be considered before you finally decide to relocate to Dubai from India.
I know things may seem a bit challenging for you especially if it is the first time you are travelling abroad. But, trust me, after some initial hiccups, soon you will learn about the ways of life in Dubai. And, once you understand that, there is definitely no looking back.
So, are you ready to start preparing for relocating to Dubai from India?
I heard you saying yes, so let's get started with how to plan, prepare and relocate to Dubai easily and conveniently.
Relocating to Dubai from India – here's all you need to know
Life in Dubai can be very promising, but there's a lot to be done before you can relocate to Dubai from India. Here's the list of things to do in order to enjoy a successful and hassle-free relocation to Dubai from India.
Visa requirements for moving to Dubai
The most important part of relocating to Dubai from India is to have a valid visa. If you are an Indian passport holder and have plan to visit Dubai for scouting it out before the final relocation, then you will have to arrange for the Visa with the help of a sponsor.
You just have to enquire about this while booking a hotel and then apply for a visa using any travel agent. However, if you have a USA visa and also have a green card (it is valid for 6 months after your entry in the UAE), you may avail a visa on arrival for 14 days.
However, as far as your actual relocation to Dubai from India is concerned, there are different types of Visa options available to you. Whatever, your visa is, you need to be sure that you have a valid passport, and also ensure that is valid for at least 6 months after your relocation.
Here is a list of the different types of visa options available to Indians in Dubai:
Employment Visa– This is the most common as well as the easiest type of Visa as here your employer is going to take care of all the necessary requirements for your stay there.
Dependent Visa– The next in list is the Dependent Visa. There are various requirements for it depending on who is sponsoring you.

If it is your spouse who is sponsoring you, then he/she have to make a minimum of AED 4,000 per month or AED 3,000 plus accommodation.

If it is your children who is sponsoring you, then their monthly income should not be less than AED 20,000.

And, if your parents are looking to sponsor you, then you must be under 18 years and unmarried.

Student Visa– The other type of Visa available is the student visa. If you are enrolled in any one of the UAE academic institutions or universities, you will get a visa throughout the duration of your education.
Investor Visa- The next in the list of visas available to you is the Investor visa. Now, if you are planning to start your own company and business there in Dubai, then you can get a visa permit depending on your investment. This visa usually allows for a 3 year stay and one of the biggest benefits of it is that the holder does not have to pay taxes. For getting the visa, you will have to prove that you have got sufficient funds for the investments required. Usually a foreign national has to pay a deposit of about AED 10,000 to AED 20,000 to the UAE government.
Property owner Visa– If you own any property in Dubai, then you will get a renewable residency visa but the benefits of the visa vary.
For processing the visa, you will have to undergo a medical test once you arrive in Dubai.
Documentation requirements for relocating to Dubai from India
The employer takes care of the majority of the documents when you are relocating to Dubai from India or any other country for that matter. All you need to do is to check whether you have got the necessary documents in proper order or not. Here is a list of few things that you got to consider:
Before you plan to move to Dubai, you should make sure that your India university certificate/degree is properly attested. Most of the time, it takes a lot of time, and hence the earlier you get it done, the better for you. However, there are 4 steps that you need to take into account for getting your certificate attested:
First of all, you need to visit your university and get a stamp from them. Call them beforehand and know what documents they want you to bring. In most probability, you will be asked to bring the mark sheet, and your high school papers too. Depending on which field you are, you may require to get your attestation done through the registered regulatory board of your field. You will be required to pay from your end here.
Next, you will require HRD or Human Resource Development attestation. You need to visit HRD office directly. You do not have to pay any fees here but you will have to bring your mark sheets including those of the high school ones and a passport photo (this depends from state to state).

After that, you will have to get a validation stamp from the Ministry of External Affairs in India.

The last thing that you got to do is to get a stamp from the UAE embassy.

Now, if you are relocating to Dubai as a married couple then, do not forget to bring your marriage certificated along with you. And, yes, it should be attested.
Before applying for a work visa, you will have to obtain a certificate of good conduct from India.
You should not forget to bring many passport pictures along with you. You are going to require those for various purposes.
Find international moving companies to relocating your goods
While you can carry most of the personal belonging with yourself, if you plan to relocate domestic household materials, then you can avail international relocation services. While, finding domestic relocation companies is not difficult, international relocation services are not offered by most of these companies. There are only a few international moving companies and therefore, you got to start searching and screening moving companies from early on.
To begin with you can google and or even use servicesutra and request for quotations from a couple of international relocation companies. Once you have the quotations on the table, evaluate everything and clearly understand:
The process of international relocation
Mode of transportation being offered (Air cargo or ship)
Total cost on door to door basis or door to dock
Time required for delivering the goods
Any specific documentation requirements etc
And, once you are ready, you can choose the moving company you would like to work with.
Accommodations in Dubai
In high probability, your company will keep you in a hotel after you arrive in Dubai, but it is best if you find a proper place to move. It is not difficult to find properties in Dubai, you can find and rent out a place according to your convenience, preferences and budget.
However, when it is about accommodation in Dubai, the first thing that you got to consider whether to go for renting or buy a property. Well, here are some facts about renting and buying property which might help you take the decision.
Renting a property in Dubai
Many a time, the first timers, rent property in Dubai. It is easy to overspend but practically speaking, it is recommended that you avoid spending more than 35% of your monthly salary on the rent.
You must also note that in Dubai, rents usually work on the basis of quarterly or yearly cheque. You will also require shelling out money for electricity, water, internet or phone deposits. And, yes, the agency commissions and your security deposits are included as well, so make sure you keep aside money for these expenses. Try to get updated with the tenancy laws in Dubai also and avoid any kind of unpleasant surprises.
Buying a property in Dubai
Dubai has a very thriving property sale market with many attractive incentives for the buyers. Starting from completed properties in very well-established neighborhoods to off- plan projects with upcoming handover dates, it is true that home ownership is really in very much trend in Dubai.
In fact, it is the Indians who invest in property in Dubai the most in caparison to other foreigner groups there. Now, if in case you are unsure of how long you are going to stay in Dubai, let me just tell you that there is always the option of renting it out when you are leaving. I mean it is going to be a great source of income for you.
Education in Dubai
Obviously, if you have kids, you need to consider about the education system in Dubai. Well, it is a fact that your child is going to have a diverse experience there with kids all over the world coming there to study.
There are many Indian schools (offering CBSE and ICSE) in Dubai. They are in close proximity to every neighborhood.
The price of the schools varies the curriculum and the faculty.
If you want to get your children admitted to the best schools, it is highly recommended that you do enough prior research. It is even better (especially if you are relocating during the summer months if you can apply there because they get filled up real fast.
The Indian school year mainly starts in April while the international school in majority cases starts from September. However, there is also an option of getting your children admitted in the second semester as well.
Now, as far as higher education is concerned, there are a whole lot of famous institutions and universities there. So you will never run out of options.
Local transport facilities in Dubai
Public transport is pretty good with lots of buses, taxis and metros available there. Buses are the cheapest; metro is costlier than bus, and then the taxi, which is the costliest mode of transportation in Dubai. Metro is however the most convenient option for local commuting. But since it travels in a straight line, using metro will depend on where you are staying and which part of city you have to travel to for work. However, there are many apartments available near the metro stations and that you may like to consider.
If you want to rent or buy a car, you need to have valid driving license. You can take classes, the number of which will obvious depend on how long your license has been valid. One thing that you need to keep in mind that majority of the vehicles there are automatic and not manual unlike in India. So, that may worry you initially, but automatic is actually quite easy, so you will get adjusted pretty fast.
Healthcare facilities in Dubai
There is no unified public health care service in Dubai. But the sponsors are responsible for providing health insurance to the visa holder. Like for example, if you are one sponsoring for your spouse or children, the responsibility of their medical insurance is upon you. However, some companies do provide insurances to companies as well.
Now, in case you have plans to bring any medications from India to Dubai, you should check the banned list of substances. Make sure you carry your doctor's prescription with you. Keep in mind that some of the medications that you get over the counter in India may be regulated there in Dubai, and therefore, you may face difficulties while bringing them in Dubai. So be careful.
The good thing is there are many clinics and hospitals in Dubai. So, if you require any specific medication, you will not have to give too much of efforts in obtaining a prescription.
Foods in Dubai
If you are relocating to Dubai from India and wondering about the food culture of Dubai, then worry not. Indian cuisines are easily available in Dubai, and therefore you are not going to miss the Indian foods. Starting from Biriyani to Jain food to street side chat to South Indian dishes, you are going to get all these Indian foods easily in Dubai. Also, there are a lot of supermarkets in Dubai, where you will get all of the native ingredients used in India cooking.
I know most Indians are foodies and love eating. And, trust me; nothing is going to change once you relocate to Dubai.
Weather and lifestyle in Dubai
Dubai generally has a tropical desert climate. Weather in Dubai is usually very warm and summers are pretty hotter. Winters season is like OK, but there may be rain during winter. And most importantly, dust storms are quite common in Dubai.
As far as Dubai lifestyle is concerned, it is fun, lively and fashionable. You will get lot of shopping options there. So, you can wear cool and stylish clothes all the time. However, although the place has got incredible religious tolerance, UAE is a Muslim country, so it is better that you try to dress modestly and keep away from public displays of love.
General FAQs
What is to be done if I want to immigrate to Dubai?
The first and most important thing to immigrate to Dubai is to have a valid passport, and the validity of the passport must be for next six month. The next is to obtain Visa (depends on the purpose of your visit). If your immigrating a for job, then apply and obtain the work permit. Get your papers attested and then undergo health check and you are all set.
How to get permanent residency in Dubai?
The easiest way to obtain residency is to get sponsored by your employer. When sponsored, you can get residency visa, then you got to get it renewed in every six years. The other alternate option is to buy properties in Dubai, because when you become a property owner, you may get the residency.
How can I relocate household goods to Dubai from India?
If you are relocating to Dubai and wondering about how to get your domestic household goods sent to Dubai, then there's no need to worry. There are international movers and packers companies that can pack, pick and get your goods relocated to Dubai. So, just relax and sort out the inventory and take quotations from a couple of international moving companies in your city and you will be on your way.
Conclusion
Dubai is a very popular city and its one of the most happening tourist destination for people around the world. And, for Indians, it is a great city to relocate to and get settled down because of its geographic proximity with India. There are many Indians working in Dubai and if you are considering relocating to Dubai, then you won't be alone.
Dubai gives you a lot of opportunities for growing both personally and professionally. The best thing about doing a job in Dubai is you do not need to pay any taxes. What you earn is what you get in hand, which is something really amazing.
Now, when it is about relocating to Dubai from India, you need to be very well aware of the relocation processes, especially the documentation part. Starting the Visa requirements to the paperwork, everything must be valid and up to date so that you do not face any problem while relocating to Dubai.
I have already shared a lot of crucial information that can help you to plan your relocating to Dubai from India including documentation process, housing options, weather, lifestyle, food, education, health care etc. in Dubai.
These are the most important things to consider when you are planning to move to Dubai, especially for a longer period of time.
At the end, all I want to say is that Dubai has a lot to offer to the Indians. So, you can expect a lot from this amazing city. But it is also required that you respect the culture of the place and accordingly blend yourself there.
What else do you think one should think when relocating to Dubai from India?