Relocation to another state is not going to be easy, especially when you don't have a proper relocation plan at hand. As we all know, safe and secured relocation, even locally within the city or a nearby neighborhood can become frustrating at times. But when we talk of relocating to another state, you should not take chances and plan everything minutely.
Relocation to another state involves a lot of planning, coordination, absolutely safe packing, and arrangements for transportation etc. And if you are relocating with pests and car along with the usual household materials, then you gotta be even more cautious with your relocation plan.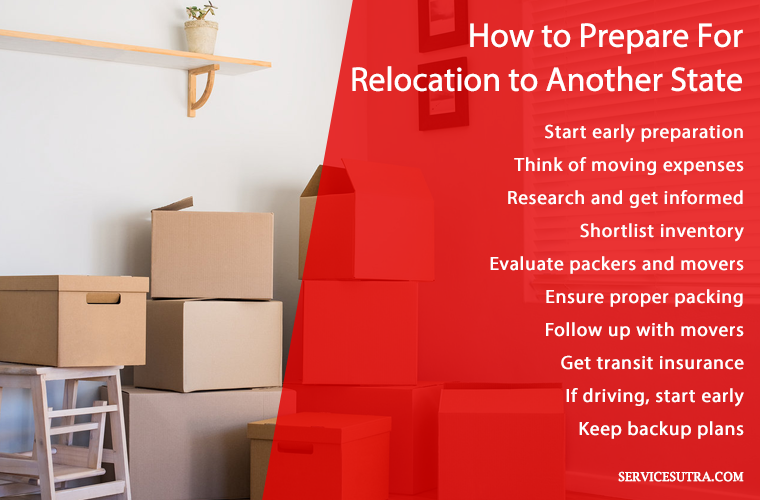 When you are well prepared to relocate to another state, things are going to be much better and you will be able to relocate without any stress and hassle. Now, the best thing to avoid too much workload and relocate without much tension is to hire a good local packers and movers company. But, there are some other factors as well that contributes in making the relocation hassle free. Like for example, proper planning, researching and execution is also very much required on your part, besides hiring a good packer and mover company.
So if you are relocating to another state and you don't know where to start and how to plan your relocation, then I have got you covered. There is nothing to worry about because if you can plan everything properly, you should be able to relocate without any frustrating experiences. And in today's post, I am going to share the step by step tips to help you plan your relocation to another state. Take note of all these tips, plan accordingly, execute properly and you can thank me later.
Even if we all know that relocating to another state is full of hassles, movers and packers companies can take a lot of these hassles out of your way. Today, relocation companies have become more resourceful and competent, but still the there are challenges like finding the movers and packers that's equipped and efficient in handling interstate relocation assignments. But, if you are not able to cooperate with them well or miss out on the little things that are otherwise very important for a hassle-free interstate relocation, then things may turn out to be stressful for you at the end. And, if you have decided to go for a do it yourself relocation, then you need to be all the more alert prepare yourself mindfully.
Of course practice makes a man perfect and if you have relocated once, then that relocation experience will help you a lot. But, if you are moving for the first time, learning the best ways to relocate without hassle is all the more necessary.
When you are right on your part and you have good moving company by your side, then the interstate relocation is going to be absolutely stress free.
So, instead of worrying about uncertain things, you must concentrate on things that are within your reach and control and you should try your best to make things right from your end.
Best ways to prepare for relocation to another state
Home relocation involves a lot of headache especially when it is an interstate relocation or international relocation. Of course, hassle free international relocation requires a few other factors that need to be considered, but in general, for a long-distance relocation there are some common things that you should be aware of.
Local relocation also needs proper planning and execution but if you do any mistake there, most of the time, you can manage it somehow thanks to the short distance. But in case of interstate relocation, even a minor mistake can lead to a lot of hassle and frustration.
So, whether you are moving locally, or relocating to another state, proper planning and preparation is key to the safe and hassle free home relocation. Listed below are a few of the best ways to prepare for relocation to another state.
Early preparation
The most vital thing that needs to be noted in order to make the interstate relocation hassle free is to plan everything in advance. Unless there is an emergency and you have to relocate on a short notice, you should always start preparing from the very next day you decide to relocate. This is actually very much needed because if you have enough time to plan about the whole relocation, you can actually think and plan in a calm mind. Also, with enough time in hand and no such rush, you can do all of the bookings properly after thorough research.
In contrast to that, in case of relocating to other state in hurry, you barely get chance to think and plan everything properly. In short, you have to go for whatever is available to you especially when it comes to hiring packers and movers. Now, hiring a good packer and mover is very much important for a hassle-free relocation, so when you have to go for an inexperienced or inefficient company, the chances of facing problem is much higher. So, it is best to plan in advance and involve a relocation service provider that's efficient, capable and competent with rates.
Think of moving expenses
Once you have made the decision to relocate, you should get ready with your budget. If you do not have much of a budget constraint, then you can simply put aside a decent amount of money for the relocation. But having a reasonably descent budget will help you engage reliable and credible packers and movers agencies to help you relocate. Charges of well placed packers and movers companies are generally a little higher than the not so professional movers and packers companies.
Rates of packers and movers companies usually vary from companies to companies, primarily based on the quality of the packing and overall service experience. You may like to check rates of packers and movers online and take a note of the current standard rates to figure out the moving expenses.
Apart from what the movers and packers are going to charge for shifting services, you should also include other costs like applicable taxes, tips to the labour, your own traveling expenses, foods, setting up your new home and so on.
Research and get informed
We are not experts in everything but research can make us more informed. In case of relocation as well, you should use the net sensibly and do enough research about the most common issues people face while relocating to another state. Starting from knowing the standard market rates of the packers and movers to the overall moving expenses, you may have to prepare for the relocation to doing enough study about the packer and mover company before hiring them etc. The more informed you are about the various aspects of interstate home relocation, the better for you.
Shortlist inventory
This is another very vital part in relocation. You need to shortlist the items you plan to carry to your new home. Basically, take a pen and a paper and start noting down all of the items that is to be packed and relocated. This will actually act as a reference when you finally sit to separate the items from those which you do not want to relocate.
Now, as per as the selection of items is concerned, it is best if you carry the ones that are very important and are of a lot of value to you. Avoid carrying the ones that are not valuable, or not in good shape etc. You can simply dump the damaged furniture and appliances or sell them to cover the moving expenses. However, if you are a little confused about how to decide what to move and what to discard, then you may like to check this post:
Whether to Move or Sell Items: Here's how to decide when relocating
Any household things that are to be stored in a storage unit should be prepared and packed carefully. So, if you have good quality packing boxes then use those boxes to pack these items safely. Otherwise, you can also ask the storage company to provide the plastic bins which are safer for storing.
Evaluate packers and movers
When you have got an advantage of time, you should make the best use of it and get yourself a good, trustworthy and efficient packers and movers company. This is one of the best ways to relocate without hassle. When you are able to hire a good relocation company, they are going to take nearly all your hassles out interstate relocation.
You can always search the net, do enough study about the company profiles, talk to your shortlisted companies and then choose the one who best suit your needs and budget.
However, searching and finding movers and packers randomly may be quite a time consuming process and there is also no guarantee that you will be able to get hold of a good company. Hence, it will be wise if you take references from any of your trusted sources be it your relatives, friends, neighbors etc. But, if you do not have any ready reference, then you may like to use ServiceSutra.
ServiceSutra is a curated platform that helps you find pre-verified services providers for various service needs including relocation and storage services. It takes just a few second and it's completely free to use and you can get started by creating a request for estimates in no time.
Ensure proper packing
If you want to make your relocation to another state hassle free, you can't ignore proper packing. Since you have hired a movers and packers company, they are going to pack your goods. But then there are different types of packing options and if you want to ensure no damage in the transit or while loading and unloading, you got to opt for the best quality packing.
So when the movers and packers start packing your goods, just pay attention to the number of layers and quality of packing materials. Sometimes, movers and packers can also compromise the packing quality. They just pack it for the sake of packing, so be vigilant and because there is no point in taking chances with the quality of packing.
After packing, make sure you mark and label each of the packed boxes. This will help a lot at the time of unloading and while locating items in your new home. The boxes containing fragile items should be marked more specifically so that they are handled with utmost care.
Follow up with movers
One of the best ways to relocate without hassle and avoid any last moment issues is to ensure that the movers and packers are actually turning up on scheduled date for packing. I have seen cases, where the movers have turned up on the date of moving, because they finalized a bigger relocation assignment on same day. Since they have not taken any advance money from you (they usually don't ask for advance), they may give silly excuses. This is very common with unprofessional moving companies.
Most packers and movers have a lot of bookings, they generally keep proper note of the dates but in order to be double sure from your end, it is best to keep in touch with your packer and mover time to time.
So timely follow-up with the moving company can help you get rid of the last moment issues. And keeping in touch will also improve the communication and professional bonding between you and the company.
Get transit insurance
Movers and packers usually insure all the goods before transporting. But still, you should be double sure that the goods are insured in transit. So discuss with the moving company are working with and understand the fine print of the insurance.
Declare the net worth of your goods correctly and ensure that you have got the insurance certificate for the same. It is also important to clearly know what is covered and what is not in the insurance.
I have seen people ignoring insurance, but that can be fatal in case of any mishap. So do ensure that your goods are insured against any damage that may occur during the transportation.
Here's a detailed post on transit insurance that you may like to check.
If driving, start early
Starting your journey early on the day of transportation is very important. I personally do not prefer travelling much during the night because there may be difficulty driving at night mainly because of unknown routes and bad road conditions. Also, if you start early, you will have enough time in hand. You may take short breaks in between instead of travelling for too long at a stretch and still reach home in time.
Also, you never know what happens in the road. You may take more time than you expected. In such a situation starting early will help cover up the time.
Keep backup plans
If everything goes out just as you expected, then you are really lucky but life is after all very unpredictable and you never know what will happen next. Mishaps can happen any time and so you must be mentally and physically prepared as much as possible.
Firstly, in case of the road you plan to take up on the day of transportation, it is advisable that you keep an alternate route in mind as well. By chance, if there is any problem in the road you planned to take, you may then take the alternate path.
Also, I will suggest you to keep some back up plans regarding packers and movers. See, in high probability there will not be any problem with the moving company you hired but by chance if you come to know about any problem just few days before transportation, then you can refer to the other packers and movers and see if they are available or not.
It is also advisable to check the weather (of the day of transportation) from before and time to time. By chance if you see the weather predictions for that day is not favorable, you can always talk to your packers and mover, see whether they are available and then decide for a backup date from before.
See, it is not necessary to have backup plans about everything and is also not possible all the time but having one is always safe.
Over to you
Home relocation is generally complicated and it becomes even more complicated when you are relocating to another state. Obviously, you can deal with the uncertainties with proper planning and practical approach.
Right from sorting out list of items to be moved and discarded, to finding and screening movers, estimating moving expense and proper follow-ups with the moving companies, there is a lot of things that must be handled carefully to relocate without hassles.
I have already shared a few of the best ways to plan and prepare for relocation to another state. But all it takes is early planning and ensuring that you are working with a good, experience and credible moving company.
Another important thing that you must pay attention to is the quality of packing being offered and the insurance. By just preparing properly and paying attention to smaller things, you should be able to relocate to another state safe, sound and without any hassles.
Have you used movers and packers services to relocate to another state in the past? What was the biggest challenges you had to face? How did you ensure that your preparations are good enough to relocate without any issues?
Feel free to share the tricks and techniques that have worked for you by commenting below.
And finally, if you liked this post, please do share. Wish you have a safe and hassle-free home relocation.