Among many other countries where people from India generally wants to relocate and settled in, Dubai is definitely one of them. Being geographically closer to India, it's one of the favorite countries for Indians, especially for people with special technical skills. Also, Dubai is considered to be one of the safest Middle Eastern countries for the outsiders. The laws are quite strict and hence there is less crime in Dubai in comparison to other places. But, the process of relocating to Dubai and getting settled in Dubai from India may be a bit longer. And therefore, you have to be a little patient while you relocate and settle in Dubai from India.
So, if you are planning to relocate to Dubai and wondering about how to settle in Dubai from India, then I have got you covered. We all know that you have to secure a Visa, confirmed job etc, but that is not all that you need to settle in comfortably in Dubai. There is more to it and that's what we are going to discuss in this post.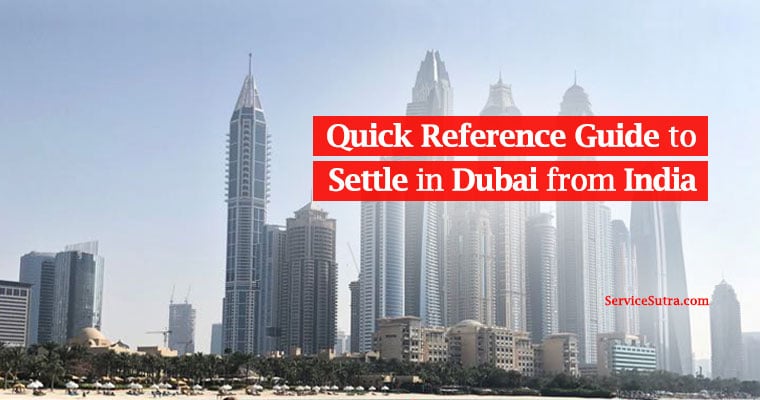 Quick reference guide to settle in Dubai from India
Rules and laws are very strict in Dubai, and probably that's the reason there is less crime in Dubai. Therefore, it is highly recommended that you abide by the rules and the laws of the land, and avoid taking any shortcut routes or misuse the liberties given to you. If you are caught in some illegal acts, then your dream of settling in Dubai may turn into a nightmare.
Visiting Dubai for a week to attend a seminar or a conference is a different thing all together. But, when you plan to relocate and settle in Dubai from India, you got to understand everything well, or else you may find it hard.
So, if you plan to relocate and settle in Dubai, then here's the quick reference guide to settle in Dubai from India. It'll help you to relocate and get settled in Dubai much comfortably.
Get a valid Visa
You cannot enter Dubai unless you have got a valid Visa. And therefore, if you are planning to move and get settled in Dubai from India, then you must obtain a valid Visa.
There are various visa options available, such as
Employment Visa
Dependent Visa
Student Visa
Investor Visa
Property owned Visa
Most probably, you will be interested to get employment visa, if you are planning to relocate and settle in Dubai permanently, but the point is to obtain a valid visa.
Get a job as fast as you can
Dubai is really costly. It will be hard to spend days here without a job unless you already have lots of saving and money in your bank accounts. So, what most Indians do is to find a job here in India and then move to Dubai using your Employment Visa. If that is not possible you may take up Visit Visa and find a job in Dubai. However, since in the latter case you will have less time in hand, it is advisable that you remain prepared from before.
To be specific, start searching for jobs online from before, prepare a proper CV. At first, do the job hunting from your own field, in other words from your own industry that you want to join. Also, keep a track on the other general jobs available so that they act as a backup for you. Once you reach Dubai, try to attend as many interviews as possible. Do not miss out the walk-in interview options. And, yes, it is important that you do the follow ups time to time as the competition is quite high there.
Find a home for yourself
Once you have reached Dubai, you got to find a home for yourself. For that, you have got 2 options in your hand. Firstly, you may rent a property. This is actually what most of the Indians who visit for the first time do. However, buying a property is also a good thing to do if you have a decent amount in your account. The best thing here is if you have to leave Dubai anytime, you can always rent it out. Imagine how good a source of income it will become for you in future. So, think about it.
Get in touch with other Indians there- One of the most important things that will help you get adjusted to Dubai quickly is by getting in touch with the Indians communities there. Obviously, with a strong Indian presence all around, you will feel home and that will make your stay in Dubai easier.
To get in touch with the Indian communities, you may consider joining groups such as those brought together by InterNations and Expat Dubai. Also, look into the websites full of information specifically for the Indians residents in Dubai, and Dubai Desi can be a good starting point for you.
Moreover, there are other means as well that you can use. Like for example, Dubai hosts cricket matches on a frequent basis. These matches usually attract lot of crowd. Visit the matches. I am sure you will get acquainted with many Indians there.
Learn driving
You cannot drive your car without a valid driving license. So, take up driving classes and get a license fast. However, owning a car is not too much of a necessity there as the public transport is quite good there. Metro, bus and taxi facilities are there for regular travel.
Admit your children in school or college
If you have relocated to Dubai with your family, then the next immediate task is to find a good school or institution and admit your children. If you want to admit your children in some good school, then there is nothing to worry as there are many good schools there. In fact, there are many Indian schools offering ICSE and CBSE here. But, I will suggest you to start searching for the schools well in advance so that you can admit your kid to the best schools and at the right time.
Explore the food and lifestyle
There is a lot to explore as far as food is concerned. There are so variations that you will absolutely enjoy them. However, if you are a complete Desi and love only Indian foods, then also you will face no problem because there are loads of Indian restaurants there. You will get all the native ingredients in the supermarkets there. So, food is never going to be a problem for you during your stay in Dubai.
Check medical facilities
The employers provide compulsory medical insurance to their employees in Dubai. And, the medical infrastructure is quite good in Dubai. In fact, there has been huge development in the past few years.
Transferring money from Dubai
It is obvious that when you are earning in Dubai, you will send money back home. The good thing about transferring money from Dubai to India is that it does not attract any income tax. You just have to pay the transfer fee and even that can be managed in some banks.
 Visit tourist attractions
Dubai has a lot to offer to the tourists. So, to start loving the place more, you can visit all of the popular tourist spots there. Be it the Burj Khalifa, to desert safaris to water parks to beaches to architecture, there is a lot to explore there.
Enjoy Dubai nightlife
If you are a party person then you are at the right place. I mean Dubai has literally everything that can suit your mood. You have plenty options to dance, drink and dine. However, make sure you drink only in the licensed venues in Dubai and avoid public drinking as it is illegal. To avoid any trouble and seen in a drunken state in public, it is advisable that you take taxi directly from nightclubs to your home or bring your own car. Carry your ID with you as a proof that you have turned 21.
As far as the dress code in the bars and nightclubs of Dubai is concerned, it is mainly polished. So, leave behind your jeans when you visit one. Ladies are open to wear shorts and minis but it is better if you bring along a jacket or a wrap to throw when you are outside.
 Shop your heart out
If you are a shopaholic, then Dubai is certainly a dream come true place for you. There are so many shopping malls there and you can completely take advantage of Dubai being tax free.
Respect the local culture and people
You are an outsider who is trying to get settled in Dubai, so while doing that, it is important that you respect the culture of Dubai and its people. The main religion of the people there is Islam and they follow a tolerant version of Sharia law. The locals are a friendly bunch and they welcome people of other religions openly. So, they also deserve equal respect and warmth from you.
Other dos and don'ts worth knowing
Apart from the above-mentioned aspects, there are some other dos and don'ts that you should consider:
When you visit Dubai, it is advisable that you dress respectfully and sensibly. It is best to wear clothes that are loose fitted and skirts that drop to the knee. You can wear swimwear but only when you are on a beach or by the poolside. Wearing swimwear in other places may land you in trouble. Jeans and trousers are good for the men and long sleeve tops are preferred.
Take off your shoes while entering someone's home and avoid showing the soles of your feet. It is also advisable that you avoid eating with your left hand.
Weekend here is in Friday and Saturday. Friday is same as Sunday in the West. So, many entertainment venues or shops remain closed at least for a part of the day. Hence, do not forget to check the times that are the opening and closing times.
You can drink from the tap waters. It is free and safe.
Make sure you always use a pedestrian crossing while crossing the roads as speeding is a very common occurrence.
Be very respectful towards Emirati women. Shake hands with them only if she offers her hand first. Taking pictures of any woman without her permission is a complete NO-NO.
Keep in mind not to do PDA (public display of affection). Holding hands is fine but anything more than that may offend the people there.
Losing your temper in public may land you in big trouble so please try to stay as calmer as possible even in stressful situations.
Taking drugs is illegal. So, please stay away from it.
Remember not to drink or eat publicly during Ramadan.
Please do not take photographs of the government buildings. It is not allowed.
Learn to bargain and avoid paying face value. Vendors will expect you to do that and will enjoy the attempts you will make to lower the prices of the items.
Conclusion
Indians have enough reasons to get settled in Dubai. But, the laws, culture, lifestyle etc. of Dubai is slightly different from India which may become a challenge for the Indians planning to get settled there. This is why it is necessary that you learn more and more about the place. Obviously, the more aware you are about the various aspects of Dubai; the quicker you will be able to get adjusted to the place.
I have thoroughly talked about the visa requirements, job related issues, education, lifestyle, accommodation and many other important aspects that are important for getting settled in Dubai.
What else do you think one should look for to relocate and settle in Dubai comfortably?