Moving to university or college for higher studies can be stressful, especially for students who have been living with their parents, and have no prior experience of moving out of their house for longer period of times.
Most likely, you will be moving to an unknown city and you may not have enough idea of where to stay, how to find a suitable house in budget for staying, which area to live in and so on. Once you are able to sort these, then you have to figure out what to pack, what to leave, how to move those things and so on.
All in all, packing and moving to university or college for higher studies can be overwhelming for many of the students. But worry not, because there are smarter ways to move out of your parent's house, comfortably and without hassles. And if you are moving to university and wondering about planning and moving without hassles, then here's a must read post for you.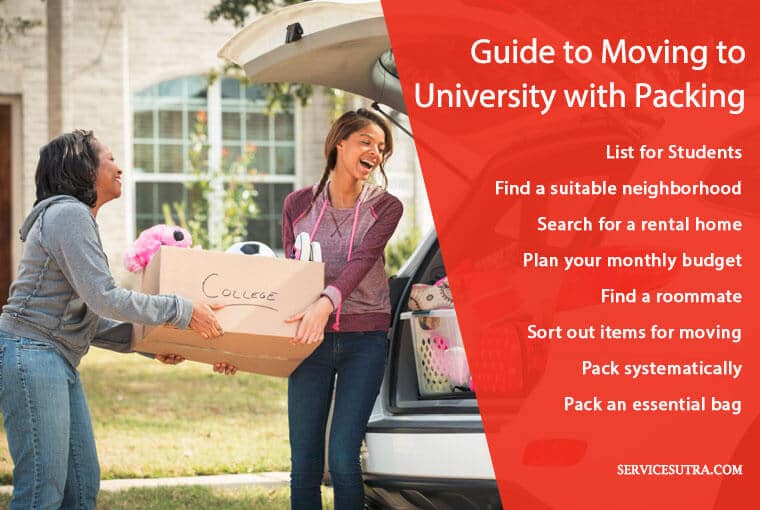 Today, in this post, I am sharing everything worth knowing about moving to university or college, and also sharing the ultimate packing checklist that'll help you to pack and move your goods safely and without hassles.
Student moving guide for moving to university
Better opportunities for higher studies drive most college students away from their home. Of course, it may be overwhelming for someone who has so long remained under the care and protection of their parents.
But, moving out of your parent's house for higher education is not avoidable, especially if you get better and bigger opportunity outside of your hometown. But you know, it's actually great, as you will get to learn new things and experience managing things independently.
But relocation is not going to be easy, and if you don't plan everything correctly, you may find it hard to manage. If you are moving out of your home to a college or a university in another city, then check this student moving guide to manage your move safely and comfortably.
Find a suitable neighborhood
One aspect of moving is to find a right neighborhood that is closer to your institute. So, when you are moving to university, make sure to look for a location that is closer to your classes. Well, this does not only include a short commute, but the most important thing that you got to take into account is how secure is the area where you are relocating to.
To be very sure of the neighborhood and location, it is best if you can visit the place in advance. Walk around the locality and see how it feels. It is even better if you can visit the neighborhood during the night as that will help you understand it perfectly.
This is because you will have tuition after college and you may have to return home late at times. And therefore, it is important that you feel secured and comfortable on road, even if it is a little late at night.
Also, it is absolutely okay to travel a little far than living in a location with no security. So choose a neighborhood which is safe, secure, closer to your classes, and comfortable for living as a student.
Search for a rental home
Once you have chosen the neighborhood, the next important step is to find a right home to rent for yourself. If you are looking for an out of campus home, then make sure you start the searching well in advance, because hundred others might be searching for rooms to rent out.
Your campus housing office will also have a list of names of rentals or of the landlords whom you can contact. Just remember that even if the rooms are occupied at present, you should not stop the follow ups unless you are able to rent out a room to live in. This is because the students, most of the time, rotate out every semester, so the moment that happens, you can book your room. Also, let your other friends know that you are searching for a home so that if they get any information, they will be able to help you out.
There are online sites as well that you can use to find rental homes that you may like to try.
Plan your monthly budget
Now that you have taken the responsibility of moving to university, you need to take care of the budget as well. Basically, moving involves some expenses and so you need to plan that in advance.
Firstly, the whole process of moving from your parent's home to another city, involves basic moving expenses. Apart from that, there is monthly expense for living, foods, tuition fees and other miscellaneous expenses.
Now, as far as the moving expense is concerned, the majority of it will be the packer and mover fees. Having a trusted moving company by your side is a huge relief and I would definitely suggest you to hire a moving company near you, well in advance.
To hire moving services at economical rates, it is important that you do careful study about the standard market rates and hire a moving company that offers good rates and flawless service.
Find a roommate
Finding a good roommate is often a challenge, but it definitely helps. I mean if you really want to lessen the expenses while moving to university, it is important that you find a roommate so that you both can share the monthly expenses.
But while finding a roommate, just make sure to look for compatibility, it's always best to live with a friend from your institution and stream. And therefore, you should prefer your classmate, college mate as your roommate.
Trust me, it is better to stay all alone than to stay with a wrong roommate. You may have to spend a few extra bucks but at least you will be able to live in peace. So, don't just live with anyone, rather wait and find a suitable roommate to lie comfortably and affordably.
Sort out items for moving
Sorting items for moving is very important. Most of the time, we get confused in choosing what to carry and what not. As far as moving to university is concerned, studying should be your top priority, and you should separately keep all the study related items so that they do not get mixed up with the other belongings.
As far as the other items are concerned, make sure you note down the condition of the items and, the importance it holds, and then take the decision of whether to carry or leave.
Keep the discarded ones aside to sell and get some money or donate them to a charity.
Pack everything systematically
Just as I was saying, it is important that you hire a good mover but you can always save some money while moving to university, by packing things on your own. But, remember that safe and secured packing is very important, and the safety of your belongings must never be compromised.
You should keep your goods protected to whatever extent possible. Make sure you give proper cushioning and use packing materials of good quality.
Also, do not forget to take photographs of the belongings that you have packed and carefully jot down the items that you are carrying. To avoid your belongings getting misplaced, it is even better if you can go for the color-coding system. You can color code the boxes room wise. Like for example, red for dining/kitchen room, blue for basement, yellow for books or other study room items etc. This will help you to locate the belongings quickly and not misplace them.
Pack an essential bag
After traveling and reaching your new rented home, in a new city, you will feel too tired and lethargic to open up all the bags and boxes at once. And therefore, it is important that you pack an essentials box or survival box that will help you survive the initials hours in your new home. Essential box should have the most essential items like a few pairs of clothes, toiletries, some snacks, first aid box, device charger, torch etc.
Packing checklist for moving to university
I am sure that now you know how to plan and move to university comfortably. Now for the major part that is packing for university students. So, here's a quick and simple packing checklist for moving to university that you can use to pack everything safely and move your goods comfortably.
Clothing – It is best if you can keep it simple and consider the seasons. Carry a few casual and professional dresses and some comfortable night wear, and workout clothes and everyday wears. Of course, you can always add or switch out your clothes later during your trips to back home.
Bedding – Sheets, mattress pads, pillows, pillow cases, comforter, throw blanket etc are important for you to carry.
Gadgets – Laptops, laptop chargers, cell phone chargers, etc. are must. It is also better to carry a portable charger, a set of headphones, some batteries and surge protector with you.
Food and dining supplies – Generally the campus dining room will have all the necessary items but for in-room dining, you can always carry some essentials like plastic plates, cups, bowls, paper towels, spoons and some microwave safe containers.
Toiletries – Towels, washcloths, face washes, combs, hair oils, shower gels, shampoos, body lotions etc. are important. You can also carry a pair of flip-flops or shower shoes. Also, a shower caddy for transporting or storing the items will be good enough.
Laundry – You may have laundry facilities in your campus, but it is always safer to carry some detergent, quarters, dryer sheets, laundry basket, stain remover etc. with you.
Important documents – Important personal documents must be taken care of and should never get misplaced. Make sure you carry your credit/debit cards, insurance cards, driver's license, financial aid documents, bank documents, birth certificates and other educational certificates with you. Keep photocopies of them as well.
Other essentials – Calendar, day planner, area rugs, wall décor, storage bins, sewing kits etc. are included and you can definitely pack them.
College supplies – It is better to keep items like note books, blinders, papers, pencils, pens, sticky notes, highlighter and backpack with you along with your books.
Over to you
It is the experiences that teach us what is right and what is wrong. One such learning experience is definitely moving to university or college for higher studies. When you are with your parents, you are always protected. The moment you step out, you need to take care of yourself and handle every situation that comes your way independently.
However, taking about moving out for the first time, it is no easy task, especially for the inexperienced first timers. And therefore, it is important that you plan, prepare and learn how to move to university comfortably. I have already shared some of the most essential things you should plan for, and also shared the packing list that'll help you to pack and move to the university safely and comfortably.
And if you are following this ultimate student moving guide to university and the packing checklist, I am sure you are going to pull it off easily and successfully.
What else do you think maters when moving out to college or university for the first time? Feel free to share your tips and ideas by commenting below.