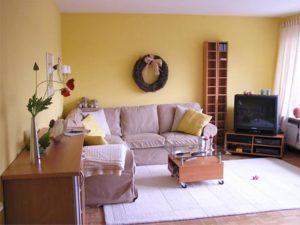 We often receive questions on Servicesutra about how to design and decorate a 2 BHK flat in a minimum budget. Even if different people have different types of functional needs and lifestyle, we should always try to do best optimization of the available space and keep the space clutter free. And if we manage to do so, you won't regret it later. If you have a purchased a new 2 BHK flat and planning to get it designed, the best way to move forward is to hire a professional interior designer to help you. But if you are a creative person and like to do things on your own, then read on. I am going to share a few quick and simple interior decorating tips to help you decorate 2 BHK flats for less.
A 2 BHK apartment means, there are limited space and it has to be used wisely. We always like to get inspiration from different kind of sources like magazines and websites. But don't follow the trends and the magazines blindly, because you may have a different lifestyle. And most importantly, your home should have your own personal signature.
Here's how to decorate 2 BHK flats for less
Even if you don't have any budget constraint, there are a few basic things that have to be kept in mind while designing and decorating a residential flat. And that is, the functionality of the space, lifestyle of the family going to live there and obviously the style. I will be discussing a few of the most basic things one can try while decorating a 2BHK flat, without creating a big hole in the wallet! If you are in despair, thinking that you are not able to decorate your home due to the constraints of space, then it is time to chin up! Scroll down the page to know more.
Keep it Clutter free and spacious
If you want to decorate your flat in such a way that it looks nice and appealing, then make sure to not over do it. Some time, we end up over decorating a room and that may not be the best thing to do when decorating. Leave some breathing space. The rooms must be clutter free, tidy and free from congestions. The major problem why the smaller apartments look confined and claustrophobic is because the extra items capture a hell lot of visible space.  Do not make extra storage spaces, racks, cabins. Do it wisely because when you leave some visible space, it will magically improve the look and feel of the room.
Multi function smart furniture
As there is limited pace, you can opt for multiple functioning furniture like sofa cum bed or ottoman furniture. Thus, you can save some space in your home. When you are relaxing in the living room, then you are using the sofa, when you want to sleep at night, then you are stretching it like a bed. Thus, you are saving a lot of space. Install drawers, racks and cabinets under the table tops, so that you can get extra space for storage. The storage spaces under the bed, the wall cabinets, and the boxes attached with the sofa, these are several hidden compartments where you can stash your belongings. But remember point one above, don't overdo this and leave some breathing space as well.
Beauty lies in the simplicity
I believe there is beauty in simplicity. You do not need heavily designed and magnificent bed covers, sofa covers, carpets and curtains to make your room look good. Simple items can change the ambiance as well. The neutral and pastel colours sofa and bed covers, bright colors cushions and pillows, neutral colours or white curtains and a colourful rug on the floor, inexpensive handicraft decorative items: all these simple things are very well suitable for your 2BHK apartment.
Light colours on the wall
This is a must for your 2BHK apartment as the light neutral shades make the space look bigger than the actual size. The paints will create an optical illusion of a spacious and cozy home. The colours that you can use are: creams, whites, baby pink, faded blues and greens. You must leave the ceiling white for reflection of light. How the space is painted makes lots of difference, so check with the expert before deciding on a shade.
Decorative accessories
Do not spend buck loads of money on the decorative accessories because you do not need them. As I said in the previous point, there is beauty in simplicity. You can use the light fixtures as the accessories in your apartment, like:
Pendant lights in the hall and kitchen
Floor lamps in the sitting room placed beside the couch
Ceiling lights and the table lamps in the bedroom
Mirror lights in the bathroom.
Fish bowl or custom made aquarium
Small potted home plants
Wind chime in your room
And if you have a balcony then you can hang a pendent lights here as well. These lights will make your rooms look bright and spacious; you can use CFL or LED lights for your home. If you do not like the blank walls, then a mirror or a picture will be just perfect!
Over to you
The steps mentioned above may sound like simple, but trust it me, it's going to make all the difference. Just sit with the interior consultant, discuss everything, look for best utilization of space (functionality wise) and go ahead. Discuss style, elements, colors and you should be good to go. Hope you will be applying these tricks while decorating your new apartment. If you have any other ideas that may help, please feel free to share below.