Interior design for small kitchen often requires good planning and if you are considering renovating your kitchen and searching for interior designers who offer small kitchen interior design services then just wait for a moment. Pause and think for a moment – what's important for you because there is a lot that can be done in a kitchen. From most advanced gadgets to accessories, imported tiles for kitchen tops to most advanced faucets and sinks; there is no end to it.
In my opinion your kitchen is one of the most important places that reflect about your personality and lifestyle. Kitchen interior design should be done in such a way that it can accommodate your cooking and dining needs, offer plenty of storage space and match with overall style and theme of your house. There are lots of other things which may be important like the quality of tiles, lighting needs, ventilation and most importantly accessories that you would like to install in your kitchen.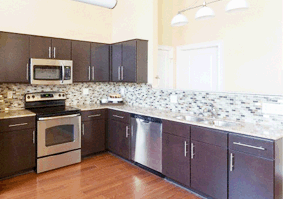 Ask yourself what is important and what's not is a must. Evaluate your budget, carpet area, layout and most importantly list out the must haves in your kitchen before visiting a shop or asking for help. At least you be clear from your end what you want and in what kind of budget.
Here's how to plan for small kitchen interior design in India
There are several important questions that you should ask yourself such as;
What best can be done according to the size of your kitchen. If you have smaller kitchen you have to plan accordingly, but if you have lots of space, you can plan in a different way.
Layout and structure of your kitchen is important because depending on its layout.
What types of accessories do you need? Depending on your lifestyle you have lots of choices.
Most importantly your budget for kitchen interior design.
And finally the condition of the building; old and new building require different types of treatments.
Let's look at what else is important and how to get best results after kitchen interior design.
Size and layout of the kitchen
By size I mean the carpet area of the kitchen. Carpet area of the kitchen is important because if you have a small kitchen then you have to plan accordingly and if you have a larger one, you can go for extras utilities like a preparation or service table. Preparation desk or service area is a good to have utility in the kitchen because it gives you the space to prepare before cooking like cutting and chopping and you can use the same area for serving food when you have a small get-together in your house. It also gives you extra space for storage of essential tools like chopping board or serving bowls.
After the size, layout of your kitchen could impact lots of plans. Depending on the layout, you can take a call on several things. When you talk to a consultant for home renovation, they should be able to guide you and suggest.
Your lifestyle
Interior designing of your kitchen should match your lifestyle. Different people have different lifestyle and different needs. Not all of use our kitchen in same way. Depending on what type of cook you are and what accessories do you need, you can plan kitchen interior design. Do you want to install a dish washer? Do you need large size oven? According to your lifestyle and priority, you can work out a plan to renovate your kitchen.
Budget
This is one of the most difficult questions to be asked. Unless you figure out a budget, you may not be able to plan rest of the remodeling for your kitchen. Ideally you should allocate 5-8% of overall costs of your house for kitchen interior and remodeling. But that's not rule, it's just to give you an idea. So if you purchased a flat of 3oLakhs, you should spend anywhere between INR 2 to2.5 Lakhs in kitchen remodeling and renovation.
Over to you
Owning a new flat is a great thing, but getting its interior and exterior right would be awesome. Whether you are planning to go for interior design of entire house, or you are planning to do interior designing of one room at a time, always give importance to functionality, style and budget. There is no limit and no good or bad design. All that matters is it should be usable, functional and aesthetically good to reflect your lifestyle.
If you are planning to do interior designing and searching for an interior designers then use ServiceSutra to get introduced with qualified interior designers in your city. We are available across all of the major cities in India.