Like another room of a house, your kitchen too requires a makeover. Kitchen makeover is also important because you want your kitchen to look aesthetically pleasing and functional. And if the surroundings are dull, disorganized and boring, then chances are you won't love cooking in your kitchen. Therefore, it is essential to give your kitchen a lively look, so that you enjoy working in your kitchen.
But if you are concerned about costs of kitchen makeover then let me tell you that it may not cost lots of money and kitchen makeover can be done even on a budget. There are many ways to renovate your kitchen and cost will entirely depend on the size of your kitchen and kind of functionality you needs and style you prefer. In this post, I want to share a few tips to help you renovate your kitchen without spending lots of money.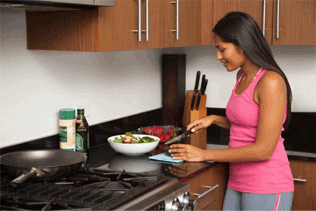 Ways to do kitchen makeover for less
The following ways will help you to fuse a new life into your tired old kitchen, that to within a very reasonable budget.
Paint the walls: Painting is the easiest way to update the look of your kitchen. Hence, paint them up with neutral colors which are an excellent backdrop for decoration. It isn't necessary to paint all the walls. If you want to do a pocket friendly paint work then just paint a single wall, or create an accent wall.
Paint the cabinets: Instead of changing the cabinets, it's wise to change the color of the cabinets and polish them. This is a budget friendly solution and by changing the color or by polishing the cabinets, you get a fresh new look like a new one.
Change hardware: Brand new hardware can transform the look of an entire kitchen beautifully.  Switch the knobs of the drawers, cabinets and cupboards without spending a lot of money or expending a lot of effort. Making these tweaks won't cost much and for sure it will change the look and feel of your kitchen.
Illuminate dark corners: Illuminating your kitchen would give it a warm and welcoming look. Therefore, always try to keep it illuminated. Install puck lights in almost every dark corner possible, and illuminate the kitchen. You can also install rope lights around the base of your cabinetry for ambience, and to create the right mood for parties or family dinners.
Reshuffle all the items: Sometimes, only shuffling the items of the room can change its entire look! Same can happen with kitchens. Why don't you change the placements of the appliances, or the other shelves containing cookware? Just try doing it; you'll see that the kitchen's look has changed a lot.
Add some accessories: Like the other rooms of your house, your kitchen too needs some accessories to enhance its look. Such as, a flower vase or a tiny pot of money plant, Knife holder, wine stand, fruit basket, and etc.
Change/add a splashback: If you want to renovate your kitchen, then you can add or change the splashesback.  Plus today, a lot of peel-and-stick splashbacks are easily available in the markets, which easily gives your kitchens a new look.
Transform cabinets: You can just remove the doors of some of the cabinets, and make them open cabinets. This way you can paint the wall behind the open cabinets, which will transform the over all look of the kitchen. You can also use these open cabinets to decorate attractive cutlery sets.
Over to you
If you want to give your kitchen a makeover and new look that to within a reasonable budget, then apply the above mentioned tricks. This will help you save a lot of money, which could have drained behind a lot of decorating and designing stuffs. However, if you still feel that doing this entire work isn't your cup of tea, then consult an interior designer who specializes in kitchen renovation. Discuss with the designers about the budget, and let them know about your priorities and kind of changes you want to make with your budget. Kitchen renovation especially after 5-6 years is a great idea, go for it.