Seriously speaking, packing and moving a house is tough when you have to do it in just one day. Ideally, one has to plan everything in advance from looking for a movers and packers to making other arrangements. But what to do when you missed to plan and schedule anything and reached a point where you have to pack and move your stuff? If you are in such a situation then this post can help you because I am going to share some no-nonsense tips to help you pack and move your house on urgent basis in just one day.
Last Friday when I was on my way to office, my friend Mukesh called me. He was wondering if I can help him in anyway because he wanted to pack and move on Friday itself.  As he knows that I am working with several movers and packers, he was sure I can help him. But I was kind of shocked to know my friend have made the same mistake, which majority of people make.  I have seen many such cases in the past and for sure I was able to help. Even if I was not able to help him avoid all those hassles, but shared some important tips to help him get started and get it done.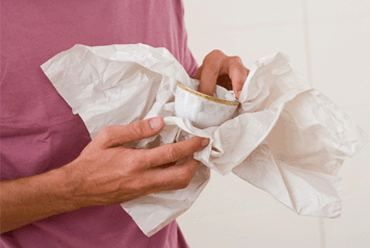 What to do to pack and move your house in one day
Declutter your house and see if there is anything that you can get rid of. If you have undertaken the task of packing and moving on the vary day of shifting then you have to be more shrewd than usual. Very quickly you have to assess what is to be packed and what is to be left behind. Quickly assess if there is anything that you want to discard or give it someone, if you find such items, just give it. Old shoes, old furniture and such can be given to your made, the cleaner or the watchman if they need it.  The more quickly you will assess what to carry and what not to carry, the better for you.
Now look carefully on all of the goods and see if you can manage it all yourself or you need a movers and packers professional. If you are shifting locally, you may like to give it a try and find a local truck or tempo with labor or else take help from a local movers and packers.
If you have decided to do it of your own, then look for tempo and book one instantly. Usually there are places in your city where you can hire tempo services. If you can manage it over the phone then that's great, else go there and book one instantly.
While on your way, see if you can manage to get some cartons from the grocery stores because you need it to pack your household goods. You can manage to get it or buy old used cartons from local shops. At times, storekeeper would not give it for free, so try paying them if they deny.
Call off all the daily services like milk, newspaper, gas, telephone etc. And if you are shifting locally then give them your new address and ask to continue their services.
If you have decided to pack and shift of your own, then make sure you have people to back you. So try to convince your neighbors, friends to lend their helping hand. You can't do it all alone, you need a few helping hand. So check if you can manage some.
If you decide to hire a local movers and packers then your next job would be to find one. But the problem is finding a mover on such a short span of time. So look for them on social sites, ask friends or use services like ours.
You may leave heavy items on movers and packers and take care of important ones yourself.
Give your mover new home address: Sometime people forget to provide relevant address to movers, as a result they suffer. So you should give your new address to the movers and packers before living.
Conclusion
Packing and moving on urgent basis is a little complicated, but still manageable and hence just have a plan in place and act fast. Even if you are willing to hire a movers and packers for local shifting services, they are usually very busy during the weekend and finding one that quickly may be difficult. So if you can manage to delay it for a day well and good, but if not, then act fast and you can pull it off for sure.
You may like to check these posts on Next day local shifting, Finding movers for next day shifting and packing tips for next day shifting. If you liked this post, feel free to share it.