Hiring a car transport or auto shipping company can seriously make interstate car transportation a lot safer, easier and more convenient for you. Obviously, car transport companies have well-trained people and resources, and they know how to handle cars and transport them with the utmost care from one state to another.
And probably, that's why, there is a huge demand for car transport companies in India and in other countries. Today, more and more people are relocating to another city and state and naturally, they want to relocate their cars as well along with their household goods.
But, moving your car to another state can be complicated, especially with the documentation and hiring a reliable car carrier company near you. But thankfully, you can manage to do it well by asking important questions before moving your car. It's obvious to wonder about which type of car carrier will be safer to move your car, open or closed container? Which auto shipping agency can move your care safely, timely and affordably?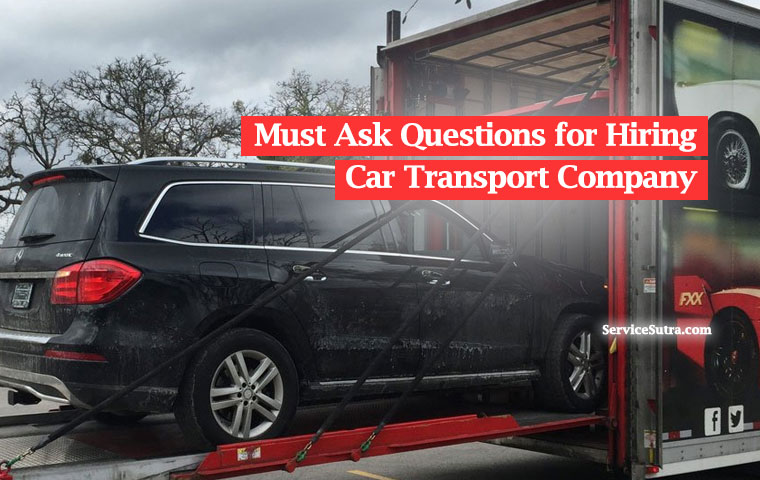 The number of auto transport companies has also increased a lot in number to what it was a few years ago. Now, on the one hand, this is really good because you have many options for car shipping companies to choose from. But, on the other hand, the large number of companies may also become a problem for you as you may be spoiled with several choices.
Therefore, in order to be sure that you are going for the right car transport company, it is recommended that you ask important questions to the potential car transporters before hiring them for transporting your car.
And, if you are wondering what to ask and how to find and choose the best possible car transport companies near you, then continue reading, as I discuss 16 of the most essential questions worth asking an auto transport company before using their services for interstate car transporting in detail.
With the increasing demands, the number of auto shipping companies has increased rapidly. In fact, most household moving companies have started offering auto transportation services to their customers. But, sadly not all of them are efficient and cost-effective.
There are many car moving companies who are inexperienced and don't have the required resources to transport your car. And therefore, you have to avoid such companies at any cost. And you can do, only when you know how to filter out the average auto shipping companies by asking the right set of questions.
Also, there are many shady auto transport companies, who may try and lure you with very cheap prices, but will eventually fool you along the way. Hence, you need to be really careful and become well-informed about the auto shipping company you are considering hiring.
To ensure that you are hiring a good and trustworthy car carrier company, you got to ask the right set of questions before hiring. The list of questions involves various details starting from company history to its registration details to its prices, process, insurance etc. While asking questions, if you are satisfied with their response, then you can go ahead and work with that particular company.
Questions worth asking a car transport company
Most of us treat our cars like our babies, and obviously, it's a precious possession. So, before handing it over to a car transporting company, you should ensure that the car moving company is reliable and credible.
Listed below are a few of the most important questions you should to a car transport company to ensure they are worth it.
1. Are you are broker, carrier or auto Transport Company?
Without any hesitation, the very first point that you need to clear out is whether the company you have shortlisted for getting your car shipped is a broker, carrier or auto transport company. Brokers are the ones who find carriers and schedule the shipments. They prioritize the customers. The carriers are the ones who own the trucks, ships and deliver the vehicles. They prioritize the shipments.
Now, an auto transport company is the company that offers end-to-end car moving service. They will serve as a point of contact from inspection to quotations and delivery of your car. These companies have the potential to solve problems faster as they do not just care about your vehicles, but they also care about their customer satisfaction.
2. Are you licensed and registered or not?
This is one of the most important questions to ask your auto transport company before hiring for car shipping. After all, you should be sure that the company is trustworthy before handing over your car to them. Please note that the car transport company has got all the necessary licenses and is registered with appropriate government agencies.
In the USA, companies need to register with the US Department of Transpiration. So, you may even confirm the registration status of the company from any representation of the US. Department of Transportation.
3. What are the exact services you offer?
Now, after knowing whether the car mover company is a broker, carrier or auto shipping company, you will understand about their services. But, there is no harm in learning more about what are the exact services they provide.
There are auto transport companies that exclusively ship via open-air trailer, then there are ones that offer you enclosed trailer shipping. There are single-vehicle and multi-vehicle shipping options as well. Also, there are companies that are experts and well-equipped to transport inoperable or non-working cars while others ship only the ones that are operable. In addition, there are companies or shippers who can coordinate long-distance shipments using trains, boats, or even planes.
Trust me, knowing all of the above details will help me to choose better.
4. Is there any restrictions on the type of vehicles you ship?
The next question that you are going to ask an auto transporting company is whether there are any restrictions regarding the vehicles they ship. If you are shipping a car, SUV, van or light truck, then you will not have much problem finding an auto transport company.
But, if in case you are planning to ship a car that is extremely valuable (like, for example, an antique one or a rare one) or if your car is heavily modified or oversized or totalled after an accident, then special equipment may be required for the transportation.
Not all shipping companies have loading or towing equipment, so if your vehicle has anything unusual, it is better to clarify from before whether the car transport company you are considering can safely transport your vehicle or not.
5. Can you give me the free auto-shipping quotation?
One thing I want you to clearly know that is asking for a car shipping quotation from any company does not mean that you are under the obligation to hire that company. It is very common that you will be taking quotes from various companies and that is completely OK. So, if any company asks you to give you a deposit in order to inspect and give a quotation, you may simply back off.
Now, there are many companies that have got online calculators from where you will get a free estimate but for more accurate results, it is best to directly consult with their representative of the company.
This is because while talking to them directly, you will be able to let them know about any special requests or needs (if any). Make sure you are updated with as much information as possible about your car and the shipment available so that the representative can give you an accurate quote.
6. Does the price have everything included in it or will there be any additions later?
It is very important to know whether the price the auto transport company is offering is the actual amount that you will have to pay or not. Make sure that there are no hidden costs.
You may ask for a detailed list of what the quoted price covers. Tell them that you will like to have detailed information if there are any additional charges, fees etc. you will have to pay that are not mentioned in the quotes. 
This way there will be transparency and you will also get to know what exact amount you need to pay and then take your decision whether to hire the company or not.
7. How are the rates calculated?
You can ask the car transport company about how they calculate the car shipping rates. Generally, it depends on various factors like for example, the shipping distance, the model of your car, the method of shipping your selected, your pick and drop locations, whether your car is in running condition or not, any special handling required or not, seasonal price fluctuations, demand, price of gasoline etc.
In general, if you ask to ship your car in an enclosed trailer, it will require more in comparison to shipping your vehicle on an open carrier. In the case of shipping a vehicle between states, the cost will be more than shipping within the boundaries of the state. Also, international shipping will obviously cost more than travelling within the country due to the fees and tariffs. And, yes, the size of the vehicle also matters.
So, while talking to the company, ask for the details of how they have calculated the rate that they have offered you. Also, ensure to compare quotations from multiple car shipping companies so that you don't have to pay more and you can save on interstate car shifting services.
8. What are the payment options available?
It is also important to ask them what payment options they accept. Many companies ask their customers to pay a deposit or partial payment when they schedule the date of the shipment or while they pick up your vehicle for shipping or before they deliver your vehicle. Now, most reputable companies do not have any such criteria. They usually take the money after they deliver the car. Make sure that you talk about all of these in detail from before so that they do not surprise you with a bill even before you get your car back.
9. Is your company fully insured and what is covered?
It is the law that all trustworthy and reputable companies will be fully insured. The best among them will have enough coverage to respond to emergency issues that may occur. So, while talking about it, you may ask for some specific details. Like for example, what are their standard shipping insurance options? Is there any option for you to buy additional insurance if you want to? If a worse situation occurs, will the insurance cover your entire vehicle or just some specific parts? Is there any deductible that you have to pay?
The auto transport companies must have a valid insurance certificate, so they will be able to show it to you if you want to see it. Once you get it, read everything about your contract very carefully.
10. Why are you the best company to hire?
I know you may feel a little hesitant to ask this question but trust me, the answer to this question will give you enough idea about the culture of the company. Ideally, we all want to hire a company that values the likes and dislikes of their customers and have got a good record of transporting vehicles from one place to another safely and on time. So, if in your case you see that the representative is showing signs of frustration because you are asking this question or you asking too many questions, then that is actually a red flag.
11. How the car will be transported?
Well, you may have chosen the shipment method but there is absolutely no harm in asking about the process by which your car will be transported. For example, how will your car be loaded, then will the truck stop in the way, for how long the car will be left alone, then some details about the delivery process etc.
12. What are the options I have about my shipping timing?
If you want to discuss the details about around what date you want to ship your car or around what date you want it to get delivered, then you should be sure that you are talking to the right representative. Guaranteed shipping or expedited car shipping is expensive but possible. Usually, an auto transport company will give you several time frame options at various costs, so talk to them about the details if you want to.
13. Is there any customer support?
Generally, when your vehicle is on the road, you will not need so frequent updates. But, if you are shipping a very expensive vehicle or you are shipping your vehicle on a tight schedule, then you may want timely updates. Usually, the small brokers and the companies are not available all the time, so that may worry you. In contrast to that, large nationwide auto transport management companies provide their customers with timely updates when their vehicles are en route. So, you may ask your company whether they have customer support or not.
 14. Ask about pickup and drop-off locations?
One of the important questions to ask your auto transport company before hiring it for car shipping is what choices you have as far as the pickup and drop-off locations are concerned. See, you do not necessarily have to make a road trip just to pick up your vehicle after it got delivered. Larger auto transport companies will have many pickups and drop-off options available but you should check it very thoroughly from before whether the locations are convenient for you or not.
Door-to-door service is also available where the driver will deliver your car to your home or office instead of dropping it at any terminal. However, this is usually very costly.
15. What are the documents required to ship my car?
In most cases, you need to provide your registration and insurance documents along with a photo ID. In domestic shipments, some companies may ask you to show the title. In case of international shipment, there will be some other requirements set by the country which is going to receive your car.
It is very important that you understand thoroughly the list of documents you need to provide otherwise there may be a risk that your vehicle cannot be released from the port at its destination.
16. Is your presence required during the pickup and delivery?
See, I myself will suggest you be present during pickup and delivery but if you are a very busy person and have got time restrictions, you can confirm whether your presence is required during pickup and delivery.
Usually, most auto transport companies will require an adult to be present in both situations as they will have to accept the keys or hand over the keys and also sign the papers.
But, that adult need not be you. You can send a neighbour, friend, colleague, or any other family member on your behalf if you are unable to go.
So, confirm this before that the company you are hiring is OK with it to avoid any confusion later.
Over to you
While you are relocating, out of all the items that you need to move, probably your car is going to be the most expensive possession. So, unless you do not have plans to take your car and want to sell it, you need to be sure that you are handing over your car to a good and trusted auto transport company to get it shipped safely.
There are fraud and inefficient companies amidst all the good auto shipping companies. And therefore, it is highly recommended that you properly judge the company before hiring it to move your car.
In fact, it is not just about a car carrier company being fraud or inefficient, there are many more aspects to the whole process of car shipping that you need to consider.
This is why you should clarify everything with your company very clearly from before. You should not hesitate to ask whatever queries you have in your mind.
I have already shared 16 such important questions you should ask a car transport company before hiring it to move your car. This list of questions pretty much covers all of the important details you require to know about the company and about the car shipping methods that they offer you. If you see that all of them or at least majority of them are in favor of you, then only consider hiring the car moving company.
There is nothing wrong to be a little choosy as far as hiring an auto transport company is concerned. So, go ahead and ask as many questions as you have and only when you are fully satisfied, consider hiring a car transport company.
All the best and hope you make the right choice for moving your car.