In a Do-It-Yourself move, packing seems to be the most difficult part because most of the time we remain confused about what to pack and how to pack it right. And, it is actually very normal because household includes different types of items and packing in general becomes tough and tiring.
But, if you want to move safely and conveniently, without increasing the overall house moving expenses, then you have to do the sorting and packing right. You got to choose items as per their usefulness and the importance they hold in your day to day life.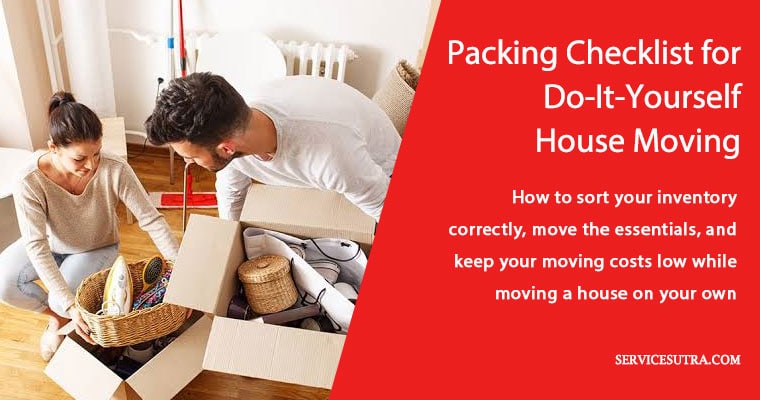 However, if you are unsure and confused about where to start and how to get it right, then I can surely help you out with a packing checklist for a DIY house move. I will mostly include the basic and common items in my today's list so that majority of you can benefit from this packing checklist.
What is a do-it-yourself house move?
As the name suggests, DIY (DIY) house move is a moving process where you take care of most of the tasks. In other words, instead of hiring packing and moving service from a moving company near you, you do it on your own. It is commonly believed that a DIY house move is cheaper than hiring a moving service. However, since you are on your own, you have to take care of all the tasks involved like:
Arranging packing supplies
Sorting the inventory
Packing all the household goods securely
Arranging truck and manpower for loading
Insuring your move
Take care of unloading, unpacking and re-arranging
The do it yourself house move is usually appropriate when you are moving in with friends or have family members to support you. To complete a do it yourself house move, you need proper planning and a little help from your friends and family. Whereas, when you hire a professional mover, they take care of everything and help you move your goods without any hassles.
As there are no professionals to help you with the tasks, you have to be extra careful and avoid making common moving mistakes. For instance, if you fail to pack everything securely, you will be at risk of damaging your goods in transit. Similarly, if you end up hiring a smaller truck, you may have to do multiple trips and that will be expensive. So, it is very important to know what to do and how to do it correctly.
How to sort items for a DIY house move
It is critical to move items that you intend to use after moving, but knowing what to not move is equally important. Both in case of local move or out of state house moving, if you start packing every household goods coming your way, then you will end up spending lots of time, resource and money in packing and transporting. And therefore, sorting your household goods and knowing what to move and not to move is a serious step that needs to be performed carefully while moving a house, be it do it yourself move or using professional moving services.
In general, there are three primary factors to decide whether to move the item with you or not. But, take a look at how to decide what to move and discard while moving a house:
How useful is the item to you? If you use any item frequently, and the item is in good condition then you should carry it with you.
Does it hold a special place in your heart? Well, I meant the items that are special to you like any item that is gifted by someone special or any item that has been passed from generation to generation etc.
Is the item antique? If the item is rare and antique or one of a kind, then carry it to your new house, because in high probability, you will not get another piece. So, do not lose the one that you have now.
Is it in good shape? If the item is in good shape then think about carrying it. If it is damaged there is no point in carrying it.
Is it too heavy or of odd shape? If any particular item is very heavy and of odd shape and size and you are finding it too hard to pack, then you may discard it if that item is not too useful or special to you.
What is the current value of the item? If the value of any item which you have brought many years back has currently dropped and that item is available at a very low price, then you need not carry the old item to the new space. Instead you can buy a new one, an updated version of it at decent rates after relocating to your new space.
Remember that there is always the option of selling the items which you don't feel like moving. So if there are goods which are usable condition, but you don't need it anymore, you can sell it and make some profit to cover your moving expenses. Or else, you can also donate to a charity or give it for free to someone who may need it. Think through and make the decision that seems most convenient to you.
However, there are some general items that need to be taken, and I will be discussing about these items shortly in this packing checklist for a DIY house moving.
Simple packing checklist for DIY house moving
Moving an entire house, with the entire household is no easy task, especially if you are planning for a do it yourself house moving. Some of the household items are crucial for our survival, and then there comes the items that you cannot just leave behind.
And therefore, I have included most of the household stuffs in my packing checklist for a DIY house move that you should be packing.
Take a look, and feel free to tweak and adjust this DIY packing list for a house move as per your requirements.
Clothes
It is true that you can always buy clothes after moving, but you will obviously have to take the not so old ones with you when moving. However, moving clothes does not mean you will have to take all of them. Instead, you need to think very practically while picking your clothes.
Only take the ones that are well fitted, are in good shape or are very costly or priceless. Leave behind the damaged, old and ill fitted ones.
Don't forget to pack the casuals, officials, cold clothes, undergarments etc. You can repeat clothes in consecutive days but doing the same in case of undergarments is not very hygienic, so please take ample of them with you while moving.
Shoes
Apart from the one that you are going to wear during the relocation, it is always advisable that you take extra pairs of shoes. Shoes can get torn anytime so if you have just one pair, you will literally have to rush to the shoe shop the moment it tears or get damaged. But having some spare shoes will not put your in such an emergency situation. So, make sure you carry at least 2 extra pairs of shoes of each one of the family members while moving a house. There is no pint discarding shoes and sandals that is in good shape and in usable condition.
First aid box
You cannot just afford to do the mistake of not carrying the basic first aid box with you. In fact, I will suggest you to keep it with you while travelling instead of packing them in the cardboard boxes and giving it in transportation.
You never know when you meet with an accident and trust me, finding doctors at odd places during odd hours, becomes difficult. But having a first aid kit will help you get some immediate relief. So, yes, keeping thermometers, antiseptics, bandage, and other first aid items in the box is a must.
Chargers
Do not forget to pack all of the chargers because without them your mobile phone or your laptop will become useless. And, if you think you can use another charger, then let me just remind you that many a times, using the wrong charger or one of cheap quality damages the items, so it is better to carry the appropriate chargers with you.
Keys
The next in the list of the packing checklist for a DIY move is the keys. This is like mandatory and you cannot afford to lose them, so make sure you pack them carefully for your relocation.
Toiletries
Your basic toiletries must also be carried if you do not want to buy a new set immediately after moving in to your new house. You will require most of these on a regular basis, so if your old set of toiletries is still good, there is no point in leaving them behind. Take your toothbrush, toothpaste, creams, oils, shampoo, perfume etc. with you to your new home.
Basic cleaning supplies
The cleaning supplies are required very frequently or even regularly as cleaning, washing and dusting is a part of our day to day life. So, if you do not want to just immediately rush to the local store to buy all of the cleaning stuffs, then do carry your old supplies with you.
They will serve your purposes in the initial few days and once they finish, buy the new ones. So, make sure you carry the detergents, rags, brooms, multi-purpose cleaner, dish soap etc. with you.
Basic cooking utensils
You will obviously need the cooking utensils to cook after moving to your new home. So, if the kitchen and cooking appliances are in good condition, do move them when moving a house. The most basic cooking utensils like the frying pan, spatula, fork, tongs, pots, knives, saucepan, etc. are useful and you can definitely carry them with yourself.
Serving utensils
Besides the basic cooking appliances, you will also need utensils to serve foods to your family. Like for example, the dishes, cups, bowls, serving spoons etc. Just be careful to wrap the glass items up in the boxes with proper cushioning so that they do not get damaged during transportation.
Important documents
The academic certifications, the professional documents, marriage certificate, birth certificate, credit cards, bank documents, passport etc. fall in the list of important documents. You cannot misplace them, so when you are packing these crucial documents, make sure you pack them separately, and carry the bag with you while travelling.
Prescribed medicines
Apart from the first aid medicines, you and your family members may have prescribed medicines which you must never forget to pack in your bag. In addition, carry the prescriptions and the past test reports with you as well.
This is because you may not be able to stay in contact with your old doctor because of the relocation, and therefore in case of any health concerns, you will have to visit a new doctor.
And, it is advisable that you carry the old prescriptions and test reports with you so that the doctor can understand your medical history well and accordingly treat you, in any health emergency.
Food and snacks
You will obviously be tired after the hectic relocation, so it is necessary that you carry some snacks and some easy to make meal staples with you. By keeping some snacks and easy to cook food, you don't have to worry about foods and cooking just after relocating to a new house.
Basic snacks like cookies, chips, bread etc. and then easy to make items like canned soup, maggi, instant coffee or tea bags etc. can save your day. So yes, do pack and carry them with you. If you are moving with kids and pets, then do pack their foods separately.
Important gadgets
Gadgets are mostly costly so there is no point in leaving them behind if they are in good working condition, and when you need them. So, carry your wristwatches, headphones, laptops, mobile etc. with you when moving a house.
Ornaments
Carry your costly ornaments with you. Like for example, those you wore in your wedding, then the ones that you gifted yourself or gifted by someone special etc. Most of the ornaments are priceless, and holds special place in the heart of the women. So, if you have that kind of jewelry collection, do take them with you.
Other important items
There are some other items that also need to be carried to your new space and they are:
Scissors
Duct tapes
Tissue
Disposable bags
Cash
Portable tool kit like screwdriver, scammer etc.
Books
Torches
Matches
Candles
As I said, the idea is to move things that are required and are in good shape. So take a good look and add as many other items you intend to move.
Over to you
When you are relocating, you cannot just carry all of the household stuffs with you because that is impractical, and may unnecessarily increase your overall moving expenses. This is why you will have to sort things as per their usefulness, their importance, and obviously based on its present condition etc.
But, there are obviously some basic items that you need to carry and that definitely includes the clothes, shoes, basic cooking items, toiletries, first aid etc. Of course, you can make some additions and subtractions as per your requirements and preferences, but the packing checklist I shared above is the general one that should work for most of us.
Have you ever used a packing checklist while moving a house to keep things simpler and avoid missing on important items or carrying items that you don't really need?
If you have, then what are the items you carried to your new home, and how have they helped you?
Do share your feedbacks and suggestions in the comments section, and help other make the right decision on what to move when moving a house.
And if you have any other queries or concerns, do feel free to write us back by commenting below and we'll respond back super quickly
Happy packing and relocation!