Proper office cleaning requires proper planning by your housekeeping staff or agency. Whether you have in house staff for office cleaning or you outsource it to an office cleaning agency, having a detailed checklist for daily, weekly and monthly office cleaning will help you in office cleaning and sanitizing your workplace.
I have worked with several housekeeping agencies who offer office cleaning services in various offices. Based on my personal experience, I am sharing a detailed office cleaning checklist that should help you without office cleaning and sanitization.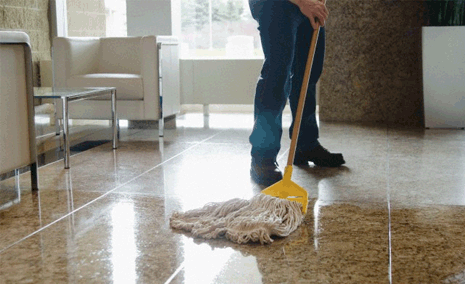 Office cleaning checklist for day to day cleaning at office
Daily office cleaning tasks includes basic dusting, moping and vacuum cleaning to clean and disinfect the office. Here are some of the common cleaning tasks that your housekeeping staff should perform on daily basis.
General dusting: Dusting should be part of your daily cleaning schedule. Dusting the keyboards, mouse, pen stand, flower pots, monitor, telephones etc is essential.
Broom and mop the floor: Broom and mop the floor everyday to ensure it's free from germs and it look good. Dusts and dirt can easily accumulate and hence moping should be in the list of daily cleaning. If possible, then spray disinfectants on all surfaces including, doors, sinks, toilets, and appliances.
Reception and waiting area: reception and waiting area should be cleaned everyday without fail. It includes cleaning of everything from reception table, computers, sofa etc.
Pantry Cleaning: If your office has a kitchen, then make it a point to clean it every day, after everyone leaves the office, or first thing in the morning before the team arrives at work
Vacuum or sweep daily debris: After everyone leaves the office, you'll surely see a lot of debris lying here and there on the office floor. Vacuum and broom the debris from the floor, and make it look clean and nice.
Workstation: Workstation of individual team members should be cleaned on daily basis. If you keep the cleaning task pending, then the clutter over the table will increase a lot, and will make the table look and uncomfortable.
Washroom: Washroom cleaning should be done on daily basis. If you don't have dedicated housekeeping staff then you should hire an office cleaner to get it done every day.
Clean waste bins: It is vital to empty and clean the waste bins so that it doesn't give rise to maggots or attract some other nasty insects and microorganisms.
Door and cabins: Main door, cabins, divider of glass etc should be cleaned every day. Usually glass doors get dirty very soon and unless cleaned every day, it's going to look ugly.
Weekly office cleaning checklist
Weekly office cleaning tasks includes cleaning and disinfection of pantry, carpet, blinds, curtains etc. Here are the key cleaning tasks you should track every week.
Pantry cleaning: Pantry room of your kitchen must be cleaned and sanitized properly. Pantry cleaning should be in your daily cleaning list. But weekly cleaning is to kind of deep clean and organize the pantry room.
Clean and disinfect refrigerator: Most of the offices, today have fridge in the pantry or canteen. Make sure the refrigerator is squeaky clean and properly disinfected every week.
Clean microwave: Microwave in the office pantry or canteen must be cleaned and sanitized properly every week.
Vacuum fabric chair and couch: If your office has fabric chairs then vacuum it weekly.
Vacuum carpets: If you have carpet flooring in your office, or have carpet in the reception area or in the conference room then get the vacuum done every week.
Vacuum curtains and blinds: If you office is situated on or near the main road, then the curtains would definitely get dirty soon.  So, make sure you vacuum them ones in every week.
Monthly office cleaning checklist
Monthly office cleaning tasks listed below are supposed to be performed every 4-6 weeks.
Clean glass windows: It is essential to clean the glass windows inside and out, at least once in a month; because that would increase your office's aesthetic value, and of course, its impression as well.
Polish hardwood surface: It is essential to polish your hardwood surface once in every month.
Polish wooden furniture: To make your office look stunning, what you can do is polish your furniture, so that they can look new and ravishing.
Dust your ceiling: Take a broomstick and clean all the cobwebs from the corner of your ceiling; make sure it looks neat.
Organize wardrobes and drawers: Since it is an 'office', so it is pretty obvious that there will be heaps of papers and files lying in the drawers and wardrobes. Check, organize and declutter the wardrobes and drawers and filter out the important ones and discard the useless ones.
Dust over the furniture: If you check your furniture's top, you are surely going to see heaps of dust over it. So, make it a point to clean every furniture's top once in a month.
Clean the fan: You must be aware of the fact that fans also accumulate dust; isn't it? Make sure to get all of the fans cleaned properly, at least once every month in 6 weeks time.
Clean switch boards: With regular use, the switch boards turn dark or yellowish in color. It's important to clean these boards every month to make them look good and long last.
Vacuum all vents: Vacuuming your vent is important so that no dust remains stuck on it, include it in your monthly cleaning tasks.
Over to you
We all want our office to look neat, clean and sanitize so that our team can work comfortably in the office. In this details office cleaning checklist, we have included nearly everything and if followed properly, you will no issues with office cleaning.
This post is based on office cleaning needs and here's a detailed cleaning checklist for homes that you may like to check. And if you are looking for professional housekeeping services, you can find and hire one here.
How do you track of various office cleaning tasks?