Moving an entire office locally or to a different city, is a massive project in itself. It requires strategic planning and careful execution. Office moving is not like the usual household shifting, because here you have to ensure that there is none or minimum loss in productivity of your team. How long does it take for an office move to get completed depends on the size of your office. If you are in the process of moving an office and wondering how to ensure smooth office move then here's the post worth checking. Today in this post, I am going to share a detailed office moving checklist that'll help you to manage office relocation smoothly and efficiently.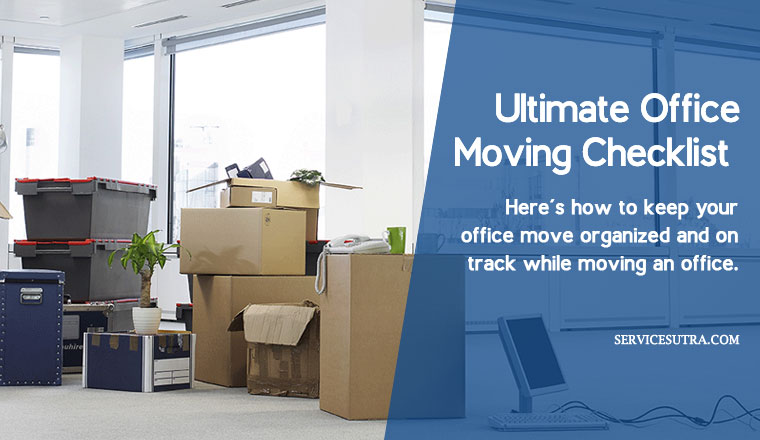 The bigger your office, the more time you need to plan and prepare for an office move. For smooth office moving experience, you got to start the strategic planning as early as you can. Having a few months in hand to plan and prepare the office moving checklist will help you move an office safely and efficiently.
One of the key things that you should keep in mind while moving an office, is that, it is not your home where only you and your family members have to be considered.
An office move involves all your employees, business partners and most importantly your customers. You can't afford to disturb the production or service delivery for long due office move.
Each and every task should be planned in such a way, that it has minimal impact on your customers and other stakeholder, and that's only possible when you have a business office move checklist to organize and track each of the tasks closely.
The key to smooth office relocation is appropriate planning. Since, moving an entire office is quite a big project in itself, it is obvious that you need a reliable and experienced movers and packers service provider who can help you with office move. However, finding a reliable office movers and packers is not the only thing, you have to have a complete strategic office move plan in place, and hence there is a need of the office moving checklist.
The idea of having an office moving checklist is to ensure that you list, manage and track every big and small task that is crucial for moving an office smoothly.
You literally have to think of all the aspects while moving an office. Moreover, before you move your office, you have to set up your new office perfectly so that the productivity of your team does not get disturbed after moving in the new office.
Apart from the productivity, there are other areas of concern like the safety and security of the servers, confidential information and much more. The office moving checklist that I am sharing today will help you take care of each of these tasks and activities perfectly while moving an office.
Since, it is little difficult for you alone to handle so many tasks, it is better to divide the work among your team so that no one feels burdened and your can be relocated smoothly. And, if you are wondering how to arrange everything, then worry not as my office moving checklist and guidelines will help you manage and track everything perfectly.
So are you ready to explore the office moving checklist?
I think you are, so let's check the ultimate office moving checklist to track and manage all the vital tasks for smooth and hassle free office relocation.
Office moving checklist for hassle free office relocation
Managing an office comes with lots of responsibilities especially when you have a whole office to relocate from one city to another. You literally have to concentrate on every little thing, as every little thing matters. From the productivity loss to safety of data, computers, servers, furniture, files and you name it.
As you know, early planning is the key to smooth and hassle free office moving, I have divided this office moving checklist in to multiple stages. You don't necessarily have to allocate 6 months, but having extra time to plan an office move can be an added advantage. So feel free to start at least a couple of months before the proposed office move date.
You need to have a perfect office moving plan in place and track every aspect of office moving steps correctly to make it smooth and hassle free. Here is the ultimate office moving checklist that'll help you to get it right.
So here we start.
Office moving checklist – first stage planning
So the first and foremost thing to note in this office moving checklist is to know when to start the office move planning? Ideally one should have 3 months time to get it right, but if you don't have that much of time left, then no worries. You can start planning now and here's what you should fix first to get it right.
Fix the time frame – It is important to fix the date by which you have to leave your current office. Once you know the ultimate office move date, you can schedule rest of the office move tasks accordingly. The first step is to determine the date when you want to shift from the current location to new location. Jot down all the important relocation tasks according to your situation that need to be handled before moving the office.
Find a new office space – If you have already chosen the new location for your office, then fine but if not, then do it now. Consider all the basic criteria that you want your new office location to have and accordingly choose one. Take note of the type of building that suits your office needs, the required square footage area, location, and distance from airport and metro station etc. It is obvious that you got to find a location that is better than the present one.
Make a team and assign major tasks– moving an office is quite a major change and your employees must be informed from beforehand about the office move. Now, since relocating office requires various minute dealings, you can actually share the work and the responsibilities among your employees. This will help in fast progression of the work and will not overburden any single individual. So make a team and assign their roles and responsibilities. The primary goal of the team members will be to coordinate with employees, associates and the team of movers and packers you will be hiring. You can make one team or multiple teams, depending on how small or big this office move is.
It is important that you make things clear what they are expected to do and in what time frame. Held weekly meetings or at least twice monthly to keep a track of the proceedings and also discuss with them regarding any potential problems.
List out inventory– An average size office contains various employees and so it is obvious there will be various furniture, equipments, gadgets, desktops, printers etc. What you need to do is to make a proper list of all these items and decide which furniture you want to shift and what items you prefer to sell or discard.
Setup tentative budget– As an owner or manager, you need to take care of the financial dealings as well. So, it is necessary for you to make an initial financial budget after considering all the basic moving costs. This will kind of give you an idea regarding the budget that you have to keep aside for the office relocation.
Inform stake holder – Make a list of all the stakeholders, organization etc. that needs to be informed about the proposed office move. See, business involves dealings with several other important personalities, institutions or organizations and so it is important that they are all informed in due time regarding your office relocation plan. So, better make a list of them from before so that you do not miss out informing any one of them, as that may take a toll on your business.
Office moving checklist – second stage planning
First stage of planning is already done. Now you have a team that is handling the major office moving tasks. Actual office move date is approaching, so it's time to dive into secondary stage of planning.
Get the floor plan of new office– Now, it is time that you do proper detailed planning of how you are going to utilize the whole space of your new office. Since you have decided to move, it's time to analyze the new office space and make required changes in the layout if any. You may have to order new equipment, furniture, signage or other essential things as per the new office space. Certain civil changes may also be required, like wiring, power point for Air conditioner, workstation and setting arrangements etc, so time to figure out all such essential and important tasks.
Network and infrastructure– You need to take care of the networking and the telecommunications infrastructure. Call the existing telephone or network providers or contact new providers (as per your need) to get these works done. Properly coordinate about the moving of the servers, check for the proper internet connection in the new location, move the existing number or take new numbers etc.
Updating office address– When you are officially shifting your office to a new location, you have to inform regarding the change in the business address with the USPS. Also, inform the Franchise Tax Board, IRS, insurance providers, your bank, vendors, subscriptions etc.
Review existing lease– Carefully take a note on the existing lease and look for the various terms and conditions and the other requirements needed to return back the current space to your landlord and accordingly take the steps.
Think of movers – Check whether any of your equipment in your office needs approved vendors or specialized movers to relocate it. Your office may have such confidential and important things that can't be moved by randomly picked movers. So just ensure what kind of movers packers service you need like banks in India have to use IBA approved transporters and they can't hire non IBA approved vendors in most cases.
Hire office movers and packers company– Since its office relocation, you need a movers and packers company who have specialization in office relocation. You should always go with the specialist, for its better and they can relocate your office much efficiently, with minimum downtime. So make sure to check for the feedback and reviews of the potential movers and packers before calling them to meet you.
It's always better to take quotations from multiple registered movers and packers companies and then sort them based on their credentials and quotations.
Obviously you would not like to spend much and go with a relocation company that offers you the best deal. But then don't just look at the price, but check if the potential service provider is capable of handling the office move efficiently.
Insure the office move – It is always recommended that you take the moving insurance of the important equipment, sensitive electronics, company valuables or of any delicate artwork. It is seriously important to insure everything, or else you may end up in a mess.
Review progress – It's better to arrange periodic meetings regarding work progress with the teams. While discussing the point on dividing the responsibilities among employees, I already mentioned that meetings regarding work proceedings are very important. Now, as the actual move date is approaching, the need of the weekly meetings is manifolded. So, make sure that you properly coordinate with your team so that all the works gets done smoothly within time. Leaving it to the last minute can be messy for the office move.
Office moving checklist – third stage planning
Time is flying fast and you are coming closer to the office move date. Here's what else you should track and manage in the third stage of an office move.
Look out for the transfer utilities– The transfer utilities of your existing office must be disconnected the day after you relocate and those in your new office location must be turned on the day you move there and all of these need prior arrangements. So, make sure you do not keep it for the last minute.
Announce important dates– If you own a big company which involves number of employees and business associates, it is preferable that you make an announcement regarding the important dates related to office relocation. You may also like to make public relations campaign using press releases and make it public about the change of the office location and important dates.
Send the letters to all of your key customers and business partners and notify them of any disruption in service delivery and keep them posted of the office moving schedule. You also change office address and new contact information in your official website and social media pages.
Self packing workshop – There will be many documents and other essential office accessories of your team members. It's always better to ask the movers to do a workshop and tea your team on how to pack their own belonging safely. They may have different types of small, but important items on desk like photo frames, table clock, pen stand, figurine, important documents etc. They can pack and label the box accordingly, so that when they reach the new office, they can easily locate and unpack their belonging. For instance, I keep a family photo and trophies on my table, and I will be happy to pack it safely for move. The movers and packers agency you have hired can easily conduct a small workshop and instruct everyone on how to pack. Give them the packing box, tapes etc and they'll be good to go.
Review packing supplies – I know that you engaged a professional movers and packers agency to help you with office move, but you should review the packing supplies. In some cases, the movers run out of packing supplies and that delays the process. Do a review meeting with the mover and ask for sample of packing materials they plan to use for your office move. It's better to review all the packing supplies, and ensure that the movers and packers bring enough of it. You can't afford to compromise with the quality of packing for it may turn out to be a costly mistake.
Archive old files– Now with hardly a month left to relocate; it is time that you start archiving the old files. There is no point in carrying old files that is of no use. So look through the files and folders and if there is anything that is of no use, it's better to discard it right here in your old office.
Order business cards – you may have to order for the stationary and the business cards. Before shifting to the new office, you need to order for all the stationary goods that you will need in your new office. Also, order for the business cards, letter heads, envelop etc with updated address and contact information.
Double check data security – Since you are moving your office to a new location, you must be very much cautious with the company data, personal information, important documents etc. You must see to it that they do not get misplaced or fall into wrong hands. In some cases, they ask the movers to sign non disclosure agreement.
Check for parking space – It is time to check out for the necessary parking space. You should find a spot and let the mover review the space, so that they don't have to waste time in searching parking space on moving day.
Hire professionals for cleaning– You have used the existing space for so long and so it is your duty to clean it after you move to the new location. And, for that, it is best to hire a professional office cleaning agency to get it cleaned one the space is vacated.
Office moving checklist – 2 weeks before the move
Review your new office – Make sure that your new office space is fully ready before estimated date. Each and every set up must be ready in your new office before you shift and so check out for every details like wiring, lighting, cabling, security systems, HVAC systems etc. thoroughly. Also, order the keys for each of your team members.
Clean and pack the common areas– Tell the employees to start cleaning their desks, cubicles, cabinets etc. and to get rid of things they no longer require. Also, tell them to pre-pack the items they will not use until the day of moving.
Take backups – Taking backup of all the necessary information is very much needed. So, make proper copies of them, scan the important papers, and store the crucial data in the cloud or in the digital media. Also, remember to put proper passwords on the computers and other electronic items before they are handed over to the professional movers.
List important contacts– Make a list of all the important contacts that includes new building management, the office moving company whom you hired, telecommunications etc. and hand over a copy to each of your team members.
Do follow up with the movers– Just only a few days are left and so it is recommended that you do follow up with the moving company and confirm the pickup date and time. They should reach on scheduled date and time to keep the moving schedule intact.
Office moving checklist- moving week
Thoroughly inspect your new office premises– Barely a few days left for you to move and so you must do proper inspection of the new office premises and check whether all the demands are met or not. Also, mount the floor plans and get the tags and labels on the walls colored.
Distribute the keys and cards to the employees– Call all of your employees and distribute the keys and the access cards to each of them.
Store confidential records – Ensure that all the vital and the confidential company records are safely stored in plastic crates with proper security seals.
One last check – Since, you have few days in hand; you may disconnect the vital electrical and other appliances that will be moved to your new office. You will have lots of items and to avoid things getting misplaced, keep the things that will not get loaded in the office truck aside. This will not mix things up.
Office moving checklist – moving day
Finally, you are all set to move the office. If you are following this office moving checklist closely, then there is nothing much left to do today, except supervising the overall process of packing and moving. Usually, don't have to worry about anything because the movers would know how to pack and get it moved safely. But still when you ask question and monitor the process, the chances of even the minor negligence will reduce.
Here's the last and final part of the ultimate moving checklist.
The move coordinators must be there throughout– The moving coordinators whom you have appointed must be present throughout the moving process to ensure safe and swift moving. And, as far as the other employees are concerned, it is better that they do not come to their old office that day.
Cooperate with the moving crew– You must be present with the moving crew and give them necessary instructions and answer to all of their quarries.
Assign a responsible one for final checkup– Lastly, before the move, assign someone who will move around your old office and do thorough checkup of everything like for any kind of property damage or forgotten items etc.
Prepare welcome packets– Shifting your office to a new advanced location is a great thing and achievement and you must welcome all your employees who have helped you in the process. So, arrange for the welcome packets from before.
Over to you
Moving an office from one location to another is a big thing and so it requires proper strategic planning. It is not something that can be done at a short time and hence the minimum time that you must keep in hand is a couple of months. There will be many things that need to be managed and tracked properly for hassle free office relocation.
I have already shared a detailed office moving steps checklist that can easily help you to manage and track all of the tasks related to office move. Ideally, you should make a team or a couple of team from different department that can coordinate the process. Always remember that if you work unitedly and in coordination with all your employees, then office moving should not be an issue, even on shorter notice.
I have tried to cover all of the important aspect of office move, but as you get into the process you may have to add or skin certain tasks. So feel free to use this checklist the way it suits you and you should be fine. Hope you have a hassle-free office relocation experience.
Have you moved your office? What else do you think one should track and manage while moving an office?
I will come up with a new post soon and till then, continue exploring our blog and feel free to like, comment and share the posts.
Happy relocation!