Are you planning to move your house and wondering if you need to prepare anything before the movers arrive and start packing? Yes. You have a few preparations to do before movers arrive. Because when you keep your house ready before they arrive, they get to work freely and efficiently. Movers and packers agencies are usually experienced and when you keep your house prepared before they arrive, they can work super quickly. The preparations to do before movers arrive are pretty simple like creating space so that they can start packing and storing boxes, de-clutter your space and sort out important and not so important things and so on.
I am sure you have hired a movers and packers with the hope that they will take out your burdens and move your stuff conveniently. And rightly so, because movers will undoubtedly pack your goods with care, and shift it to your new house safely. But for that to happen, you have to support them with basic preparations to make them feel comfortable while packing.
They pack super quickly and anything and everything that come their way, will be kept in the box irrespective or whether you wish to move it or leave it. Or else they have to ask you about every tiny item whether its is to be packed or left. You know, but when you take care of basic preparations, you can easily avoid these issues. By preparing your home for packing, you kind of ensure that the movers feel comfortable, get the things to be packed and discarded and  don't spend time in packing, opening and repacking etc. Its to save time and help them pack your stuff efficiently.
Usually movers and packers companies instruct their customer about some of the basic preparations to be done before movers arrive. But, if you don't know what are the preparations to be done before movers arrive then just relax. I am going to give you an extensive list of things to do before the movers arrive for packing at your home.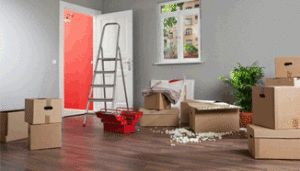 7 Preparations you must do before movers arrive for packing
There are many ways to prepare your home but here are the top 7 preparations to do before movers arrive for packing. You can add to the list or get rid of any step, but just keep in mind you should make them feel comfortable and do their job efficiently.
1. De-clutter your home: Thinking why decluttering your home when moving is vital? It's vital so that you don't include the rubbish stuff along with the important ones in a hurry to simply increase the load. Since you are shifting your home, and will be living at a completely new location, then why to carry all useless junks? Just filter your household goods and pick what's useless. After you have sort out the useless goods, you can either sell, donate, or dispose them as per their current condition.
2. Make list of things: Making a list of things you'll carry will help you to track whether everything has been shifted to the new place or not. If a single thing is misplaced, you'll be able to easily point the movers packers. And before pointing them, do buy an insurance for your goods from them (at least for the expensive goods).
3. Clean and organize: Before the movers packers arrive to pack, make sure you clean all the items that are essential. Cleaning your goods before packing is essential to make sure all the items remain clean and in good condition after you reach the destination. This is strictly applicable in case of all the expensive goods such as appliances and furniture. Would you want to see any slight damage to the expensive goods? No, right? Then do clean and organize your home goods.
4. Organize smaller items: Packing the huge size goods will be difficult for you, so you can leave it for the movers packers. But, in case tiny goods that can be easily wrapped, do not depend on the packers; instead, do it yourself. The tiny goods actually get in the way of the movers packers, and will also delay your move. Therefore, even if you have hired a movers packers, just pack up all the things that are easy to pack. Don't be so lazy.
5. Differentiate items: You need to differentiate the items based on what the movers packers are suppose to move and pack, and which they don't. For instance, you must be having some important documents, essential keys, some personal belongings such as expensive jewels, and other important goods. Therefore, you need to separate them from the other goods, pack them well, and keep it with yourself. And if your personal belongings are not easy to carry, then load them separately in the truck yourself.
6. Recheck everything to be packed and moved: Checking and rechecking is very essential, so that you don't leave out something that's important. Check every corner of your home and make sure every important thing is taken. Have a look at the storeroom as well, because you never know you might need something for your new home.
7. Prepare snacks: Preparing some tits and bits of snack is very essential for you and your family, because you'll be traveling, and also for the movers packers. Because, they'll be toiling or working hard to pack all your goods safely. They will appreciate this after they have done a good job, plus they must be hungry working hard and for long.
Over to you
There are many other things you can do like unplugging the home appliances, folding and labeling the cables, cleaning stuff like speaker, ceiling fan etc. This list of preparations to do before movers arrive for packing and helping you move your stuff conveniently and safely can help your movers work efficiently, but this is also to help yourself so that you don't end up carrying things that you need or discarding important things that you plan to move.
What else one can do to prepare their home for movers before they arrive to pack?