How does moving insurance work which is offered by movers and packers companies in India? This is precisely what I was asked the other day at my work. If you have hired movers and packers services, especially for long distance home shifting, I am sure you are aware of moving insurance. To be precise, all of the movers and packers will claim to offer moving insurance for a fee.
Moving insurance is a must especially when you are after a long distance home shifting. But there are many who don't know much about moving insurance and end up messing it up. At times a customer may have paid for moving insurance, but when they wanted to make a claim for damage, they came to know that there was no valid insurance and there is hardly anything that can be done about it.
Moving insurance is an important tool to protect your goods which is being packed and moved by the movers. Damages can happen, due to human error or otherwise, but if your goods are insured, you can claim from the insurance provider and get compensated for damages. Whenever you are working with movers and packers, just ensure you are taking insurance and know the fine-prints and terms and conditions.
Types of moving insurance offered by movers in India
Movers and packers agencies in India offer you two types of insurance when moving household goods and appliances.
Transit insurance
All inclusive insurance
Transit insurance for moving
As the name suggests, transit insurance protects you from any damage during transit or transportation. This means, damage caused to your good during transportation is covered in transit insurance. It also means any damage which was caused before or after transportation, won't be covered. So if there is damage while loading or unloading, you won't get compensated for that if you have opted for transit insurance.
You can directly take transit insurance for moving your household goods from general insurance companies or the movers and packers you have hired can also help you obtain the transit insurance. Remember to collect original bills and insurance certificate from the insurer (insurance providers), if your mover is buying insurance on your behalf.
All inclusive moving insurance (company insurance)
This as the name suggests, covers damages during entire packing and shifting. So if there is a damaged due to human error while loading or unloading or during transportation, you can ask for a claim. But all inclusive insurance is offered by the movers and packers company themselves and hence you have to be very sure about the credibility of the company.
There will be no insurance policy as such because the movers and packers company you are working with is covering you for any damage during packing, loading, and transportation and unloading. Usually people feel like taking all inclusive full insurance, but it may turn out to be a bad choice, especially if you don't know about the terms and conditions of the insurance and process of making claims. So just be a little cautious and check the fine print before taking all inclusive moving insurance by movers and packers when moving homes.
Rates and charges of moving insurance in India
There are lots of confusion about rates and charges for moving insurance but actually it's pretty simple. In order to take moving insurance, you ought to declare the values for all of the items for which moving insurance is to be taken. So for example let's assume you are moving a fridge, washing machine, microwave oven, Air conditioner, almirah and other stuff for which insurance is not required. You have to declare values (worth) of these materials;
Declared Values of goods
Fridge – Rs. 19000
Washing Machine – Rs. 26000
Microwave Oven – Rs. 16000
Air Conditioner – Rs. 36000
Almirah – Rs. 15000
Total worth of goods to be insured: Rs. 112000 only
Cost of Transit Insurance @ 1.5% = Rs. 1680 + taxes
Cost of all inclusive insurance @ 3% = Rs. 3360 + taxes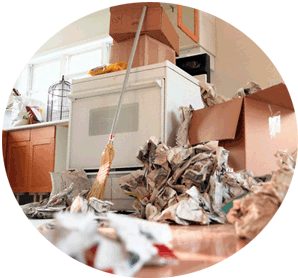 Over to you
Moving insurance is very important to protect the safety of your goods. It's not a good idea to ignore moving insurance. Imagine if anything goes wrong, you will be completely lost and it hardly cost anything. Just 1.5 % of the overall declared value is nothing if you look at it. If you are planning to relocate your household stuff, make sure you to engage with professional movers and insist on insuring your goods. It does not make sense to move without transit or all inclusive insurance.