Finding rates of packers and movers in Delhi may sound like a quick and simple task. But did you know that rates of movers for services such as home shifting, vehicle transportation or warehousing are not fixed? Even if the basics cost of transportation is nearly fixed, but still there are chances of getting manipulated under various cost heads like insurance, taxes, packing costs, labor charges and so on. And you can verify this fact by simply talking to three or four movers packers companies. Whatever rates they quote, you can be sure there will be some variation and the variation could be as much as 50%. Almost in every case, end users are mostly interested to find rates of movers and packers services. What they miss though is the safety of goods, insurance and reliability of the movers and packers.
If you are planning to relocate in or outside of Delhi and wondering about rates of packers and movers in Delhi then this is the post worth reading. In this post I am going to share 5 different ways to find rates of movers and packers in Delhi. These tricks are equally effective irrespective of the kind of service you may need.
5 ways to find rates of packers and movers in Delhi
First thing first, rates of Packers and Movers in Delhi are not fixed and no one will be able to give you exact figures as far as rates of shifting services are concerned. Also rates are variable and a lot depend on individuals specific requirements and on on the credential of the movers and packers you are talking to.
Some of the key parameters that may affect rates of packers and movers companies in Delhi are here under:
Which floor of the building you are staying on
Is there any lift accessible to carry your household goods?
How far is the parking lot from the main gate of the building?
What's the tentative distance?
Are you moving locally within Delhi or moving outside?
Need a smaller TATA Ace kind of a mini truck or a large cargo truck?
How many cartons will be needed to pack your household goods?
What kind of packing materials will be needed?
Do you need value added services like unpacking and re-arranging?
And there are many such factors that affect rates of packers and movers and overall cost of packing and shifting services in Delhi or elsewhere for that matter.
If you are planning to shift your home and you want to hire packers movers service providers for help then this post is for you. I am going to give you a detailed overview of some of the best ways of finding rates of packers and movers in Delhi, using various online channels and websites like facebook, twitter, linkedin and other classified websites.
1. Use exclusive platforms like ServiceSutra
There are niche based web platform to find rates of packers and movers in Delhi and other major cities across India. You can use such platform to find rates of local and domestic home shifting services, storage services, car transportation and other relocation related needs like moving pets or garden plants.
There are many such platforms out there, including ServiceSutra where you don't even need to make any search. No need to contact individual packers and movers companies to get rates and charges of shifting or warehousing services. It's much easier and simple than this.
You can simply post your query along with your contact details to know rates from up to three different movers and packers in Delhi within minutes. And best part is three movers packers agencies will be competing with each other to out bid their peer. You will be amazed to note that you can receive rates and offers from up to three different relocation companies as fast as within 15 minutes during IST work hrs.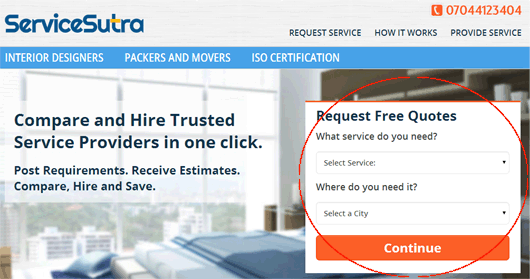 It's as easy as clicking a button. Select the category (packers and movers in this case), choose a city and proceed to submit your contact details to find rates of top three packers and movers in Delhi. Submission takes less than a minute and you will be on your way to get rates from trusted packers and movers companies who are available and competing against each other.
2. use Google local search listing to find rates of movers in Delhi
All of us who use internet have used Google search engine to search for different types of information. You can use Google search to search for packers and movers companies as well, in Delhi and in any other city across the world for that matter.
Hope you know that Google search is much easier with auto suggest. That means while you start typing the keyword to begin a search, Google will display a few suggestions (keywords/key phrases) to help you narrow your search to make it more relevant.
Take a look at the picture below and you will understand. If you are looking for packers and movers companies in Kolkata or in Tollygunge locality of Kolkata or south Kolkata for that matter, you should use appropriate keywords to get more relevant results.

But the point here is not about how you make the search, but it's more about where to focus when Google displays its search results.
Search results have three main sections; at the top and right hand side, id displays some advertisements, in the body it displays local search listings followed by other websites that Google think is relevant as per your keywords. Here's how the local search results looks like on Google.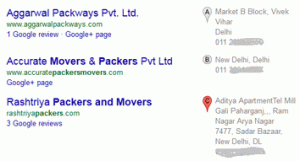 You can use local listings because they are mostly verified, so chances are that when you will call the service provider, you will get some response. Not like those yellow pages where numbers once entered was never updated. So that's another option to find rates of movers and packers companies.
3. Using Social Network to find rates of movers in Delhi
Social networking sites like Twitter, Google+, Facebook or LinkedIn can be used to find rates of packers and movers companies in Delhi and other cities across the world. Social network is becoming the mainstream search engine kind of a thing where you can find any information, ask for suggestions and seek help on certain things.
Social media can be a lifesaver especially because who know while you are struggling to find rates of packers and movers in Delhi, when you post an update or share a tweet asking your friends to help you out, your friends or extended friends can help you out. They may have certain suggestions and even recommend you a movers and packers company that they may have used in the past. And may be, one of your friend on facebook or follower on twitter is working with a movers and packers agency?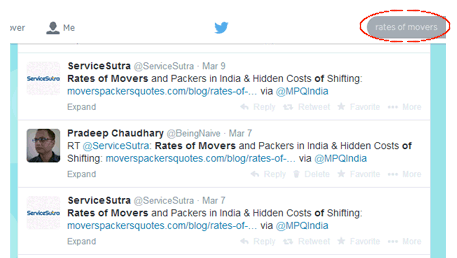 Here is a simple search on Twitter and you see the results. You can search or post similar tweets or updates to seek recommendations of movers and enquire about rates and charges as well. Moving companies are very much active on social networking sites, especially on facebook. Once you post your an update that you are looking for movers and want to find rates for shifting services, you may get response from relevant services providers in no time.
4. Find rates of packers movers in Delhi using classified sites
Online classified websites are becoming very popular these days. You can search for all kind of buy/sell/service offers on these classified websites. Some of the most popular classified sites in India are quikr.com, olx.in, click.in and there are many more.
One of the best thing that I like about these classified website (especially for hiring services), you will find most accurate and updated contact numbers. Ads older than certain no of days get deleted or renewed manually by the service provider, so that a good thing.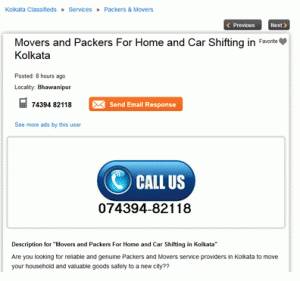 You may start from Google or you may directly land on the classified website and start your search for local movers and packers in Delhi. Once you find a relevant ad, you can contact the service provider through the website or directly call from your phone. Discuss your needs over the phone or call for a free survey and to submit rates and quotations for shifting services.
5. Using newspapers and printed directories
Newspaper classified ads are still valid to an extent and you can rely on the number displayed. Some of the packers and movers companies are still publishing ads on these print editions of newspaper and you can use them to your advantage.
Remember those yellow pages, green pages and pink pages? They are still printed every year, but I am not sure if it's that much popular anymore. This is the last option you should think of and most complicated one. Everything is getting over the internet now a day because that's easier and you can find info faster, do research and take a decision even faster.
Summary
Finding packers and movers companies online or offline should not be an issue when you know how to do it right. Whichever method you like, just remember that the safety of goods, costs of shifting and reliability of the movers is what you should look for. And if you want to get competitive rates, then don't hesitate to enquire from a  couple of movers packers agencies.
I have stated 5 different ways to find rates of movers packers in Delhi for shifting and relocation of household and vehicle. Hope you will use these techniques while hiring movers for your needs.
How do you prefer to check rates of movers packers services?