Home relocation is never an easy task and unfavorable weather conditions make things more difficult. Be it extreme summer heat, nonstop downpour in monsoon to extreme cold in winter, weather is always a deciding factor when it comes to relocation. Nevertheless, as far as Indian climate is concerned, I will personally prefer winter relocation (as most places in India do not experience extreme cold or snowfall) in comparison to the unbearable summer heat and nonstop rain that it experiences. Not just that, home relocation in winter season has many advantages and I am going to discuss all of them today in this article. I will also discuss packing moving tips to get it right during winter. So if you have plans for relocation, you may do it this winter.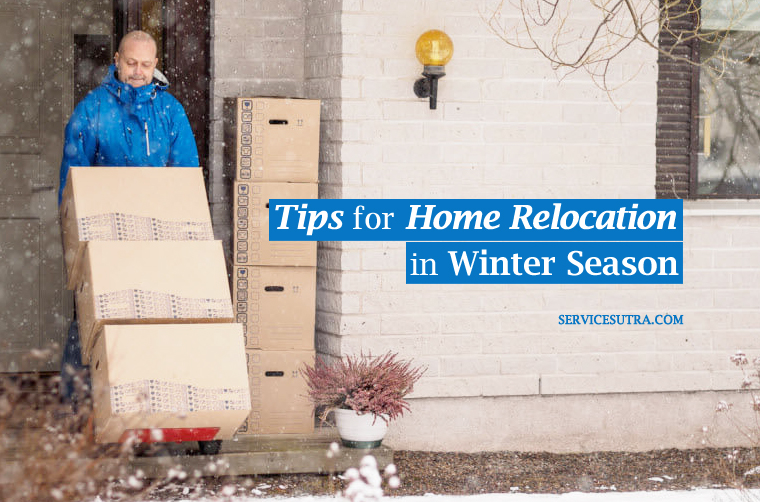 Winter is a time when people are lethargic and prefer staying indoors wrapping themselves in the blanket and resting all day long. Probably this is the main reason why most Indians prefer relocation in warmer climate despite the extreme summer heat and humidity. However, for people living in places where winter snowfall is a common thing, winter relocation can be little tricky but trust me there are ways to tackle that, and I will surely give you some tips on that as well.
Winter is round the corner and if you have an emergency to relocate soon, then my tips will help you a lot. Firstly, I will start with the various reasons why home relocation in winter season can be beneficial for you and then move on to the packing moving tips to get it right.
So let us start the discussion.
Why is home relocation in winter season beneficial?
Home relocation in the winter season is favorable in India and it comes with many advantages for people living in places or countries experiencing winter snowfall as well.
Here are few of the most common reasons to opt for home relocation in winter.
As most people prefer home relocation in summer, there is generally not much competition in winter. Therefore, most household moving companies offer rates that are much less than what they offer during peak seasons. Hence, home relocation in winter season can save a lot of your money.
Besides getting lower relocation rates, you can sit and choose the perfect moving company for your home relocation. In summer, generally, the experienced movers get booked early and in the end, there is no choice but to go for the inexperienced or less experienced ones. But, in winter, you can easily hire a good experienced moving company with added facilities at affordable rates.
Due to lot of rush in summers, the movers cannot give you options of too many available dates for relocating and so you have to adjust according to their availability. However, in case of winters, there is much more flexibility in choosing the date of relocation and you can relocate according to your suitability.
If you want to buy a new home to relocate, then winter can be a good time for it as there will be fewer buyers and you will get more time to search and then select your new home for relocation.
Even the real estate professionals can help you more. They can devote a lot of time and help you search a new convenient home for relocation.
Also, due to the decreased workload in winters, the mortgage lenders generally have less paperwork and loans to process. Therefore, your home relocation procedure will be quite swift and smooth.
The lenders may also forgo some fees to keep themselves busy during winter.
There will be a lot of enthusiastic sellers and landlords who will try to fill the vacant homes and apartments in the off season. You can easily take this advantage and negotiate the prices. If you are a good bargainer then you can get a beautiful new home at a reasonable price along with other bonus facilities.
In countries experiencing extreme cold climate, you will see the roads empty during winter. In other words, there will be lesser vehicles and no road construction. These lead to minimal traffic problems. So if weather permits and there is no snowfall, you will be able to travel much quicker to your new home.
Now that you have read the advantages of home relocation in the winter season, let me tell you some of the packing moving tips to get it right.
Packing moving tips for home relocation in winter season
Winter is a favorable time to move but extreme cold and snowfall makes things difficult. In order to avoid such situations, you just have to plan systematically and take special care to protect yourself, your family and your goods from the adverse climate. So if you are puzzled what to do, here are my top 15 packing moving tips that will help you get things right.
Do not plan to move on your own- Home relocation is a hectic task and unfavorable weather makes things difficult. Therefore, it is best not to risk your home relocation in adverse weather and take the help of the professionals. This will lessen your workload and secure your moving journey largely.
Choose an experienced packer and mover- Experience and trust factors are important while you are choosing a packing moving company. So since there is less rush, take your time and choose an experienced and trustworthy company. Such companies will have equipments ready to protect your goods from adverse weather changes during winter. This is important for all but is mandatory for people who live in places that experience extreme winter.
Check weather updates time to time- Most places in India experience bearable winter cold and hence there will not be much of a problem but those living in the hilly mountainous parts must keep timely updates of the weather. In case of any early forecast of bad weather, you must consider changing the relocation date. In other words, you have to be flexible with date of journey depending on weather.
Confirm with your mover- Weather is a concern as I already mentioned in my previous point and so you need to talk about that beforehand with your packer and mover. Mostly there will be other dates available to them as there is not much rush. So keep in contact with the moving company and talk about the other dates they are available in case you are unable to travel on the fixed date due to emergencies or weather issues.
Shovel the driveway- Winter snowfall can be dangerous and it can create a lot of hindrance while moving, so make sure you shovel the driveway near your home before you start the journey. This will be convenient and will avoid any accidents like a tire skit or people getting slipped while packing goods etc. If possible, you can also do the same in case of your new home and make the walkways clear and ice-free.
Start your journey early- It is very important to start your journey early. This is because in winter days, sometimes the condition of roads is not good, so travel may take more time in that case. Therefore, to avoid reaching your new home late especially if the distance is long, you must start the journey with much time in hand. You may start packing your goods even before the packer and movers arrive and save time. Moreover, winter days are short so it is best to avoid travelling in the dark and reach your destination in daylight.
Go for portable storage containers- You must try to use portable storage container for home relocation in winter season. This will enable the things to remain dry and safe during the journey. It will also give a protection to your belongings against the sudden change in weather. So do not take the risk of using a big moving truck or pulling a trailer behind your car in adverse weather and bad road conditions.
Try loading and unloading in a sheltered space- This might not be always possible but if there is a scope, then try to arrange the loading and unloading in a sheltered space. This is because there can be climatic changes anytime and it may start snowing suddenly. Moreover, winter days are short and if you reach your new home by the time its dark, then unpacking in a sheltered or covered space will be beneficial. You may unpack there safely or let the portable storage container stay there nightlong and you unpack in the next morning.
Turn the heat off- In many places with extremely chilling winters there is the system of heater in the homes. If there is central heating system in your home, then it is better to turn it off during the relocation. This is because constant moving in and out will make the heat go out through the doors so it will put unnecessary pressure on the machine, as it will not be able to heat the rooms properly. However if you are having a heater in one specific room, then make sure the doors and the windows of that room is close to inhibit the heat to escape out.
Protect your belongings- Portable storage containers are a good option during this time and will keep your belongings safe. For items like glass, dish that are easily susceptible to breakage due to frequent temperature fluctuations, you can double wrap them in thick blankets. This will more or less ease the transition from the warmth to the extreme cold. Alternatively, you may carry such easily breakable items or other small electronic in your own car rather than placing them in the portable container.
Check your own car before relocating- You need to have a thorough check of the car in which you and your family will travel. This is because if due to bad weather and bad road conditions, your car does any problem, you will have to wait in the streets in that chilling cold. So get the tires and other car parts checked by a professional to avoid any breakdown or other accidents. You can carry extra tiers, extra fuel, shovel, ropes, ice scrapers etc in your car in case you need those in emergencies.
Protect yourselves from the outside cold- Besides protecting your belonging for relocation in bad weather, you and your family must also take necessary protection from the outside cold else you will fall sick soon. Before starting the journey, drink coffee or hot drinks or any hot chocolate to keep your body warm. You may carry them in flask during the journey as well. Make sure you are putting warm clothes, gloves, warm socks and shoes to protect your body from the chilling cold outside. You can keep a few extra clothing in the car in case you need them while travelling. Also, carry extra food and water with you. However, it is important not to overdress as this might cause sweating leading to cold and cough. So dress according to weather needs.
Keep your new home neat and clean-. Constant moving in and out can make your floors dirty due to the snow and dirt in the roads. Therefore, you can cover the floors near the outside doors with cardboards or floor mats. This will keep your new home neat and clean. So remember to make prior arrangements of covering the floors of your new home.
Prepare your new home for winter- Not just covering floors, but prior arrangements must be made in your new space to enjoy the warmth in the chilling weather. This is important else, you will have to suffer in the cold with no gas, electricity, heater, etc. Even if you fail to arrange the heaters in advance, at least make the connections few days before so that you can make fast arrangements once you reach there.
Plan the route of your journey carefully- Planning your journey is important and you have to do it carefully. You can check the news regarding the condition of roads and take any alternate route (if any) in case the main road is in poor condition. You can also consult with the professional packer and mover and decide which route will be safe and convenient for travelling.
Over to you
Home relocation is never easy but if you plan things in a systematic way, then you can make the whole procedure smooth. Many do not consider home relocation in winter season but it has many benefits over home relocation in the peak season of summer. If you are ready to take a bit risk, you will be able to benefit a lot.
I have discussed all the details regarding home relocation in winter starting from the advantages to all the packing and moving tips to do it right. Execution is in your hand and if you are strategizing it well, you are going to be the ultimate gainer.
Most of the Indian states do not experience full-fledged winter at least not for long but those living in the hilly places where snowfall is a concern must opt for the special safety measures already mentioned in my article.
I have tried helping you from my end and hopefully if you are determined you will definitely make your home relocation in winter season successful and beneficial.