As per today's scenario, Wallpapers for Bedroom and Living Room are gaining rapid popularity and recognition in the field of interior designing and decoration. Wallpapers for bedrooms and living room are available at the markets in abundance, and with great varieties ranging from whimsical to artistic, and even modern. In fact, wallpapers are that one thing which can easily change the look of your bedroom and living room cost effectively.
To give your room a new and fresh look you can select wallpaper and put it on the wall, or else you can easily replace your old wallpaper with the new ones. But choosing right set of wallpapers for bedroom and living room is not always easy. If you end up choosing wrong wallpaper theme then it may ruin the overall look and experience of your bedroom or living room.
Your living room and bedroom are two specific rooms where you can use wallpapers to make it look gorgeous and well decorated. It's essential to decorate a living room because it's a place where you spent most of your time watching TV, or drinking coffee with your friends and family. And bedroom too needs a wallpaper to add a dramatic touch to it, as well as gorgeousness.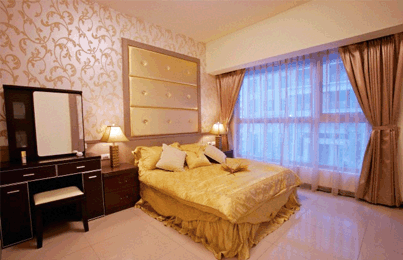 Choosing wallpaper for bedroom and living room
But choosing the right wallpaper for these two rooms is a challenge in itself. Therefore, to help you over-come such challenge, here are some tips that will help you to choose the best wallpapers for your two most important rooms.
Think about the room's usage: Before buying any wallpaper, the first and foremost thing that you need to keep in mind is the room's usage. Will you use your living-room and bedroom for the same purpose? No, right? Then buying similar type of wallpapers will be a wrong decision! Think about how you are going to use the room and what mood you want to create. Wallpaper can have a powerful effect over the way you feel in that room, so it's important the design complements how your life. If you want your living room to be energized, buy bright coloured wallpapers with bold patterns on it. And if you want your bedroom to be soothing, buy light coloured wallpapers with small designs on it.
Choose wallpapers carefully: Be carefully about using dark colours, bold patterns and sharp lines. All bold wallpapers may look great in a cafés or restaurants, but they can grow louder with time and if they are in an area where you spend a lot of time, such as your home or apartment. They can end up overcrowding you.So, before buying bold and loud wallpapers think twice. Dark coloured wallpapers make a room seem smaller; you can however use them in a big room.
Choose appropriate patterns: Without a doubt, the most important factor in choosing wallpaper is choosing the appropriate pattern of the wallpaper, and the one you like. You must also make sure that the pattern works in the particular room (living or bedroom) that you plan to paper. You can use vertical stripe patterns if you want to make the ceiling appear higher, or choose horizontal stripes or patterns to make the room look wider. Try avoiding wallpapers that have large patterns inscribed on it, they generally tend to overpower the space and make it seem smaller.
Choose the right backing: After determining the colour and style of the pattern you want, it's best to look for what type of backing the wallpaper has. Wallpaper with a non-woven backing will be fully strippable when you desire a change. So, go for non-woven back ones.
Buy a sample: Purchase or ask for the biggest sample from the shop, take it home and hang it on your wall for a week. Touch it, stroke it, live with it, and if you still love it, then do not think much and immediately purchase it.
Over to you
Now do you still find it difficult to choose wallpapers for your living room or bedroom? The mentioned parameters will definitely solve your confusion, and make it easy for you to choose wallpapers. Infact, these parameters can be applied to your other rooms as well, just use your imagination, brain and creativity.