Among all other rooms, your living room has to look the best because that's where you have to spend most of your time with friends and family. And hence you should accessorize your living room in best possible way to make it look good, aesthetic as well as functional.
But did you know, accessorizing others rooms is comparatively easier because you know what you like and dislike and accordingly you can decorate your bedroom or your kid's bedroom. But living room is to be used by other family members, friends and family and hence to accessorize your living room, you have to accommodate many things. You can't just paint the way you like, because your personal taste may be different from other family members but still you want to accessorize it in such a way that it look good and work well for all.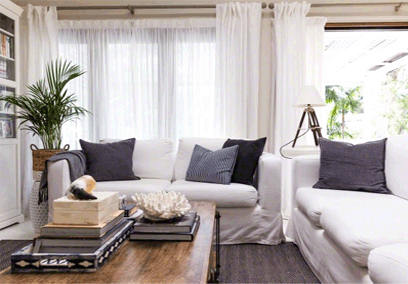 15 Best ways to accessorize your living room
Usually your interior designer will help you in accessorizing living room and other room and even help you buy/recommend accessories and decorative materials. But you know what, there is no right or wrong way to accessorize your living room, but still there are a few things that you must get right. In rest of this post, I am going to share top 15 tips to help you accessorize your living room correctly.
1. Buy comfy sofas: Just like how a bedroom is incomplete without a bed, similarly a living room is incomplete without a sofa set. Varieties of sofas are available in the market, but it is you who has to choose the sofa rightly according to you and your family's needs. But another factor based on which you need to buy a sofa is the room's theme. If your room's theme is a contemporary one, then go for modern designer sofa sets, or for the classic leather sofa sets. But, if you want your room to have a classy vintage or an ethnic look, then go for vintage sofas.
2. Hang curtains: Now it is time for some window treatment. The color, design, and fabric of your curtains completely depend on your room's theme, your sofa set's upholstery color, the floor and of course, the wall color. You need to actually inspect all these aspects and then choose a drapery or curtain. You can always match your drapery/curtain's color with your sofa's upholstery color, but always contrast it with the floor and wall color.
3. Colorful cushion covers: The selection of cushion covers too will depend completely on your room's theme. Also, make sure you contrast your cushion covers with the sofa's upholstery. If you want to make your living area look like a typical Indian home, then go for pillow covers which are not just colorful, but has mirror work or some other thread work done over it, something like a Rajasthani cushion cover.
4. Lamps: Lamps are essential in your living room, especially if it gets easily dark as soon as the sun sets, due to lack of ventilation. Apart from the ventilating the room, a lamp can also serve as a décor item. If you want to illuminate your living room as well as decorate it, then undoubtedly buy lamps. While buying a lamp, make sure the lamp shed is attractive, because it is the lamp shed that will actually grab people's attention. So, whether you are buying a floor lamp or a table lamp, make sure you choose the one with an attractive lamp shed.
5. Wall decor: Decorating your living room's walls is very essential, so go to the market and choose few wall decors. To decorate the wall you can either buy wall decals, you can go for faux paintings, or the best way to decorate the wall is by framing and hanging your memorable pictures. Another thing you can do is take a fabric/cloth on which some handwork is done using colorful threads and mirror, frame that fabric, and hang it on the wall. It would look amazing!
6. Rugs: Rugs can also be used as a decorative item for your living room. If you feel that your living room's floor looks boring or has some flaws, then the easiest way to conceal it is by adding a rug. Rugs are available in various shapes, sizes, colors, and designs. So, just go to the market choose a rug of your choice, and that suits the room's theme; buy it and spread it over the floor. Your living room will surely look great if you spread a rug.
7. Decorate the room with handicrafts: Another way to accessorize your living room is by adding a few handicrafts, which is easily available in every corner of our country, India. So, go to a craft shop and buy amazing handicrafts that can fit your budget, as well as the living room's needs.
8. Buy decor accents: Another striking accessory for decorating your home is the decor accents. Decor accents are also easily available in the market, craft shops, and even online. So, grab a decor accent right away to decorate your living room.
9. Place attractive candle stands: Candles are perhaps the most beautiful decor item one can have. It doesn't only illuminate the rooms, but it also changes its ambiance completely making it more romantic and soothing. So, buy a few candle stands and place candles over it, and light those candles when it is evening. You can also buy aromatic candles, which will not only illuminate the room and make it look nice, but will also spread a pleasant aroma throughout the room.
10. Make arrange for some fresh flowers: If you have some beautiful vases at your home, then why don't you use them to place flowers? Flowers are the most pleasant and beautiful home décor one can use to decorate their living room. So, bring a bunch of fresh flowers and place it in your favorite vase in the living room.
11. Chandelier: If you want to give your living room a palace like look, then goes for a beautiful chandelier. Chandeliers are very common in India since the reign of ancient kings. So, if you want to make your living room look gorgeous, then buy a chandelier and hang it on the center of your living room.
12. Wall shelves: If you have ample amount of space over your living room's walls, then don't waste it. Instead, just create a few wall shelves to display showpieces or other decorative stuff. If you are a bookworm, then you can also arrange all your favorite novels over these shelves. You can use shelves for both decorative, as well as storage purpose.
13. Hang mirrors: Another way to decorate your living room's wall is by hanging mirrors. Take a mirror and frame it with some designer frames, and hang it over the living room's walls. Hang as many mirrors as you want. But hang it over a single wall, don't keep placing one mirror on every wall of the room, because it will make the room look clumsy. Mirrors will undoubtedly make your room look better, and it will look bigger too.
14. Accent chair: If you feel that your room is too big, and you have empty corners in your room then go ahead and place an accent chair. Accent chairs can give your living room a classy look, and will fill up the empty corner of the room. Placing just one accent chair in your living room would be enough, because it will already have a sofa set.
15. Accent clock: If you find any whimsical looking clock in the market, then buy that one and place it, or hang it on your living room's wall. This will surely attract people's attention easily.