Home decoration need not to be an expensive affair all the time. There are many inexpensive ways to decorate home like using decals or accessorizing curtains, replacing cushion etc. I often change various decor elements at my home to make it look good.
I always look for new ideas, trends and often take suggestions from a friend who is an interior designers working as a consultant in a reputed design studio, here in Kolkata. I am compiling those inexpensive ways to decorate home for you.
Inexpensive ways to decorate home
If you are looking for simple and inexpensive ways to decorate home without making major changes and spending more, then this post is a must read. Feel free to share your experiences, what you liked and more because I know design is a very personal thing.
For your convenience, I have divided these home decorating tips in to different sections so that you can find and implement these home decorating ideas for specific rooms including living room, bedroom and your kitchen.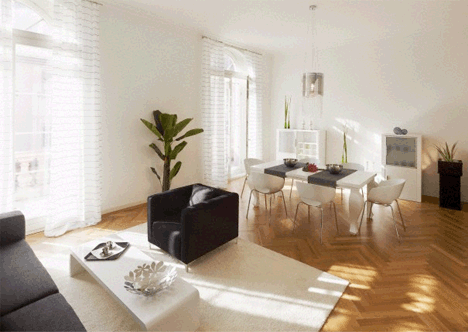 Inexpensive ways to decorate living room
Living room is the room, which the people see as soon as they enter their house. Therefore, decorating it is a must. To help you save money, here are a few ways in which, you can decorate your living room in an inexpensive way:
Use decals: You must always give importance to the walls of your living room. Painting your living room's walls could be expensive, but you can use wall decals instead. Various designer decals are available in the market that you can buy and stick on your walls. Another benefit of using decals is, it can be applied and peeled easily, and hence you get the flexibility to replace and apply new one whenever you want.
Accessorize curtains: Curtains are not just window treatment; it also plays a very important part in decorating your room. And to change your living room's look you need not keep changing curtains, instead accessorize them. For instance, you can use a ribbons, colorful hair bands, unused bracelets, and necklaces to tie up the curtains. This would not only keep the curtains in place but will also look amazing.
Use washi tapes on walls: If your walls are looking blank and lifeless, then you can also use washi tapes and create different designs on the walls. Colorful washi tapes can make your walls look amazing!
Stick a personalized photo mural: Personalized and printable wall murals can make a bold statement depending on the photo you are printing or going to print. So, if you have a very attractive photo that can be turned into a wall mural, then go ahead, print it, and stick it to the wall.
Fix a decorative mirror: Decorative mirrors can make your room look amazing. So, just go to the market and either by a big size mirror or many tiny mirrors, and fix them on the wall. Mirror will create an illusion of a bigger room, and will also bounce back the natural light during the day, making the room look illuminated.
Bring indoor plants: To make your living room fresh and eco-friendly, you can always buy a few indoor plants and place them in your living room.
Paint the plant's pot: If you want to decorate your plant, then that's not possible except for if it's a Christmas tree. But, you can definitely make it look attractive by painting the pot using different colors.
Display your crockery: If you have just shifted to a new house and don't have many decorative items to display, then just relax. You can easily display your stylish expensive crockery on the shelves or showcases.
Hang a handmade wind chime: If your living room is a bit windy, then why don't you hang a wind chime? If you have a wind-chime then well and good, but if you don't have one, then you can make one yourself. It isn't necessary that you'll have to buy bells for a wind-chime to hear it ring, you can make it using sea shells, craft papers, and other tit-bit items as well, which can be used for making a wind-chime.
Cover empty tables: If you have some corner tables which are empty, then why don't you cover them up with tablecloths? You can take some white cloth and dye it to create table cloth, or else you can also use your bed sheets and cut it into the size of the tables and then cover them up. This will make your table look much better.
Inexpensive ways to decorate bedroom
Bedroom is a place where you can relax and spend some private time with your close ones. So, it is pretty obvious that you need to decorate this room as well. A messy bedroom will never make you feel relax or happy at all, so here a few inexpensive ways to decorate it:
Pile up your bed with throw pillows: Do you think bed can be well decorated only by placing a good bed cover over it? No. Your bed can also look better if you pile up throw pillows. Nowadays, you'll find many colorful pillows available in the market so just buy many pillows and place them on your bed.
Paint the lamp shed: Another way to upgrade your bedroom's look is by painting the lamp sheds. If you have a floor lamp or table lamp that has solid colored shed, then just color them up with some vibrant colors so that it looks amazing when you light it.
Make candle stands: If you add candles to your bedroom, then the ambiance of the bedroom will undoubtedly become romantic. And for placing candles, you'll need candle stands, right? But, you need not buy candle stands, just make it. Making candle stands is very easy, just take a transparent glass and do glass painting over it. After the paint is dried place your tea light candle in the glasses and light it. It is going to look amazing.
Decorate with flowers: Another way to create a romantic ambiance is by decorating the room with flowers. You can buy fresh flowers and place it in a vase, and keep changing it as soon as it dies. Another way to use flowers is by using them as curtain ties. Take flower garland, cut them as required and use them to tie the curtains. Isn't this idea amazing?
Hang family photos: If you have a blank wall in your bedroom, then take out some memorable pictures from your photo album, frame them, and then hang them on the blank wall. This way create a gallery wall.
Create a headboard: Headboard is truly that part of a bed, which undoubtedly makes the bed look better. But, in case you don't have a headboard then don't worry. Just take a peel off wallpaper, cut it in a desirable size (as per your bed's size), and stick it behind your bed. You can also buy a frame that compliments your bed, and fix it behind your head so that it looks like a headboard.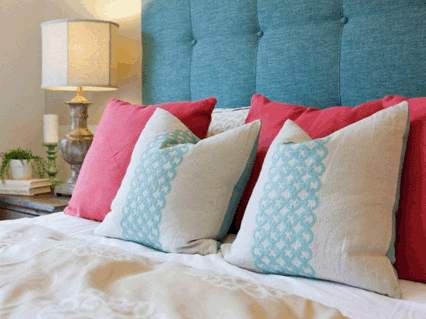 Add string lights: Apart from the necessary lighting, another thing you can use is string lights. Just use them on your windows or bedroom's balcony (if any), to make the room look great.
Inexpensive ways to decorate your kitchen
Since the kitchen is another important and busy room in your house, hence, decorating it is equally necessary. Here are ways to decorate the kitchen:
Change cabinet's knobs and pulls: Try changing the knobs of your kitchen cabinets, and you'll see that the cabinets look much different.
Glass paint the jars: Another way to decorate your kitchen is by glass painting the mason jars with glass painting colors. After painting the jars just place them at a good position, so that people can see them as soon as they enter the kitchen.
Fill the blank walls: Did you know, just by fixing colorful plastic plates on the wall, you can give an amazing look to the walls? Yes. Just try using plates of different color and probably of different shapes to give more twist to the decor
Keep plants: There are many plants that can be grown in house and they look fabulous, especially if you use good looking pot or hang them appropriately. You may also try keeping herbs in small pots.
Stick washi tapes on cabinets: If your cabinets are light colored, then why don't you use washi tapes to create geometric designs over them? This will completely change the way your cabinet look.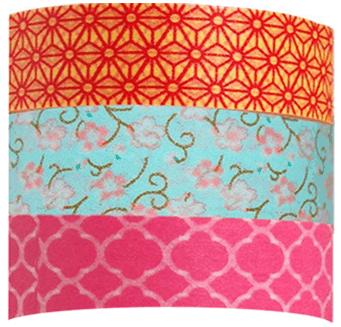 Inexpensive ways to decorate your bathroom
The bathroom might not be as big as a living room or any other room in the house, yet, it is really difficult to decorate it. But we have few ways in which you can decorate your bathroom, that too without spending a single penny; so here we go:
Frame the mirror: One way to decorate your bathroom is by decorating your bathroom's mirror. There are not many ways to decorate a bathroom mirror, but these two ways can really help. One way to decorate your bathroom's mirror is by framing it, and another way to decorate is by doing glass painting on the four corners of the mirror. It will make the mirror look stunning.
Paint the toilet sets: Everyone must be having toilet sets (soap dish, toothbrush holder, hand-wash pumper and etc) in their home; isn't it? So, if your toilet sets look boring, then take one day time and think of a design; and then, draw that particular design over the toilet sets.
Hang a shower curtain: Shower curtains don't cost much, so you can easily go to the market and buy one to divide your toilet area from the shower area. This not only divides your bathroom into two sections, but also makes it look decorated.
Place a pot of money plant: It is said that money plants are very good for homes. You can place money plant in any part of your home including the bathroom. So, just take a money plant and place it on the bathroom's window.
Doormat: Another way to accessorize your bathroom is by placing a doormat. A door mat will not only act as a décor item, but it will also help you to soak water from your feet.
Cover sink's drain: Some of them dislike flaunting their bathroom's sink's drain pipes, right? So in that case, just hide them. Wondering how? You can easily hide your faucets by using a piece or sheet of cloth, or just use one old bed cover and cut it according to your desired size to hide the drain pipes of your bathroom's sink.
Over to you
Internet is filled with tips and ideas for decorating home but we can't implement them all. There are many things that have to be considered while implementing a new home decorating idea. I always look from functional point of view followed by aesthetic look and feel and that's what is important for me. Also I would like to add one golden tip that is to make your home look good, you ought to keep it clean because that's what will make lots of difference.
Hope you will try some of these inexpensive ways to decorate home and most likely you will love it. Feel free to share other tips and ideas by commenting below.