Even if the definition of a perfect home can be very subjective, for me, a perfect home is one where I can live safely and comfortably and one that has easy access to things that we require and use normally, day on day. Last week only I had to find a house for one of my colleague and it's been a good learning experience for me. If you are looking for a perfect house to live in, but you are not sure how to find one easily, then read on this post. Today in this post, I am talking about all that you need to know to find a perfect home for living comfortably.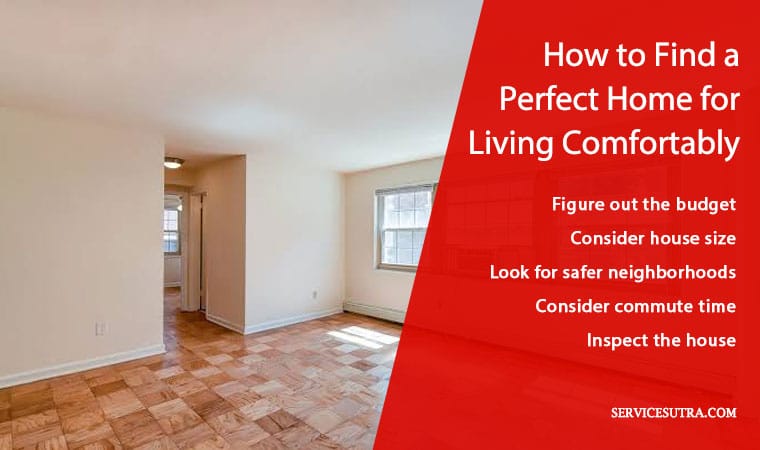 But before we get in to how to find a perfect home for living, let me just take a few minutes of your time and put the things in right perspective. A home that is perfect for me may not be as perfect for you. So, it is always important to choose a home that meets your living standards, space requirements, features, and priorities. If you are happy living in it, then that's the perfect house for you.
However, there are some basic things that we must consider while finding a perfect home. That is, you should think about all those basic aspects that make your life in a particular home perfect, and accordingly make the choice.
And, if you are unsure about what to look for and how to find a perfect home for living comfortably, then continue reading.
Hopefully, you will get an idea of what needs to be considered while searching a house.
Figure out the budget
It is very much important that you do not put unnecessary financial pressure on yourself while finding a home for living comfortably. You can never be happy if you land up in a financial crisis for overspending on a home that you thought to be perfect and comfortable.
Perfection of a home comes from happiness, but when in monetary crisis, no one can stay calm and at peace. In contrast to that, if you buy/rent a home within your budget, that may not be perfect physically in every way but will be perfect for you and your family to live in comfortably.
So before starting the house hunt for renting or buying, you should think of a comfortable budget and then accordingly take a call.
Consider house size
Nearly all of us would love to live a super big house, with larger bedroom, living and kitchen. But, bigger house comes with a bigger price tag and hence, it is important to be realistic while searching for a house.
The size of the house must be as per the size of your family. If you are single or just two of you, then there is absolutely no point in buying a house that's comparatively bigger because it going to remain empty most of the time.
Trust me, it is not just about the extra money that you will have to spend if you buy a big home, but also about the amount of extra effort you will have to put in cleaning and maintaining a big home that is not even a necessity for you. So, you should keep that in mind and accordingly take a call on the size of the house you want to buy or rent.
However, if you live in a joint family and all of you will be moving to the new house you are looking for, then obviously you need a bigger house.
Another important thing to keep in mind, especially for younger couples is that if you have a plan to start a family soon, then it's better to plan accordingly, especially if you are buying a house.
Look for safer neighborhoods
Safety always comes first and therefore, while searching for your next perfect house, you should always look for safer neighborhoods and areas. And as we are talking about the safety concerns, it's not that the area has to be safer during the day, it should be safer during the odd hours as well. You can't really compromise with the safety of your family.
Until and unless the neighborhood appears to be safer, it won't be wise to relocate to such neighborhoods. And the best way to gauge the safety parameters is to check with the local people, talk to other people residing in that part of the city and then take a call. You may also check the crime rate in the area before choosing.
Consider commute time
Another important thing to consider is the commute time. Whether it's about distance from your home to work or from home to college, you should ideally consider area that is not just closer to your home, but it should be closer to most of the destination you or your family members are commuting to.
So, even if it's closer to your home, but it's far away from the office of your spouse or the college, then you have to re-consider and the neighborhood. And let me tell you that, unless you are very lucky and have a descent budget, you may not get a place that so convenient for every family member. But then, you should search for multiple options, evaluate commute time in general and then choose a house that fits for most of your family members.
Inspect the house
Before you finally choose a house to buy or rent, it is important to inspect the house properly. And especially so, if you have seen the property images on the internet or just checked the photographs in the catalogue etc. and therefore, it is important to inspect the house physically, and only when you are fully satisfied with what you have seen, you should go ahead and buy or rent the house.
If incase you are not preset in the city physically, or you are out of town, even then you should try and see the house physically. But if you are unable to do so, then at least ask someone from your family to inspect the property.
Over to you
Home is not just a place, it is an emotion. So, when you are in search of a new home, you should listen to your heart. Apart from that, there are also some general facts that have to be considered before you buy or rent the house.
Be it the location, price of the home, the size of the house, or the commute time, you got to consider everything before taking the final decision of buying or renting.
Have you rented out a house or purchased one recently? What else do you think one should look for when searching a perfect house for a comfortable living?
Feel free to share your favorite house hunting tips and hacks by commenting below.
And by the way, if you have already selected a house for yourself, and you are up for relocating, then you can find and hire leading moving companies on servicesutra that offers end to end packing, moving and storage services at competent rates.
Happy house hunting!