One of the biggest dilemmas you could have is to decide whether you want to pack and move yourself or hire a movers and packers to do all of the packing and shifting. This is the most crucial question that has to be answered by anyone planning for home relocation. And I am going to help you decide and share my point of views, advantages, disadvantages and much more to help you decide better.
I have seen people struggling even with local shifting when they had just a few items. They will make several calls here and there but could never think of taking a van and moving the stuff himself. You know what, at times, it is easier to call a van and get things moved without complicating it by involving movers and packers companies. But that is when you have just one item or two to move. For me, hiring movers and packers will only make sense when I have a few items that need additional efforts and I can't handle by myself or when I am thinking of a long distance move like from Gurgaon to Baroda or vice versa.
So if you are planning to shift your house and you are stuck between whether to book a mover or do the packing and shifting yourself then this post is what you need right now. Just read through the post to get a good understanding of what is self move and when it make sense to book movers and packers to help you with your shifting needs.
Doing it yourself home shifting
Doing it yourself home shifting is for people who have time, experience and most importantly for someone who like to try doing new things. Bringing in packing materials, packing of small and large size home appliances, labeling the boxes are something that may not be easy for busy people. But if you are someone who like challenges and like to experiment with things, then it's going to be an exciting thing to do. But before jumping in, just give a serious thought to it because if your list of goods includes some of the heavy items like fridge, washing machine, steel almirah and double bed then it may not be all that easy to pack and handle it all alone.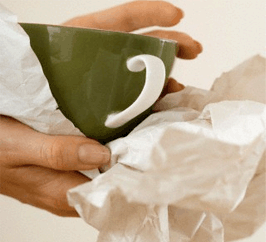 And if it's a long distance shifting then you may have to spend lots of time and money in packing itself to ensure that your goods can be moved without any damage. Here are a few things that you need to think about before taking a call to pack and move yourself.
You never know how much time it would take to pack and move everything so go for it when you have the time.
Procuring good quality packing materials, tools and equipments is something that need your attention too if you decide to go for self moving.
Unless you have friends and family members who could help you along the way, packing and handling of heavy items could be difficult. Think about it.
You may not have the required tools and experience to pack highly fragile precious items like show peace or crystal flower pots etc.
You have to figure out from where you will find a truck and labor for loading unloading etc. Unloading is going to be a challenge in case of long distance home shifting because you will be in a new city and it would be hard to find someone to help you.
Buying insurance is one more complicated task that you have to do yourself.
If you think you can manage everything of your own then you should give it a try. One of the biggest advantage of doing it yourself home shifting is that you can control everything to a good extent. You know for sure you have packed everything well, you are traveling in the truck yourself and you are sure that your goods are safe and sound.
But remember it's not always easy, especially in case of long distance packing and shifting. Since you have to spend money on packing materials, transportation and insurance, so all that you save is on professional fees of movers and packers. But think twice is it worth taking the risk? What if you break any costly item like your TV?
You may like to check these DIY packing tips to get it right
Hiring movers and packers for home shifting
Movers and packers companies can help you with all types of packing and shifting. You may be shifting your home for the first time, but movers and packers companies do it every day and hence you can expect them to take care of everything related with packing and shifting. From packing materials to experienced executive who can pack everything properly they add lots of value. They have access to labor, trucks, packing materials and everything else which is required in packing and shifting. Here are some of the benefits of booking movers and packers for your home shifting needs.
Resources and experience
Movers and packers companies bring lots of resources with themselves like experienced labor and executives who can disassemble and pack all of the home appliances, furniture and other items safely. They have an experienced team and you can count on their expertise and experience.
Safety and timely delivery
Movers and packers companies can pack your goods to get it transported safely. But in case there is an accident or minor damage, they can help you get claims from the insurance company (subjected to the type of insurance you have got). They can take care of loading, unloading, unpacking and also help you with value added services like re-arranging or unpacking of major items and furniture etc.
Hassle free
When you hire a movers and packers in India, you can almost relax without bothering about anything. The movers and packers will take care of everything from packing to finding truck, getting everything loaded, transported, unloaded etc. You literally don't have to touch even a single item. They will take care of everything from start to end.
Summary
If you think you can manage packing, loading, transporting etc yourself, then you can think of doing it yourself. But if you have any doubt, you should better leave it to the experts. Don't do it yourself just to save money, do it only when you are sure you can pull it off and you know what you are up to. If you have even a little bit of doubt, you should better take professional help than regretting later.