Moving a house can get overwhelming at times, especially when you are moving for the first time or when you have to move a house on a shorter notice. Successful and hassle-free house move requires adequate planning and obviously you need time to get it all right. But when you are in hurry and you don't have time to plan your relocation perfectly, you may end with moving mishaps that you would like to avoid by any means.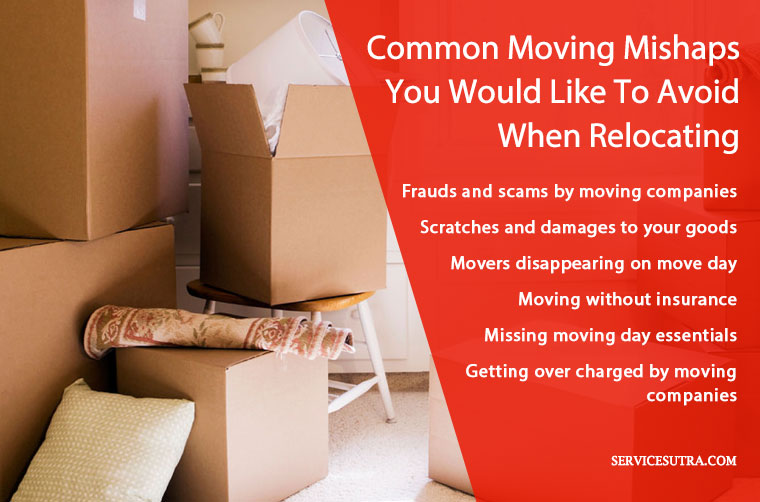 If you are planning to move your house, I am sure you have already started planning your move and you are working your way out using a house moving checklist. After all, there are so many tasks at hand, and you can't really afford to ignore any of the tasks, till the time your household materials are packed, picked, transported and gets delivered to your new home.
I am sure you would agree that safe and hassle-free home relocation is all about fool proof planning and careful execution by the move team. While, you might have already hired a moving company to help you relocate your goods, there are many common moving mishaps that you would not like to experience. If you are planning to relocate in near future and wondering about how to spot and avoid these common house moving mishaps, then continue reading this post. Today, I am sharing a few of the most common house moving mishaps and mistakes that you would like to avoid when relocating.
Common moving mishaps and mistakes worth avoiding
Moving mishaps and mistakes may happen because of poor planning, so it's better to start early and pay attention to everything while moving e.g. from finding moving companies, to negotiating good deal, getting your goods packed, picked and transported by the moving companies. You have to be alert, coordinate well and supervise everything correctly.
So, here are a few of the common house moving mishaps that may occur, and what you can do to avoid these bad situations from arising.
Frauds and scams by moving companies
If you do a simple google search for packers and movers frauds or 'scams by movers and packers companies' you will come across hundreds of scams done by shady moving companies in India or in any other country for that matter.
Moving scam and frauds by movers and packers companies is harsh reality that we have to accept. And the last thing you want while moving a house is to get scammed and cheated by a movers and packer company.
The most common frauds by packers and movers companies may involve one of these:
Not obeying the original quoted price
Theft and damage of goods
Demanding money after packing and loading of goods
No door to door delivery
Repeatedly failing delivery dates
Not responding to your calls
Moving industry is booming, so there is a huge business opportunity and because of no entry to barrier, new companies are mushrooming across all of the major cities in India, and Delhi NCR tops the list.
Thankfully moving scams is a mishap that can easily be avoid with a little bit of effort and precaution at the time of hiring movers and packers companies.
Here are the best ways to avoid frauds and moving scams by moving companies:
Use references when hiring moving companies for shifting
Research properly to ensure that the mover is reliable
Use exclusive platforms for hiring movers and packers
Verify business related documents and licenses
never hire a moving company without meeting physically
Avoid making full payments in advance
Stop looking for cheapest vendors, quality comes at a price
Avoid paying in cash, always pay by cheque in the name of company
If you want to relocate safe and sound, the make sure to follow these tricks to avoid getting cheated and scammed by a moving company.
Scratches and damages to your goods
As I have already said, moving heavy weight and odd dimension furniture like cupboards, dressing tables, bed, sofa and tables with glass top is not easy. These items are prone to scratches and damages in transit. Scratch and damages to the furniture or other delicate items like crockery is not uncommon and it can happen unintentionally. No matter, how cautiously the movers and packers are lifting or handling these items, it may just collide or a side may just get hit on a wall or something.
The best way to avoid such mishap that may cause scratch and damage is to ensure that the movers and packers are disassembling the furniture. Of course every piece of furniture in the house may not be dismantled, like most of the old style sofa can't be dismantled. But you should do so for the items that can be dismantled. By dismantling, they will be able to pack and handle the furniture safely and comfortably.
The second thing that you have to do to avoid this moving mishap is to ensure that the movers and packers are not compromising in packing. Sometimes, they use low quality packing materials and just do one layer packing, and this may be because of hard core negotiation and low service fees.
If you are relocating your home and you are using end to end packers and movers services, you should always insist on multi layer safe and secured packing, especially for long distance move.
Movers disappearing on move day
You are planning to move and you have pre-scheduled everything with a local movers and packers company. You're approaching the lease deadline and you have to move by today. What if the movers and packers you had booked will not turn-up on time and even worse they are not taking your calls? It's a very common mishap when movers and packers that you had booked are suddenly not responding to your calls.
Not very common, but it happens in many cases, especially for small pocket local move. The shady moving companies, when get another bigger and high margin moving assignment on same date, they usually behave like this. Nether they'll deny, nor will they confirm that they are coming to pack and move your goods. And this can be a terrible situation, and I am sure you don't want to get into such situations on date you have to move.
If the mover disappears at the final moment then it's going to be really difficult for you to find a moving company on a shorter notice. Even if you can find a movers and packers for local shifting, it's going to be a little difficult to find the movers for interstate moves, especially if it's the weekend.
The best way to not fall in to such moving mishap is to check the credentials of the movers before hiring. Also to avoid this situation, you should remind and confirm one day in advance about your moving schedule. And if you have spoken with multiple moving companies, you can obviously check with the second best option you had. This is another reason why checking multiple moving companies in advance is a must thing to do.
Moving without insurance
Moving insurance can really be of great help in case of any major damage due to accident. Most of the movers and packers companies offer insurance on goods being packed and moved. But at times, even if the movers and packers have charged you an insurance fee, they intentionally or unintentionally, do not insure your goods and move it without insurance.
But if anything goes wrong, you won't be able to get any financial help to cover-up the damages. In order to avoid such situation and manipulation by a moving company, you should always discuss insurance and never allow shipping without insurance.
When the movers and packers will buy insurance, they are supposed to get a letter of insurance (certificate) from the insurer. You should insist on getting a copy of insurance certificate and payment receipt to be double sure that your goods are being move with proper insurance.
Missing move day essentials
Planning and preparations for moving a house starts weeks before the actual move day. Sorting out inventory, making house moving checklist and coordinating with the movers can be too much of at times. And, you may easily forget to thing of the essentials for move day. This may turn out to be a costly mishap and to avoid this; you should prepare a move day essential kit containing your emergency medicines, first aid box, documents, papers, important keys, baby foods etc.
To avoid this terrible mishap, you should ideally start preparing your move day essential kit days before the actual move date. It's better for every family member to keep a note of essentials items, but if there are just a few emergency things you all need, it can be packed and kept together.
Getting over charged by moving companies
As you already know, the rates and charges of services like packing and moving can vary surprisingly based on different factors including inventory, distance, quality of packing etc. The movers and packers companies at times take advantage of this they manipulate the service provider and over charge them.
In order to avoid this manipulation and not paying more, you should request and compare quotations from two or three potential moving companies serving your area. If not much, by comparing you get clear understanding of the market rates and with multiple options in hand, you can work with a moving company that suits you the most.
Over to you
Household moving can be tiring and overwhelming. No amount of planning and preparation is enough when it comes to moving your house to another state. Moving mishaps are common and it can be because of human error or ignorance.
I have already discussed about some of the most common moving mishaps, which includes:
Frauds and scams by moving companies
Scratches and damages to your goods
Movers disappearing on move day
Moving without insurance
Missing moving day essentials
Getting over charged by moving companies
I have already shared tips on how to avoid these common moving mishaps and what to do to move safe, sound and without hassles.
If you have relocated recently and have experienced any issues while relocating, feel free to share by commenting below. I will be happy to update the list above.
What other moving mishaps do you think may occur and what can be done to avoid such relocation mishaps?
Share your views and experiences.
Happy relocation!
General FAQs
What are the common moving mishaps one should be mindful of?
Moving a house to another state can be overwhelming, especially when you have no time to plan and prepare for the move correctly. And that could be the reasons for common moving mishaps that you may like to avoid. Most common moving mishaps include scam and over charging by moving companies, damages to your goods, movers not turning on final move day and so on.
How to avoid common moving scams and mishaps when moving to another state?
Moving a house to a different state can be complicated; because of the longer distance it becomes even risky. And therefore, you should double check everything from finding and screening reliable moving companies to getting your goods packed and loaded safely. The quality and credentials of moving companies must be checked before choosing a relocation partner for interstate relocation. And when you have a reliable service provider on board, you'll be able to get rid of many of the moving issues automatically.
How to check and ensure that moving companies are not overcharging?
There are no fixed rate for moving services in general and hence you should check prices from a couple of moving companies before choosing one for your shifting and relocation needs. To be sure that you are not getting over charged for moving or storage services, the best you can do is to compare quotations from a minimum three moving companies.