Packing and moving services are offered by moving companies in India. They offer complete packing and relocation services and one can avail the packing and moving services to move household goods locally within the city or outside. Apart from packing and moving of household goods, these moving companies can be of great use in many ways such as;
Storage of household goods
Car Transportation or Car shifting
Pet and garden plants relocation
Office shifting
Shifting of industrial goods
That's some of the key services offered by packing and moving companies in India. There are plenty of relocation companies out there in almost all of the major cities like Delhi, Mumbai, Pune, Bangalore etc. Even in smaller cities, you can find a number of moving companies out there.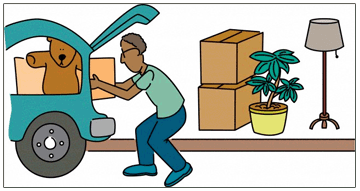 This is a good thing because you have lots of options to choose from, but then since the entire process is going to be handled by these moving companies, you ought to be very cautious and double sure before you hire a pro.
So what is that you should do to get it right? What kind of planning and preparations are needed for hassle free and cost effective packing and moving, both locally and for long distance?
I am going to give you a good overview of the process of packing and moving by movers and packers companies and what are the checks and balances that should be kept in mind while hiring moving packing and companies in India.
So are you ready to dive deeper?
Overview of the process of packing and moving
Some time people get confused and assume packing and moving is same as transportation. But the fact is both are different things. Transportation is entirely different than packing and moving. Packing and moving is a collective service offered by packers and movers companies in India. They offer end to end packing and relocation of all types of household goods and office supplies (home shifting, office shifting, car shifting, pet relocation etc). Packers and movers offer door to door service that is they will pack and pick everything from your house and get it delivered to your home again once your goods reaches its destination and that could be in same city or a different one.
But transportation is different as in the transporter is not going to pack your goods. Transportation service is offered by transport companies and they won't be coming to your home to pick your goods and nether they will deliver it to your home. They have a loading and unloading point or godown and you have to take your goods to their godown and again take delivery at the destination.
Such service is ideal to move single items from one place to another. For example say you want to move an AC from Kolkata to Bangalore. Then what you can do is pack your Ac yourself and get it to a transporter who operates between Kolkata and Bangalore. They will give you a bilty/bill and take your goods and let you know the delivery time. You can take delivery of your goods from their godown in Bangalore within 3-4 days. This is more or less similar to how you book your parcel in Indian rails.
Which also means you should not approach a movers and packers company to move one AC or a Fridge. Most of the moving companies won't be of any use, unless you find a mover who is sending a truck filled with goods of one of their party from Kolkata to Bangalore during same time. Then they may help you, but still the chances are less because no one would like to get involved in taking and delivering one single item. Handling burden is way more than the cost one would pay is what they would say typically.
When to hire packers and movers in India?
You should hire a packers and movers for packing and moving of multiple items. Let's say you are you are staying in a rented apartment and you have purchased a new flat which is ready for possession, then you should approach a packers and movers company for packing and moving of all of your household goods.
This is known as local shifting and packers and movers would be happy to help you. Right from dismantling to cleaning, packing, loading, transporting, unloading and re-arranging; Movers and Packers companies can take care of everything required to get your goods moved safely.
Similarly, if there are few items that you don't want to move or don't think you need them in your new home; you can store such items in a warehousing facility . Some time people leave behind old furniture so that they can give it to a relative or for other purposes. Movers and packers offer storage service that you can avail for storage of household goods and articles.
Or let's say you are working with a large corporate house or a bank and you have been transferred from Kolkata to Bangalore, then you can approach a professional movers and packers company in Kolkata to help you with shifting of all of the essential household materials such as
Television, Fridge, Washing Machine
Cot, Mattress and Bed
Dining table, pc table, cupboard, sofa set
Water filter and other kitchen utensils etc
Packers and movers companies will pack everything at your home and get it transported to the destination. They will deliver your goods at the destination and also help you with unpacking and re-arranging of goods. So that's how they add value. End to end packing and shifting services which is comparatively safer and cost effective.
Now when you know when to hire packers and movers companies, you should know the right ways to find and hire packers and movers in India.
Here's how to hire packers and mover the right way
As said earlier in the post, packers and movers companies are widely available across all of the major cities and districts in India. The biggest challenge lies in finding the skilled and well placed service provider who have the expertise and who can offer service at competitive price. I mean you would love to avail the packing and shifting services from a mover who is affordable and who can get it done the right way. After all you are hiring a pro because your trust they have the expertise to handle it all safely.
So here's how to go about it.
Talk to multiple movers and packers companies so that you understand the process well.
Make a detailed and elaborated list of goods that is to be packed, moved or stored.
Invite them to look at the goods physically so that they get better understanding of the task and you get to meet them face to face and ask them questions.
Check their credentials and compare prices from all of the movers and packers companies.
Negotiate with them and work out a payment term and schedule the dates for packing and moving.
We published a detailed post on how to find and hire movers and packers in India. Check that for better understanding of the process and precautions one need to take to find and hire movers.
Conclusion
Packing and moving can be fun if you understand the process and follow a few guidelines to find and hire packers and movers. There are many moving companies out there but for you the biggest challenge would be to find one who is well places and who can get it done the right way.
The best thing that you can do is ask your friends and family for recommendations and if you did not get any then find them on the internet. Worse thing that one can do is to hire a mover without doing adequate research about the rates and profile of the service provider. Avoid doing that for your own good.
How do you hire a mover for local or domestic shifting of household goods?