There is no doubt that India is one of the fastest developing countries in the world. But, still there are many who want to go out of India, explore the world and find better career opportunities. This is why many Indians still prefer living and working abroad and there is nothing wrong in it. In fact, many countries out there look for Indian brains to strengthen the workforce. So, if you have got the potential, grab every opportunity that comes your way as far as bettering your career is concerned.
Now, if you are wondering about what countries outside India offer better career opportunity and comfortable living conditions, then here's all you need to know about. Today in this post, I am talking about the top 5 countries outside India that offer great career opportunity, superb infrastructure and comfortable living. And if you are looking to relocate abroad, and not sure which country may be better for your career and living, then continue reading this post.
Relocating abroad is not going to be easy, and this is actually quite different from you relocating within your own country. In the previous case, it requires lot of courage to take the decision to move abroad because as long as you are within your country, you are still in a familiar space. But the moment you cross the borders, things get a little complicated. After all, you are moving to a different country with different rules, regulation and culture. So, accepting the change and adjusting to the new environment often becomes tough, because most of the things are going to be new on a whole new level.
You may have to compromise in the initial stages in various ways like staying away from family, abiding by the new rules and regulations etc. but if that ensures a brighter future for you, it is better to give it a shot. Please understand that if you are able to establish yourself well, then you will be able to give your family a better life as well. Trust me, you will be able to adjust to everything after some time, and once you are able to do that, life will become much better for you.
Choosing the right country to relocate can change your life for the better.
So, are you ready to learn about the countries outside India you can move for a better career?
Let's check them out.
Countries outside India to relocate for better career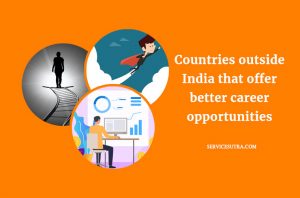 Money is very important for a happy and comfortable life, and relocating to a well-established and developed country can certainly improve your quality of life. You will get lot of opportunities career wise, which will help you grow both professionally and personally.
Here is the list of top five countries outside India you can move for better career opportunities:
Canada for better career options
The very first country in my list of top countries outside India you can move for a better career is Canada. There is no doubt that you will get a lot of opportunities to get established in your career in Canada. And that is why it is becoming a hotspot for Indians to relocate and live and work there.
But what makes Canada different from other countries is that while other countries are making strict laws for foreigners, Canada has made things comparatively easier for Indians and other migrants all over the world. Their laws are much more lenient and so it is not too difficult to get a Canada visa.
Now, the reason why Canada wants Indians to relocate there is because that lessens their problem of shortage of skills, increases productivity as well as contributes in the overall economy of Canada.
So, when you have a country with lots of job opportunities in store for you as well as welcome you with open arms, I think it is the best combination anyone can ask for. Hence, if you want to increase your quality and standard of living, moving to Canada is something you may like to consider.
Canada has got point based system as far as Visa is concerned. You will be allotted points for each criterion like age, education, experience etc. So, if you have got the skill, experience along with higher proficiency in English, I am sure you will be able to relocate to Canada easily.
Relocating to Singapore
Singapore is one of the top 5 wealthiest cities in the world as per GDP. It is also one of the cleanest and the most efficient Asian cities. What's fascinating is Singapore has managed to retain its charm from the British colonial days as well as able to provide its people with cutting edge facilities. Hence, Singapore is definitely the dream destination for not just Indians but people from all over the world desiring a better life.
Singapore is also one of the safest places to live because of the low crime rates there, thanks to the very strict laws. While this is a good thing for you, you should also keep in mind to abide by all the laws otherwise face heavy fines and punishments.
As far as Visa to Singapore is concerned, getting a tourist Visa is not that tough, but if you are planning to live there permanently, then things are going to be a little difficult. However, if you have the skills and the experience and you are patient, then you can actually end up having a dream job in Singapore.
But, before that you will have to apply for a legal Visa. There are a lot of Visa options available there starting from Employment Pass, to Entre Pass to S Pass to Dependent's Pass etc. The type of Visa you will have to acquire will depend on the purpose of your visit there.
The cost of living in Singapore is pretty much high but then, the wages are also higher. Also, you will be able to enjoy a high standard of living as well as enjoy the exquisite beauty of Singapore. So, Singapore is definitely a good option.
To know more about Singapore, you may refer to this post:  
10 Things You Must Know Before Moving to Singapore
Move to Australia for better career options
Although it is tough to get an Australian Visa but as far as better quality of life and great job opportunities is concerned, Australia is certainly one country to look out for. The best thing is that workers are very well respected in Australia.
In fact, if you do not know, then let me just tell you that Australia was one of the first countries to go for a 40 hour work weekly. Once you consider the cost of living and taxes, individuals in minimum wages are earning about USD 9.54 hourly which is really great.
And, it is also a fact that in comparison to the other countries, the taxes for the workers with low income are not that high.
Also, in Australia, the education and health facilities are good, so it is a good place to relocate to for better career opportunity and lifestyle. However, Australia is quite expensive, so it is better for you to find a job first and then relocate to Australia. It may be hard to live in Australia without a stable job in hand.
If you have to relocate to Australia, you will have to clear the point-based immigration system of Australia which actually depends on age, education, experience and English proficiency.
The minimum marks you need to get is 65 points but to increase your chances of getting selected, it is better to score as high as possible. For more details, refer to my earlier post: How to Relocate to Australia from India: Quick Ref Guide
Moving to UK for better career opportunities
United Kingdom (UK) is one of the top places in the world that has seen a lot of migration and Indians are no exception. And, why not, there are so many well paid jobs in UK that you will have enough chance to grow in career there. Also, UK has got the best colleges and universities there in the past; many travelled there for higher studies and eventually got settled there. However, getting a UK visa has got really tough today, so you got to keep trying and be patient.
Again there is a point-based system for obtaining UK visa. The higher you score, the more chances of you getting selected. In general, the UK Visa can be classified into two major types and those are Tier 1 Visa and Tier 2 Visa.
Tier 1 visa is for the entrepreneurs and Tier 2 visa is issued for the skilled workers. Then there is Spouse Visa, Student Visa etc. You will have to apply for the type of Visa depending on the purpose of your visit there.
Relocating to New Zealand for better career options
New Zealand is one of the most popular destinations for the Indians. Recession was not that much severe here and the country also has one of the lowest personal tax rates, when you compare it with other countries. Apart from providing with good career opportunities, there are many other benefits of staying in New Zealand like for example, good sub-tropical climate and plenty of space to live making land cheaper for immigrants.
So, if you meet up the eligibility criteria for the immigrations, you may apply for the Visa, and after you get selected may try to get the PR that is Permanent Residency. New Zealand will definitely give you the life you desire.
Summary
India is a great country to live and work, but sometimes the grass at the other side look attractive. And therefore, there are many who wish to relocate to a different country where they can get better career opportunity and a comfortable life.
And, if you are also planning to relocate abroad, then Canada, Singapore, Australia, UK and New Zealand are one of the top countries that you may like to consider for better career opportunities and comfortable life.
These countries provide with good job opportunities along with good infrastructure, good educational and health facilities. In short, the standards of living in these countries are high. And if you want a bright future, you may think of relocating to one of these developed countries.
However, although these countries are traditional favorites among Indians, the system of acquiring Visa for most of these places have become tough today. One of the reasons is because these countries have already become very full of immigrants so they want to limit the number of immigrants.
You must have already heard about US and how difficult US Visa system has become today, and this is why many avoid going to USA today. Similarly, apart from Canada, these other countries have also tightened up their laws for immigrants. So, unless you got the skill and the experience and the patience, it may not work for you.
Now, if you have tried in all the above-mentioned countries and none of them worked for you, then you may consider some other countries like Germany, Belgium, UAE, Brazil etc. These are the emerging destinations and do fall in the list of the best countries to live and work.
All the best!