Bedrooms are the place of ultimate peace and serenity. When you think of a bedroom, the first thing that comes to your mind is that it has to be heavenly, beautiful, and must definitely be pleasing to your eyes. It's everyone's sleeping sanctuary, so it has to be really comfortable. Sleeping in a not so happening bedroom is a let down for many. So for that, it is very necessary to upgrade the old boring bedroom and change it to a heavenly palace of goodwill, tranquility, and comfort.
For many, decorating a small bedroom is a big headache because of its incapability to accommodate too many decorative things, or furniture. Here are some tips to decorate a small bedroom for the first time, or redecorating pre-decorated room without spending sacks and bags of money.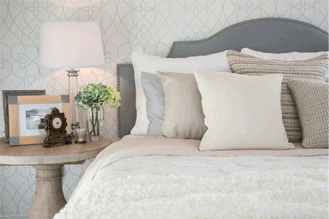 Here's what you can do to decorate your small bedroom without sending lots of money.
Paint
Painting the walls brings life to a lifeless room. And painting the bedroom walls would give your bedroom a real good look. Adding an accent wall is a great way to brighten up your bedroom under a tight budget. Choosing a bold shade that complements the current wall color and painting it in a new hue would be great. The new addition will create depth and make the room feel more alive. The choice of colors depends on the look you would like to give your room.
Wall decals
Wall decals are a new trend. It is easily available in every décor stores, and you can even order it online. Wall decals can make your room look gorgeous, and are available in cheap rates too. It's best if the decals are stuck on the accent walls, depending on color of the wall. If the wall has a lighter color like pastel shades, then multicolor wall decals can be used. And in case of dark colored walls, neon or white colored decals can be used.
Add a reading corner
After completion of educational life, most of them consider their academic books or other books to be a burden and nothing important. But did you know that books could be a very important material to decorate a house? If you already have dozens of books then it would be a good idea to add a reading corner, or at least a decorative book shelf to decorate your bedroom. You just need to clear out one corner of the bedroom and add a comfy chair, get a floor lamp and a small end table for stacking your current must-read books. Why to rot your books when they can be used?
Curtains
Curtains are a very important part of bedroom decoration. It not only decorates the bedroom but also helps in blocking the unnecessary light beams such as streetlights, car lights, or the bright morning lights entering the room. Curtains must be bought according to the theme of the room and the wall colors. They are available in many colors, designs, and fabrics, so it is a great decorative item.
Plants
You can always add a small pot of plant in any and every corner of your house. Green plants are always refreshing, and it gives your room a refreshing feel. But one thing to remember is that, to keep a tiny pot of plant the room must have an access to adequate sunlight. If there isn't adequate sunlight then buying fresh flowers and keeping it in a pretty vase would be great. This idea of decorating a bedroom is the cheapest one.
Create a photo wall
How about filling a wall with the photographs of your near and dear ones, whom you love from the core of your heart? Doesn't this idea sound good? It is actually a very delighting idea to load your wall with pictures of your family get-together or vacations, or any other photo that you love by using affordable picture frames. Print them out, pop them into frames and arrange them creatively on a wall of your choice. There's no better way to add charm to your space than with photos that leave you feeling warm and happy.
Change bedding
Last but not the least, infact the most important part of giving your bedroom a refreshing look is by changing its bedding style. Even if you do nothing else to spice up your bedroom, a new comforter or duvet cover can make the room look new and charismatic. Putting several pillows of different shapes and sizes would give the bed a very cozy and comfortable look. Using bed sheets and pillow covers according to the theme of the room is a must.
Over to you
Don't halt you wish to change the look of your small bedroom just because of a tight budget. Go ahead with the above ideas and experiment with the mentioned products. Give the decoration process a little time and effort, and soon you will enjoy a newly renovated bedroom within a low budget.
And if you are unsure about anything, you may take professional help from a local interior designer company and let them know about your budget and overall goal. They should be able to help you out easily.
What else do you think one can do to decorate a small bedroom without spending lots of money on it?