To make your house your home you need to put some effort behind it. Your home is the getaway from all the morning blues, office work and tension. You want to relax at your home, and you can do that well if your home has an ambient décor. How can you get this décor? How much will it cost? I will say, Not Much. You can decorate your home in an amazing way without investing much. There are several inexpensive ways to decorate your home. And I am going to share the top 100 home decorating tips which are easy to implement and does not require huge investment.
List of 100 home decorating tips and tricks
Though there are professional interior designers and decorators, who are experts in their field and can give you advice to do it efficiently. I am sure you have hired them once to design and decorate your home. But home decorating trends changes rapidly and you have to keep making changes at times to give a fresh a new look to your home. I like to experiment with the décor of my house and keep making simple tweaks to the overall décor of the house.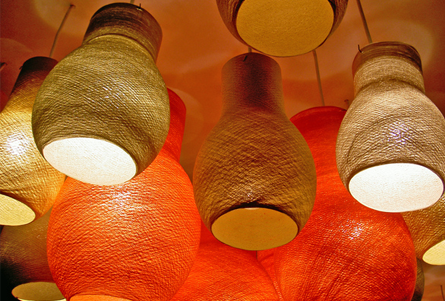 I know different people have different taste, but then there few things in décor that most of us will like. I am sharing the top 100 home decorating tips and ideas below and hope you are going to try some of these décor idea at your home. These are some of the most simple and cost effective ways to decorate a house.
So are you ready? Here we go;
Install beautiful book shelves in your room, with dark wooden polish. This goes well against white walls, or any neutral colored walls. When hanged at the right place, it would add a different personality to the walls.
You can use antique elements like hookah stick for home decorating. An antique piece like a hookah stick in your sitting room will change the look of the room.
Select a photo of your choice, make it poster size, and cover up the dull walls. This decorating idea is best suited for the walls in the bedroom and living area.
Do you have big glass jars? Great. In the glass jars put those small tiny lights that are used while decorating Christmas trees, and then switch on the plug. This is creative and innovative.
Use your framed mirrors as tray. Keep the bottle of perfume on the mirrors, and the dressing table will look nice.
Take some empty glass bottles, paint them with glass painting colours, and keep them in the windowsills. When the light will pass through the colorful glasses, it will look amazing.
Is your tabletop empty? Well, not anymore. Cut a glass piece in the size of the table, and place it there. Underneath the glass, tuck some photographs of your choice; the boring empty table will look good now.
Is your room small? Install a mirror in your room, to make it look bigger. You can choose mirrors with corner designs.
Don't just place a blank mat; just write "welcome" on it, to give it a better look. You can use oil paint for this.
Just repaint or polish the kitchen cabinets to make it fresh and new.
Keep a lamp shade in your room, the shade can be the contrasting colors from your wall and it may or may not have some pattern.
Natural light is best. Make sure the windows are large, to make the room airy and bright. And if you can't alter the size of the windows, make sure to not restrict the natural light. Just some natural sunshine can add a new dimension to the look and feel of the entire house.
Change the look of mini bar cabinet by decorative paint.
Change the room settings sometimes to give a new look.
Take a transparent glass bowl, fill it up with water, then put some flower petals on it. The floating petals look nice.
Place some candle sticks on a vintage tray, and see the difference.
Keep a cabinet in dining room, with transparent glass doors; keep your dinner sets there.
A pendant light looks amazing in any room.
A flower vase with variety of flowers gives pleasure to the eyes.
Use long curtains for windows that touch the floor.
A skylight on top will make your ceiling look different.
Have some white plates? Paint some designs there, and stick them on the walls.
Colorful carpets are beautiful.
The bed curtains can make your bedroom more cozy and inviting.
Place a wind chime by the window and enjoy the tingling sound caused by the wind.
Have a blank dull wall? Keep some racks, and place some wine and scotch bottles.
Make the color of one wall contrasting to the monochromatic color of three other walls.
Use rollers in kitchen for keeping things.
New kitchen hardware is nice to look at and also to use.
A polka dotted bean bag is really helpful for room décor.
Hang some colorful paper lanterns.
Fish bowl is a must. Two goldfishes swimming in a fish bowl is a lively view.
Turn the walls into graffiti. Let your imaginations fly.
Spray room freshener to ensure nice fragrance.
Keep the beautiful bottles of perfume and gels on a display, on your dressing table.
A book shelf with transparent glass doors is nice.
Add some cushions on you couch to make the room cozy.
Clean the bathroom mirror so that it does not become hazy, with water stains.
Proper ventilation in bathroom is a must.
For your dining space, just hang a chandelier, and that will be enough.
Instead of using regular right angular taps, use the curvy shaped taps for your sink and bathroom.
Some black and white pictures with normal wooden frame will give it a classic look.
There are certain plants especially for indoors, use them.
Paste some fluorescent stickers of stars and moon in the ceiling of your kid's room. Your kid will love it.
Stash some soft toys in your kids' room, and let them play.
Polka dots are returning, so use some polka dotted covers for your cushions and pillows.
The transparent glass wall opening to a lawn can add to the beauty of the room.
In teens' bedroom, paste a big poster of their favorite artist.
Modular storage units are useful in saving space, and you can keep things in organized way.
Create a fake headboard with paint, and set some colorful cushions against the wall.
Use each color of lamp shade in each room.
Place variety of candles, colorful and of different sizes. Keep them in your bedroom to add a charm.
Use floral pattern bed covers and drapes as it goes well with all seasons.
Do you have any container which is empty and not used? Use the lid of the container as a tray, and you can place a mini flower pot over it, or some small colorful items.
Get rid of the dust coat over your appliances and furniture.
Clean and repaint the blades of the ceiling fan.
Wash the window panes, sills and the grills. These are of the spaces that are neglected.
Add shelving behind the bathroom doors to make some extra spaces.
You can add new flavors to the room by experimenting with contrasting objects, like a glass vase on a wooden table.
Keep a fruit basket, consisting of fruits of different sizes and colors, on the dining table.
Decorate the wall with handmade tapestry work, or a work of fabric.
Black and white pictures look really adorable.
Do not always keep the books or any other items according to sizes. Sometimes random order looks interesting.
Use old pillows and sheets to make new decorative cushions.
Change the sofa covers.
The window accessories and drapes can be of contrasting colours. Monochromatic look is sometimes boring.
Use wallpaper to cover up the dull space behind the shelves or racks.
Install lights with regulators. You can dim the light as per your mood.
You can keep small plants at the ledge of the kitchen windows, or even a transparent glass bowl with some green lemons looks beautiful.
There are many colorful items that you need or use in your home, display them according to your liking.
Trays can be used as tabletops display as well.
Clean the door knobs and hatches if they have turned hazy due to multiple uses.
Beach rocks, pebble or some oyster shells can add some nature to the room.
Use table lamps and floor lights rather than overhead lighting.
Hang a chandelier, if your chandelier is old, and then paint it white, and it will go with any color.
Carpets designed to look like a patch of green grass, or a patch of snow, can be used too.
Change the shower curtains to add a fresh feel in your bathroom.
You can mix and match, some vintage accessories paired with some items of flea market.
Add a rack in the bathroom, displaying the colorful towels.
You can install mirrors in narrow spaces like inside corridor
Lamp shades are cheaper than whole new light fixtures, so use the shades more.
Use several textured items side by side, like soft, rough, shiny, or matte.
Group together small framed pictures, black and white pictures, in black frames set against white walls.
Painting can give a fresh look, if you cannot do the whole house, and then do one room.
Vacuum clean or mop the floors. Clean and shiny floors are praiseworthy.
Clean the garage, and organize the items to make extra space.
Consider redecorating the room, one at a time.
If you have old necklaces or rhinestones, then you can use those as curtain tiebacks, this will add a bohemian look to the room.
Use colored hangers for your clothes.
Keep the plug and the plug ins hidden from the regular sight, by hiding them behind appliances or furniture.
Hang a wreath on the door, a lively green wreath.
Paint the side of the doors, with some bold colors, that is in contrast to the color of the doors and the walls.
Paint the sides of the drawers with some bold color too.
Take a large glass vase, and keep a fat scented colorful candle in it.
Tie some ribbon and tapes on the table fan or unsightly fans.
Coat the interior of the lamp shade with glitters, so that when you switch on the light, it looks shinier.
A slim floating book case place at the corner of the room, where two walls are adjacent.
Laminate the floors.
Paint the walls half, and by this you can create an optical illusion of higher ceilings.
Clean the room regularly, and place the items in a proper arrangement.
Over to you
Home decorating tips and ideas need not to be costly all the time. There are a few simple home decorating tips and tricks that can make lots of difference to the overall décor of the house. I have shared my pick and hope you will try some of these home decorating tips and share your feedback.
If you have other ideas that can be used to decorate a house, please feel free to share with us and we'll be happy to include in this list.
Happy decorating!