Moving and relocation companies offer door to door home relocation services in India and you can book these home relocation services to get your household articles packed and moved without issues. But no matter how experienced the relocation company is, you have to manage and track certain things yourself to get it right. You should plan strategically and do it well in advance to avoid any possible mistakes that can latter cost you.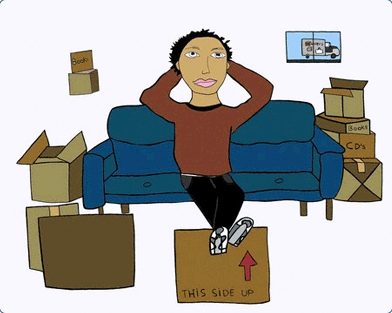 Do you know that in foreign countries when people go for home relocation from one place to another they don't even bother to take most of their belongings with them? Sounds crazy right? My elder cousin lives in Boston, US. He says that they generally abandon all of the heavy stuffs like a-class sofas, bed, fridge, washing machines and other heavy furniture and eventually buy new ones, as they prefer buying new ones over carrying the old burden with them. The next tenant or house owner get to use those stuffs for free.  Well in India that scenario is a distant dream.
To ease it out, I have a built a simple things to do list you can use to track and monitor even smaller tasks during home relocation even if you have a hired an agency who have promised you hassle free home relocation services. You know what, even if you book a relocation agency for home relocation services, you ought to do a little bit of supervision to ensure that they are working well. After all a team of labor will be packing your stuff and all in that team may not have same level of expertise.
Best ways to avail home relocation services in India
Every relocation company you interact with will promise you the best home relocation services and may promise free value added services during move. But don't fall for that and rather use these precautions to get most out of the home relocation services of the agency. The tips I am going to provide are subjected to change in accordance with your particular situation or requirement. Hence it is a general set of tips that you may use to avoid mistakes and pack efficiently.
As I have already mentioned please get rid of unwanted stuffs before planning ahead of your packing. It will significantly reduce your time and effort for packing.
Inventory management is the key to organize all your belongings efficiently. If you are able to do it right then 70% of your work will be over. This will not only help you to keep proper track of your belongings while packing and unpacking but also you can use it to check with the packers version of inventory list whether every thing has been delivered or not.
Now you have two options either pack your stuffs on your own to save money or you can hire the packers to do it for you. If you do not have a lot of items then you can do it on your own. In both cases don't ever forget to label all the packages, otherwise you will face great difficulty while loading fragile or delicate items in the truck (As you have forgot to label them as per the safety protocols) and while unpacking them. Take photographs of your items that will act as evidence in case your goods get damaged or lost; it will help you to reclaim them or claim the insurance.
Search online about the available info of the prospective mover packer in your locality. Or call them up one by one. It might be a time taking process but it is very important also. (Although you can avoid all this hassle by simply submitting your request on our portal which will be processed by us and arrange 3 mover packer companies to call you back, so that you have a better chance to compare their services and prices).
Do not expect to get an accurate estimate over phone as it is practically impossible for the packer mover to provide you with an estimated budget unless they physically examine your goods, they will inspect volume, weight and other parameters of goods that collectively add up to the budget, hence before finalizing the cost ask them to examine your goods physically. After that ask them to give you a binding estimate of time and budget that will not fluctuate much in case of any unforeseen consequences that may occur during moving. Tell them to give everything (cost, insurance coverage policies etc) in writing. Also include both pre and post move costs in your budget.
Before starting with the packing, organize your essential apparels and accessories which you will immediately require after you land onto your new apartment, put it in a large bag, and keep it in handy. These items generally include formal dress, a pair of casual wears, undergarments, socks etc.
If there are any eatables left in your fridge don't forget to finish them. As they are likely to be get rotten if you don't. Defrost your freezer before moving otherwise it will spill water and damage your goods while moving.
If you take some medicine on a regular basis then don't forget to keep them in a nearby place as they might get misplaced during the day of your moving, and if necessary buy some more to stock them in case you face trouble finding those medicines in the new place you are shifting to. Also pack your first aid box and keep it in a handy place.
Inform your office, bank and relatives about your new place of residence, and update your address for unhindered communication. Follow up with the movers and remind them the date of moving, ensuring every thing goes as per plan and schedule.
On the day of moving don't rely on the movers packers or some body else to supervise the whole process rather take a leave from office and do it yourself. Sign the packing bill and do take a copy of that document which helps you to determine if any of your goods got misplaced.
Common problems in home relocation services
The most irritating problem that we face is that, we often try to put important documents or other relevant stuffs in a safe place. And later we forget where that safe place is. You should properly make a list of all those important documents like your official documents, estimates, quotations, tickets and other important documents like school transfer certificates of your kids etc. and put them in a folder put it in a place where you can easily find them later and if required write it on your mobile notes if you have trouble recalling where you have put them in.
We often take a lot of unwanted stuffs with us which are not going to be of any use to us when you relocate. Like if you have a surf board and the new place where you are shifting do not even have a swimming pool then better you sell it in a garage sale or gift it to your best friend.
Another usual mistake that we commit while leaving in a hurry is that, we forget to place and pack our cutlery and clothes properly, which become a cause of major concern when we start searching for them at our new residence.
When you are shifting for the first time, you are not even sure where to start from and you are bound to do several hasty mistakes but the checklist I am going to share with you might save you from committing the common errors that we do while moving and shifting our house in India.
Conclusion
Hope these tips will help you to avoid hasty mistakes that we often do while packing and moving in India.  With or without seeking the help of professional packer mover you are bound to face complications but all you need to do is remain calm and plan it in an organized manner. Just follow a similar checklist and make sure every thing is in place and you will do fine.
Don't forget to compare before booking a movers and packers for home relocation services in India, that way you can save money and book a reliable and credible service provider.