Moving household from one place to another needs advance planning, especially when you are moving out of state or to a distant city. However, when you are in hurry, and have less than a week's time, it gets a little nerve racking. What causes the tension is that, you have to search a new home, sort your things and pack, dump or sell the ones you do not need, arrange for the moving and then finally settle down. Frankly speaking, each aspect of home shifting takes decent time especially when you are moving interstate but if you have to plan and execute in hurry like within a week, then you got to be very systematic. And if you are planning to move this week and running out of time, then here's the post worth checking for as today i am going to share with you the list of 10 moving tips for household moving in one week.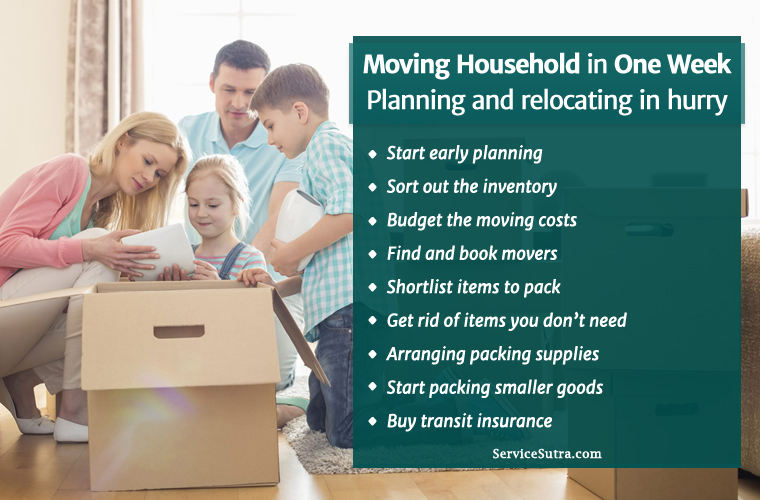 Emergency can happen any time and so instead of worrying, you have to face the situation. And, to make things easier for you, I have brought a list of 10 simple tips on how to plan and move household in one week. These moving tips will hopefully help you execute everything, even when you are in hurry and have less than a week for household moving.
On an average basis, most of us require at least a week to think and plan everything and to complete the relocation; it may take almost close to a month or sometimes more. But as I said, emergencies can happen and you may be left with less than a week to plan everything and then make arrangements to shift to your new home. In such circumstance, you must never lose cool. Instead, try to be optimistic. In other words, if you take it as a challenge and if you are determined to get things done within the deadline, trust me you'll be able to pull it off perfectly and without any hassle. You do the planning, packing, then find an efficient relocation company and leave the rest to them for they know how to pack and move things safe and sound.
The execution may get little hectic but I believe with proper guidance, things really get easy. Therefore, here are my essential tips for planning and moving household in one week.
Are you ready? I hope you are. Let us start then.
10 essential tips on planning and moving household in one week
Both local and interstate household move maybe tiresome, but as I have already said, all you need is a good determination and skillful execution to complete your relocation within a week. Following are my essential tips on how to plan for moving in one week time. Take a good look at this 10 step guide of moving household in one week and start planning and arranging things from today.
Start your homework immediately
If you are planning for household moving in one week, then you can't afford to delay any further. You are already running short of time and if you are still sitting idle, it will be problematic for you to handle the relocation at the last moment. So no matter how much less time you have in hand, please do your basic homework. You may not get time to study in details but keeping little information is good.
Do net surfing and search for good packer and mover agencies that can help you out through the process of relocation. Do it yourself move is not suitable for everyone and especially when you are left with less than a week, you can't afford to take chances. Thankfully, there are movers and packers agencies that can be booked on shorter notice and this is the time to start evaluating their offer. The early you contact them, the better it is.
Estimate moving cost and budget
Different movers charge differently depending on the quality and brand value, knowing your own budget will also help you talk to the movers who suit your budget.
So before jumping to the other tips on how to plan for moving household in one week, I just want to draw your attention on moving budget. See, to be very frank, when you got time in hand, you can wait and plan things and get things done on your own. But with just a week's time in hand and everything left to be done, the situation is all together difficult. In such circumstance, you might need to keep a decent budget in hand (although not too high). This is because many a times, you will not be able to do things yourself and have to depend on the processionals.
Moreover, due to shortage of time you will have fewer options in hand and at times, no other way but to go for the costly choices. In other words, what I mean to say is that, fix a decent budget and be mentally prepared that you might have to spend a little more in comparison to other situations when there is ample time.
However, there is nothing to be too disheartened about your budget as right now, your priority must be reaching your new space within a week and so you must not mind spending a little more in the process (although not in excess) and get your work done by the experts. Still, if you want to do savings, you really need to buck up and do everything all by yourself. So, it's time to choose your priorities.
Choose a good packing and moving company
Once you are done with the finding of new home, it is time for you to choose a good packing moving company. Now, if you Google, you will find names of many packers and movers and within a week, it might be difficult for you to figure out who is the best.  In addition, most of the companies may not be available at such a short notice more so if it is a pick season. So, it is highly recommended to contact sites who provide you with contacts of potential and trusted packers and movers.
Even if you can ask your friends and colleague to recommend any movers and packers, using servicesutra can help you get multiple options within a few minutes and for free. You can just call the helpline number or create a request to get free estimates from a couple of movers and packers available in your city. You will be given the options of 3 best packer and mover of the concerned location. Talk to each company, compare the prices and choose the best one among them. This will save your time as well as help you find an efficient packing and moving company, quickly and for free.
Do not forget the insurance
Most of the good packer and mover provide you with the option of insurance and you must definitely opt for it. This is very important and will help you incase anything goes wrong during the transportation. You may face any obstacle in the process that may damage your goods. So insure them and lessen your financial loss. Here's a detailed post on moving insurance that you may like to check.
Sort out items before packing
Before you start packing, it is important that you sort out things well. Just select items that you want to carry to your new home and keep them in a room exclusively meant for packing. This is good, as keeping selected items in one room will help you pack faster. Take the ones you use maximum, the ones that are precious or vintage or items that contain emotional value to your new home. Discard the useless ones. Refer to this  detailed post on sorting out the inventory when moving for further information.
Get rid of the old and unused items
Once you have decided which items to carry with you, you can dump or sell the discarded ones. While throwing them in the waste bin seems an easy option for most of us, you may also go for the selling option. Many stores take old things at decent price, so you may contact one of those stores or sell the ones you are not taking online. This way you will be able to get rid of those things as well as earn a little in the process.
However, remember not to expect too much profit and instead sell them at whatever price they offer. You may bargain a little but not too much as then you might end up losing whatever little you were to get. Lastly, if none of these works for you, then you may donate it into some charity. In fact, this is a better option than throwing stuffs.   Here's a detailed post on how to get rid of the old and unused items when moving.
Collect the packing supplies
Try to collect all the packing supplies before you start packing your household articles. Since you are hiring a mover, the best is to let them pack everything, but when you have your own packing supplies, it may help you to decrease the packing cost to some extent.
The most important things are the boxes and the industry grade packing tapes. As far as boxes are concerned, you may ask from anyone who has recently shifted or buy boxes from any nearby store. Make sure that you have brought or collected boxes more than you have expected. This is because in all probability, you will need more boxes than what you expect. You must also buy both big and small boxes depending on the number and type of items you are carrying.
I have also seen many carrying their goods in garbage bags. Although it may not be the best option but considering your time limit, it is definitely one of the quickest ways to pack the things. However, before buying these, it is important to consult your packer and mover whether they allow carrying these bags or not. Ziploc bags are also very good mainly for moving the small items.
Good quality industry grade packing tapes and wrapping material is equally important and so make sure you are buying good quality ones and in more numbers.
Start packing
Now that you are ready with your items and the packing supplies, it is time to start the actual packing. If you are too tired, then you may take the help of the packer and mover. But if you want to save money, then do it yourself by taking the help of your other family members, friends etc if they are free and willing to help you out. Packing may be tiring but proper teamwork can make it easy.
When you are packing, it is advisable that you put the heavier ones in small boxes and lighter ones in larger boxes. This helps to balance the weight as heavier items when kept in large boxes become too much heavy. Also, try to label the boxes. In other words, write down the contents in a paper and paste it on the boxes. This way it will be easier for you to remember and locate the items better while unloading. In case, you are doing the packing all by yourself, you must be quick enough to complete all the packing before the packer and mover arrives. You may set a packing deadline for yourself and aim to complete within that.
However, even though speed is important, please do not compromise with the safety of your goods. It must not be the case that you pack things so hastily that half of them get damaged during the journey. So, it is best to pack things correctly and also within the appropriate time. If you find it too challenging, leave it to the professionals.
Time to transport
Since there is a time limit of reaching the new home, it is mandatory that you start your journey early. The early you start, the early you reach your destination. Besides, with more journey hours in hand, you will not have to worry much about reaching on time.
Local shifting is ok but when you are travelling interstate, the distance is more and so you have to start early. You may face obstructions that may lead to unnecessary delay, so if you start with more time in hand; you will be able to make up to it. In addition, it is better to travel in the daylight than at night so get ready quickly and begin your journey in the early morning.
Search for a good real estate agent
See, if your new home is already fixed and you have already sold your old home to someone, then your home shifting will be far less difficult. In fact, that will be a huge relief but if you are in a rare and worse situation where you have faced emergency problem and have to shift all of a sudden to somewhere else with no prior buying of new home, then it is preferable to take the help of a good real estate agent.
It is difficult to do all of this within a week, so please hand it over to an experienced real estate agent. Make him well noted about the extreme time pressure you are in and also tell him your basic requirements. However, do not set too many criteria as it will be difficult within such short duration.
Generally, a good real estate agent is an expert and in all probability, will be able to help you search a new home as well as find a potential buyer in case you want to sell your old home. Nevertheless, as I have said, you may have to spend more in the process as he may ask for a bigger share (although it may not be too much) but I would still say this is definitely the best option for you considering your current situation and the trouble you are in.
Conclusion
Planning everything and then moving household in one week may sound difficult but if you are ready to spend a little extra money and do the hard work, then moving household in one week is not going to be that difficult. Moving without hassles is all about proper planning. You may divide the work in those 7 days. If you can dedicate the first two days on sorting out the inventory and estimating overall moving budget. You can start looking for movers and packers from day 3 and finalize one by 4th day. Then on the 5th day morning, you may arrange packing essentials and start packing. 6th day can be kept for further sorting items (if anything left) and then final packing by the movers and packers and sort out insurance. And, on the 7th early morning you may double check everything and get ready for transporting. It may sound hectic but when you have less than a week for moving, you cannot afford to delay.
In this article, I have given you tips on how to plan for household moving in one week. You have to set the priorities and accordingly take tiny steps. But if you ask for my advice then had I been at your place, I would have done things as per my capability and then leave the rest on the professionals. For example, the packers and movers can quickly cross check and pack everything to perfection. They may charge a little more but at the same time, they will take the responsibility of relocating your household goods safely and on time.
Finding your new home is the first step and a good real estate agent will help you in it. Although searching for the new home and then arranging for the whole packing and moving is a little too much in one week, but still if are lucky enough to find a good removalist, he can certainly sort it out. In fact, many a times they have good sources that help them select deals within hours. However, please note that it is always preferable to at least do the work of finding a new home from beforehand barring emergencies. This is because both finding new home and then shifting in a week is hard but not impossible.
Are you planning to relocate your household thins this week? Are you running short of time with hardly a week left? Are you wondering about how to move household within one week without hassles? Try these packing and moving hacks and I am sure you will be able to move your goods without difficulties even in less than a week's time.